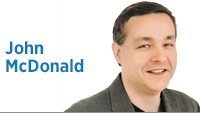 On the wall of my home office is a Purdue University diploma I earned in 1995 for computer programming technology. It's essentially a four-year degree focused on designing and building software for business.
Today, it's as obsolete as the computers I learned on, which were dumped in a landfill long ago. Software development is no longer a skill that requires a four-year degree. It is now a technical trade, much like an electrician or an ironworker for the digital economy.
This evolution has been studied by many organizations, including the Kauffman Foundation—an organization dedicated to advancing education and entrepreneurship with its research. Even media outlets like CNBC are monitoring and reporting on this trend. To date, 56 percent of independent business owners don't have a four-year degree. Those high school graduates realize what we aren't yet seeing as parents: They can build websites, they can write apps, and they can create their own businesses without ever completing college.
Year after year, the cost of a four-year degree increases. In the Indiana Commission for Higher Education's 2018 College Readiness Report, data shows that, of the roughly 70,000 high school graduates in Indiana each year, a third (36 percent) won't go to college at all.
In the Commission's 2018 College Completion Report, data shows that, for those who do attempt to get a four-year degree, only about half (45 percent) will graduate on time. When they do, they're loaded with an average of $27,000 in student debt. This means our education system, which promises a "great job in a field you love if you get good grades in high school and then go to college," has a whopping 28.8 percent on-time success rate. Seven of 10 high school graduates this spring will not have earned a bachelor's degree in four years, and more than three in 10 never will.
A casual search on Monster.com for the term "software developer" in Indianapolis yields more than 1,000 open job postings. How will these roles ever be filled by a system that leaves behind more than 70 percent of our young brains? What will happen to Indiana manufacturing, transportation and agriculture companies that desperately need digital products to differentiate their offerings in the global market if they can't hire the people to build and run that innovation? If parents believe the only path to success is a bachelor's degree, how do they deal with the reality that 70 percent of their children won't achieve it in four years, if ever? Are parents failures? Hardly.
As parents, we must shed our bias that says the only path to success is a four-year college degree. It's just not the case for the most demanded role in our state now—software development—and it's never been true for a whole host of other jobs in construction and manufacturing that go unfilled.
We in the tech industry desperately need a trade education system at a time we seem least able to deliver it, despite the tireless efforts of those in the system who uniformly seem to agree that real change is just as desperately needed.•
Click here for more Forefront columns.
__________
McDonald is the CEO of Fishers-based ClearObject and chairman of the Indiana Technology and Innovation Policy Committee. Send comments to ibjedit@ibj.com.
Please enable JavaScript to view this content.