What should city officials do about downtown panhandling?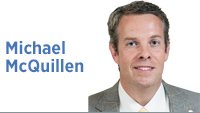 Downtown Indianapolis feels less safe today than six years ago. That's not only my opinion, it is also the opinion of the many people who have reached out to me and others, voicing concerns for their safety. In addition, market research by the group Downtown Indy Inc. shows that only 55 percent of those surveyed feel safe downtown. In 2012, that number was 71 percent.
Safety and the perception of safety are crucial for a thriving downtown full of residents, convention-goers and workers. Our city's core remains the economic engine of the state, and it's our duty to protect its sustainability.
Indeed, when you walk around Monument Circle and throughout the Mile Square, any number of people are approaching passersby for money or lying down on the sidewalks. This does not promote public safety or commerce. If you own a business that has a group of panhandlers congregating outside the door, that's a problem for business.
What should city officials do about it? One tool we should use is a sit/lie ordinance. Councilor Susie Cordi and I have introduced this proposal for consideration by the City-County Council. At its most basic level, the ordinance would assert that streets and sidewalks belong to all of us, and individuals should not be sitting or lying down on sidewalks in the middle of the day. The ordinance includes a reasonable list of exceptions like public benches, strollers and wheelchairs, bus stops, and medical emergencies, among others.
Think about it. A visitor to our city should not be subject to harassment when trying to take a picture of the Soldiers and Sailors Monument. An office worker should be able to grab a sandwich or a coffee. A patron of the Indianapolis Symphony Orchestra should be able to walk in to a performance. It is not fair to business owners who have invested in this community to have congregations of panhandlers outside their doors.
I offer two caveats as we debate the issue of downtown panhandling and safety. First, like most problems of public policy, there is no one solution. I do not suggest that a sit/lie ordinance alone will fix this problem. It's one tool, and I urge its vetting and passage by the council.
Second, we should stipulate that panhandling and homelessness are separate issues. To that end, the ordinance is designed not to be enforced on a homeless individual when no space is available in shelters. When a homeless individual is subject to enforcement, it is the desire of the council that the individual be referred to interventional services. And those services—like our shelters, homeless advocates, and the safety net health care system—deserve our support.
For families coming downtown, convention attendees exploring the city, residents trying to go home and to work, the council should pass the sit/lie ordinance.•
__________
McQuillen is the minority leader on the Indianapolis City-County Council and represents District 4, which includes parts of the northeast side of the city. Send comments to ibjedit@ibj.com.
Please enable JavaScript to view this content.