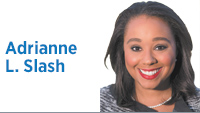 Since the launch and spread of the #MeToo movement, we've seen C-suites at the nation's most prominent companies vacated by men. We've seen the political world rocked with upheavals that have followed the numerous uncovered scandals.
For women, this is an opportunity for the workplace to become a safer space, right? It's also a chance for the workplace to become a greater place of upward-mobility opportunity, right? Of course, it could be! There's just one thing: We have to be able to effect real change and not just repeat the ways of the past.
Men have been in the workplace longer and, through that tenure, have a wonderful system of advocating for one another to climb the corporate ladder. What is stopping women from doing the same? Nothing—if we model a new way of bringing women along. We are a matchless force of integrity, according to our own movement. It's time to put our money where our mouth is and one-up our male counterparts.
Men in power not only advocate for other men, but they advocate for men who are just like them. So, women, it's our turn to say: Not only will we advocate for the safety of and advancement of women in the workplace, but we will also diversify the space at the same time!
Think about it: We have the opportunity to advocate for vacancies to be filled by other girl-bosses who have diverse perspectives and experiences that, in turn, will affect the bottom line greater than ever before—if we can, as women, commit to that goal collectively.
For many younger women in the workforce, gaining the approval of our more-seasoned sisters is a reported challenge. Instead of finding quick allies in the workplace, we sometimes find adversaries in our fellow women. The need to prove ourselves to not just men, but some other women, is a far more common experience than finding an immediate mentor. By shifting this paradigm, we could begin to come full circle in providing the integrity and safety in the workplace we are demanding with #MeToo.
The #MeToo movement focuses on sexual harassment, and I get that. It has been a tool to create vacancies and opportunity. For the prospect of full evolution, it's not just about physical safety, as emotional safety also contributes to our ability to bring our best selves to work. What good does it do to remove all the scary men from the workplace if we're still left with scary women?
All employees are expected to bring their best selves to work, and when they do, they should be encouraged to continue to grow in an environment where they feel supported.
Many issues of intersectionality come into play within the workplace subgroup of women. I am suggesting that we use this opportunity to tear down those barriers, become advocates for our sisters, and use this opportunity to diversify.
A few low-hanging-fruit ideas to get you started:
◗ When hiring, do your best to make sure there is a diverse group of women in your pool from which to choose.
◗ While orienting new women to your workplace, encourage more seasoned women to take them under their wing and help them get acclimated to the environment.
◗ Create opportunities for both formal and informal cross-functional and intergenerational mentorship.
The future can absolutely be female, but it's up to each one of us to pave the way.•
Click here for more Forefront columns.
__________
Slash is a diversity and inclusion consultant in the health care industry and is president of The Exchange at the Indianapolis Urban League.Send comments to ibjedit@ibj.com.
Please enable JavaScript to view this content.