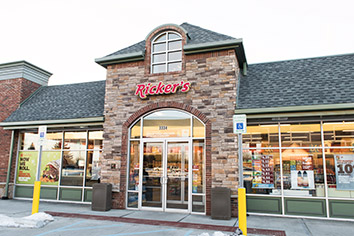 Supermarket chain Giant Eagle has agreed to buy Indiana-based Ricker Oil Co. Inc., the owner of 56 Ricker's convenience stores and gas stations throughout central Indiana.
Ricker's Chairman Jay Ricker told IBJ on Thursday morning that a purchase agreement for his 39-year-old company is in place and the deal is expected to close by the end of the month. Financial terms of the sale were not disclosed.

Jay Ricker
Pittsburgh-based Giant Eagle, which operates 410 stores (about 200 supermarkets and 210 convenience stores/gas stations) in five states, plans to retain all of Ricker's 850 employees, Ricker said. He said the companies share similar family-owned cultures and he expects the transition to be "fairly seamless."
Ricker's President and CEO Quinn Ricker, Jay's son, plans to join Giant Eagle to oversee operations of the Indiana properties. Ricker's is scheduled to open its 57th store later this month.
Giant Eagle entered the Indiana market in 2015 by opening a 125,000-square Market District store at 11505 N. Illinois St. in Carmel. It also has six GetGo Cafe & Markets in the Indianapolis area with a seventh set to open in Zionsville in October.
Ricker said Giant Eagle would decide whether to rebrand the Ricker's stores with the GetGo name. A Giant Eagle spokeswoman said there were no immediate plans to change the names of the stores..
Ricker, a former Shell Oil gasoline tank wagon driver, and his wife, Nancy, founded Ricker Oil Co. as a petroleum products supplier in their house in Middletown in 1979. The company opened its first convenience store in 1989 and eventually moved its headquarters to Anderson.
Ricker, 68, said he was approached by Giant Eagle about making a deal. With retirement in mind, the offer "made too much sense to turn it down," he said.
In recent years, Ricker has been in a high-profile battle with the Indiana Legislature to overturn the law that prevents businesses outside of package liquor stores to sell refrigerated beer on a to-go basis.
A loophole in the law allowed him to briefly sell cold beer at a pair of his stores after he opened small restaurant operations in those locations, but lawmakers passed further legislation to close that loophole.
Ricker said he'll continue to work on the cold-beer issue as a consultant to Giant Eagle because he "feels so passionate about it."
"We still plan to push for what we feel is right," he said.
"We are thrilled to partner with such a strong company, brand and talented group of Ricker's employees," said Laura Karet, Giant Eagle President and CEO, in written comments. "We look forward to building on the great history that Ricker's has in Indiana, and carrying forward many of the amazing offerings and services Ricker's customers have come to expect."
Please enable JavaScript to view this content.