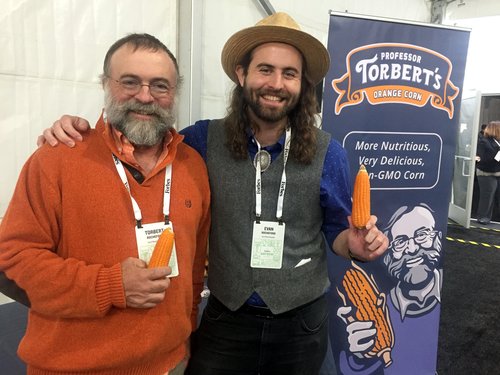 As children, you're told to eat your carrots. They're packed with nutrients that are good for your eyes.
But what if corn chips or tortillas or a bowl of cereal could offer the same benefits?
Purdue University agronomist Torbert Rocheford—whose company, NutraMaize, was featured at the Forbes AgTech Summit on Thursday in Indianapolis—says that's indeed possible.
He's developed a breed of corn—orange corn—that's packed with carotenoids.
Carotenoids are a set of key nutrients that provide color to vegetables and plants. Some carotenoids can be converted to Vitamin A, while others protect the eye from damaging ultraviolet rays. The latter helps prevent age-related macular degeneration, a common eye condition that causes vision loss.
Rocheford has been working on orange corn for more than two decades, and his work is helping deliver better nutrition in Africa, where corn is a staple but carrots, leafy green vegetables and other sources of Vitamin A are scarce.
Now, Rocheford and his son, Evan, are working to make orange corn a thing in the United States, too—and they've received some $425,000 in government grants to make it happen.  It's not that Americans are deficient in Vitamin A; that's common in U.S. diets. Instead, the pair is focused on reducing the prevalence of macular degeneration.
"The idea is, to get [carotenoids] into foods people are already eating," said Evan Rocheford.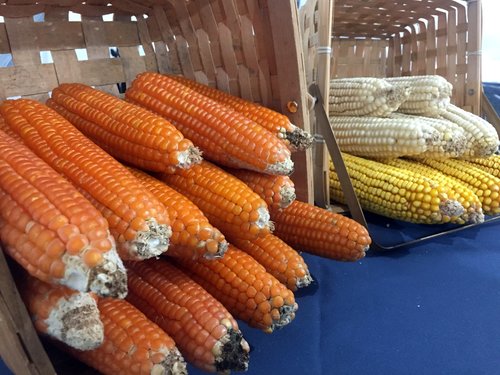 So the Rochefords licensed the technology from Purdue and worked with the Purdue Foundry—a group set up to help students and professors commercialize their discoveries—to launch NutraMaize and its consumer brand Professor Torbert's Orange Corn.
The National Science Foundation gave the company $225,000, while the U.S. Department of Agriculture and Indiana Economic Development Corp. (through Elevate Ventures) have each chipped in $100,000.
The Rochefords plan to apply for another $750,000 from the National Science Foundation soon.
The company currently has one product—orange corn grits, which can only be purchased wholesale. The company plans to add polenta and corn meal soon.
The goal for now is to put those products into the hands of chefs, Evan Rocheford said. In fact, orange-corn grits were part of the meal served to attendees Thursday at the Forbes AgTech Summit, a national event that was held for the first time in the Midwest.
"We're really looking to target independent restaurants, innovative chefs, forward-thinking restaurateurs, and start building the story about the product," Evan Rocheford said. "Try to start building a culinary trend around the idea of biofortification."
Biofortification is a fancy word for the process of improving the nutritional value of foods through innovative farm practices, plant breeding or biotechnology. But that doesn't mean Professor Torbert's Orange Corn is genetically modified. "It's a naturally selected variety," Evan said.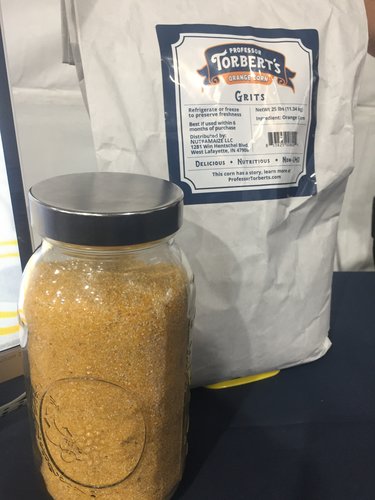 And it's not just more nutritious. The Rochefords swear it also tastes better.
 "We did a blind taste test with muffins here, but in Africa they prefer the orange shima, which is basically a grit," Torbert Rocheford said. "Particularly the younger people like it. The older people, if they're been used to white corn for 40 or 50 years, they have a hard time changing."
It shouldn't be long before orange-corn grits, polenta and corn meal are available directly to consumers.
And eventually, the Rochefords hope, orange corn will be used in a variety of products that could spread the nutritional benefits to a greater audience.
"We want to create more nutrient-dense foods that people consume on a daily basis, like cereals, like chips, tortillas, all the various things that are made out of corn that people eat," Evan Rocheford said.
But the ultimate goal is not to become a company that relies on products.
"We see ourselves as more of a research and development company, than just a company selling grits," Tolbert Rocheford said. "So, we'd like to grow, no pun intended, organically. Just as it naturally comes. The next two years will really give an indication of the trajectory, depending upon how sales go."
Please enable JavaScript to view this content.