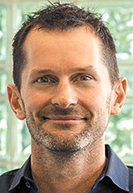 Medley
When it comes to getting a tech company up and rolling, Perq has taken the road less traveled.
But with an infusion of $5 million in growth capital—and several big-name investors on board—the marketing-technology firm appears to be on the fast track to expanding its footprint coast to coast.
When Hanover College graduates Andy Medley and Scott Hill started Perq in 2001, neither had tech backgrounds or any connections in venture capital. In fact, the company they launched wasn't technology-related at all.
But after a hard pivot and re-brand in 2014, Perq now boasts a software platform with more than 1,000 subscribers. And that, the co-founders said, is just the start.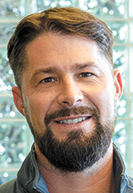 Hill
Before launching Perq, Hill worked as an advertising director for three small southern Indiana newspapers and Medley had spent 18 months working in the restaurant business.
The former college roommates decided to start a company—initially called CIK Enterprises LLC—that offered printing services and handled direct-mail and newspaper supplements and inserts. The majority of their clients were auto dealers and smaller newspapers.
While the business was, and still is, a profitable one, Medley and Hill realized it didn't have the explosive growth potential they wanted.
So using millions of dollars in capital from that original endeavor, they launched a software division that helps clients' websites gather visitor information and generate solid sales leads while helping those visitors research products they're thinking about buying.
"We had an idea to make a company's website it's best sales person," Medley said.

Key ally
Hill met Aprimo co-founder and former CEO Bill Godfrey at the 2013 Mira Awards—the state's biggest tech awards program—and shared Perq's plans.
Godfrey, managing director of Carmel-based 4G Ventures, thought the idea had promise and helped Perq make key hires—including Curt Knapp, who became executive vice president of engineering, and Stephanie Ragozzino, who became executive vice president of products.
Paul Champion came aboard as executive vice president of operations, Jacob Bracken as executive vice president of finance and Muhammad Yasin as vice president of marketing as the company transitioned to full-fledged tech company—even as it continued its legacy services.
Perq started building its software platform in 2014 and made its first sale in June 2015.
From there, it picked up speed rapidly. It reached $1 million in annual recurring revenue within nine months, company officials said.
Perq's software revenue has more than doubled each of the last three years, with sales growing 170 percent from 2016 to 2017, Medley told IBJ.
With millions invested from Perq's legacy business plus $1.5 million from Godfrey and $200,000 from other investors in 2016, Perq was able to take its time perfecting its platform—Online Guided Shopping—and building a client base.
This year, the company separated out the software side of the business under the Perq Software moniker. The printing, auto advertising and newspaper work is now a separate firm called Perq Marketing, which has about 30 employees.
Perq Software targets sectors where the sales price is relatively high and where customers like to do substantial research before coming into a store or office to close a deal.
Currently, Perq Software—which has 115 employees working on its platform—is focused on the automotive, furniture and apartment rental sectors. Its platform for the apartment sector is called Online Guided Leasing.
Perq Software projects having 160 employees by the end of 2019, with the majority of the added positions in sales, client services and implementation as well as developers and administration positions.
While Perq officials declined to divulge the company's annual revenue, Medley said there are more than 1,000 companies currently using its platform, and the average "annual contract value is about $10,000."
That would place the company's annual revenue near eight figures. And sales growth doesn't appear to be slowing.
Revenue from the software side of the business, Medley said, will certainly exceed the legacy side of the business.
"There's much more potential" for the software company, Medley said. "The potential is much, much bigger. By a multiple of 10."
In 2012, Perq reported that the legacy side of its business had revenue of $30 million.
Not by luck
Medley isn't surprised by Perq's fast-entry into the tech sector.
"It's not luck we're growing as fast as we are," Medley said. "We've entered markets very deliberately.
"We're trying to choose markets where we can educate ourselves to the fullest and be a leader with this technology," he said. "One of the key reasons for this growth is because we're providing something the consumers are looking for and that the businesses want."
Medley explained that Perq's customers pay a monthly fee based on how much value they get from the platform. "The more the customer participates with the entire portfolio, the better the price point," he said.
Building the printing and print-ad sales business provided valuable intel for the new venture, Medley said.
"We took a lot of what we learned in that business … it was highly profitable, and applied it to something with a much bigger market," Medley said.
Since Perq had millions of its own money to invest, it didn't need to seek seed and startup capital—as many startups do—to develop its product.
That made Perq an attractive investment when it started raising venture capital for expansion.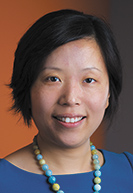 Gootee
"They had a lot of skin in the game, and that's a positive," Ting Gootee, chief investment officer for Elevate Ventures, told IBJ.
"Because they had developed [their product], had identified a market and had shown a strong track record of growth, this was seen as a relatively low-risk investment," Gootee added.
Elevate Ventures led the recent funding round, which also included nine other central Indiana angel investors and investment groups, including Collina Ventures, former executives from T2 Systems, former ExactTarget Chief Marketing Officer Tim Kopp and the co-founders of One Click Ventures.
Medley and Hill remain majority owners of the firm.
Hill "is the innovator," Medley said, "and I'm the boring business guy." Together, Gootee said, they make the perfect pair.
Elevate also was impressed by the other investors Perq attracted. "Many of those investors brought in-depth operating experience and many understand the venture [capital] game. They bring connectivity to the table," Ting said.
Medley added: "This round is especially gratifying as it comes from … leaders in our community, the tech corridor—leaders who know how to recognize a game-changing technology when they see it."
"This investment will enable us to enter new industries that desperately need an easy-to-use [artificial intelligence]-driven solution that improves the consumer experience, drives traffic in-store and increases profits."
Battling the big boys
Medley emphasized that Perq is not a website developer. Its software works in concert with clients' existing websites to enhance their capabilities.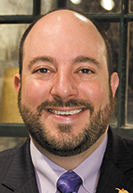 Weisblatt
Many of Perq's clients aren't technologically advanced and don't have the resources of massive companies like Amazon. But Medley said that if auto and furniture sellers' and apartment rental companies' websites don't have the research tools customers seek, they often will leave to do research elsewhere and not return.
"We think our platform helps small- and mid-sized companies better compete with bigger—and in some cases much bigger—competitors," Medley said.
Seth Weisblatt, owner of Sam's Furniture and Appliances—a three-store chain in Fort Worth, Texas—said his company has seen a 10 percent sales increase since it started using Perq's platform earlier this year.
"We've seen two things," Weisblatt said. "We've seen our sales people take ownership of customer leads, and we've seen it make our customers' in-store visits much more efficient. The customers who interact with our website spend half as much time as they used to in our store. And our conversion rate is greater."•
Please enable JavaScript to view this content.