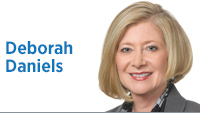 Gov. Eric Holcomb's recent and impressive "Next Level" announcement promises to increase the state's competitiveness on several fronts. The renegotiated Indiana Toll Road agreement will yield an initial $1 billion to the state to be spent on road projects in the seven toll road counties. This will free up other resources to fund a broad array of important and necessary projects. And, yes, the toll road will still be owned by the state; it was never "sold."
The state is now able to accelerate the completion of section six of Interstate 69 by a full three years, to 2024. While 2024 sounds far away, it's a lot closer than 2027.
Newly available funding will go a long way toward reaching the governor's goal of turning U.S. 31 between South Bend and Indianapolis into a "free-flow" road, free of stoplights and railroad crossings. Other arteries will also be improved.
But it's not all about roads. One of the most exciting aspects is the initiative that will extend high-speed fiber-optic broadband access into rural areas currently underserved or not served at all. As one commentator suggested, lacking broadband access today is much like lacking electricity in the 1930s. How can a small business thrive in the 21st century without internet access?
It has been estimated that the extension of high-speed broadband access to our rural areas will provide, over 20 years, as much as $12 billion in economic benefit to Indiana residents and businesses. This is something our rural communities have been requesting for years, and the need has reached a near-crisis point as the economy relies ever more heavily on access to broadband.
Other benefits will include grants to build and extend hiking, biking and riding trails, connecting communities to one another, providing health benefits, and making Indiana a place where young people want to live—critical to attracting our current and future workforce.
Earmarking $20 million to establish additional international flights to Indianapolis will boost our efforts to connect the entire state to markets around the world, providing additional economic opportunity for businesses throughout the state.
As part of the renegotiated agreement, the toll road operator will increase the tolls on trucks (not on passenger cars), making more funds available to the state for additional improvements. This still keeps Indiana's tolls on a per-mile basis competitive with other states, lower than most, and significantly lower than many. As some have pointed out, the increase is not overly burdensome to the trucking industry, though any increase is sure to be resisted.
In addition, the toll road operator is required to spend $50 million on upgrades to the highway, most of which will benefit truckers specifically, and must continue to maintain and improve the road. By 2025, the toll road operator will have invested a total of $500 million in road upgrades over a 10-year period.
A few objections have been raised, including some by members of the Indiana General Assembly who complain that they weren't consulted. But their consent is not required by the agreement; the maintenance of the toll road and other infrastructure is an executive-branch responsibility unless the executive is requesting to spend more, which did not happen here.
The toll road consistently lost money and was poorly maintained throughout prior decades. It took creativity and a willingness to innovate in order to turn it into a self-sustaining asset.
Kudos to the governor for having the vision, creativity and courage to take our infrastructure to the "next level."•
Click here for more Forefront columns.
__________
Daniels, a partner at Krieg DeVault LLP, is a former U.S. attorney, assistant U.S. attorney general, and president of the Sagamore Institute. Send comments to ibjedit@ibj.com.
Please enable JavaScript to view this content.