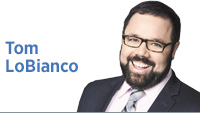 Here's something Vice President Mike Pence and most journalists have in common: We are great at telling other people's stories, but not so hot at telling our own.
Still with me? (It's cool: I had my aneurysms yesterday, after this idea struck me. They heal, I hope.) 
I was thinking of this as Pence delivered a much-touted speech on China this past week. It was stern and taut, a well-thought out message with a clear purpose—in short, the opposite of what the president himself had attempted just a week earlier. President Donald Trump accused China of interfering in this election cycle—which only highlighted his own struggles admitting that Russian operatives meddled in the 2016 election.
Pence did a far better job trying to paint the target on China, flashing the message discipline that made him such a valuable pick for someone who, well, lacks that discipline. But the vice president has been far less effective at telling his own story, taking a highly cloistered approach and, in the process, often letting others tell it for him.
That's produced both good and bad results. In campaign terms, this would be considered defining yourself before your opponent gets a chance to. Pence learned a critical lesson about this in between his failed first two runs for Congress and his successful third bid. I think there's also a lesson in here for journalists.
As I work on my biography of Pence, I've been fortunate to have the help of his close friends and advisers who have helped explain a man who is often misunderstood. I teased some of that reporting earlier this week in a piece I wrote for Medium.com about one of Pence's political superpowers: listening.
As journalists, we often run into a similar dilemma—letting others define who we are, rather than stepping out front ourselves. A lot of that is in the job description: At our finest, we are the fly on the wall in that room readers are so dying to get into. Buzzing flies get swatted.
But in the last few years, we've stood back as Trump has taken a serious problem—fake news, pushed in part by Russian hackers—and tried to brand us with that label. What is a fly to do?
It seemed easy enough to brush off those attacks—he's hardly the first politician to take some cracks at the press, I've certainly had a few throw some brushback pitches my way—but then an angry gunman shot through the entrance to the Capital Gazette newspapers in Annapolis. He murdered five journalists.
It's hard to link this directly to the president's own lambasting of the press, and he expressed his own condolences after the shooting. But this seemed to be a wakeup call for reporters. Maybe we need to do a better job letting the public know who we are, what our values are. Perhaps we should stop letting a combative president define us.
Perhaps it's time for journalists to learn something from the politicians we spend so much time writing about and begin to tell our own story.•
Click here for more Forefront columns.
__________
LoBianco was a political reporter for The Indianapolis Star, CNN and The Associated Press and is currently writing a book on Mike Pence.Send comments to ibjedit@ibj.com.
Please enable JavaScript to view this content.