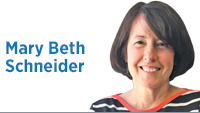 By now, the nation knows whether Brett Kavanaugh is the ninth Supreme Court justice. Barring the unlikely scenario of all Democrats opposing him with at least one Republican joining them, he will have weathered sexual assault allegations as well as doubts about his credibility and temperament.
And this will be over, right? Hardly.
To so many women, the last couple of weeks felt like another losing battle in a lifelong war to be believed and respected. It started long before Anita Hill was called "a little bit nutty, a little bit slutty" for testifying that Clarence Thomas sexually harassed her. It deepened with James Carville suggesting Bill Clinton's accusers were low-class tramps because, "If you drag a hundred-dollar bill through a trailer park, you never know what you'll find."
And it was certainly taken to a new low when President Trump mocked Christine Blasey Ford at a Mississippi rally, as his supporters laughed and cheered.
After seeing powerful men finally face a reckoning for their actions—from Al Franken to Harvey Weinstein, Les Moonves to Bill Cosby—it seemed the battlefield had shifted somewhat. Yet here we were again, asking why Ford didn't tell anybody as a 15-year-old that Kavanaugh assaulted her with his pal joining in the laughter she can never forget. Once again, a woman was painted as either a liar or a sad, confused hysteric.
Even some of those who believed Ford dismissed sexual assault as no big deal, saying, "Boys will be boys."
Jennifer A. Drobac, a law professor at Indiana University McKinney School of Law, said that hackneyed phrase "is a cover-up that men use to camouflage illegal and abusive behavior. … Boys will be playful, innocent, kind. But they're not rapists and p***y grabbers and sexual molesters."
Speaking before the confirmation vote on Kavanaugh, Drobac was hoping the Senate would conclude he is not qualified to be a Supreme Court justice. Even if you don't believe Ford, she said, there was his obvious dissembling about the sexual innuendoes in his yearbook—questions that go to his veracity. And there was his charge that Ford's allegation was mere Democratic revenge for his role in Clinton's impeachment, followed by his partisan threat of retaliation as he vowed, "What goes around comes around."
She feared his confirmation will mean "people who bring sexual misconduct and discrimination accusations will soon face higher burdens of proof, mandatory arbitration and possibly even the attorneys' fees and costs of suit should the accuser lose." And she foresees a nation where faith in the judiciary is further undermined—but also where people turn their outrage into political action.
Drobac likened this national trauma to a bad case of chicken pox.
"You know that you are starting to heal when the pox really started to itch. You are miserable, just miserable. The fever has gone down and you are just picking at the scabs. That's what we're doing now. We realize what the problem is and it's not over yet. And it may never be over."
"Are things better?" she asked "Yes, they're a little better. At least we know what the problem is and we know the extent of the problem. We know that the entire body politic is covered in pox."
And politics is what determined so many people's loyalties in this case. But sexual assault shouldn't be a political football.
"This is not about Democrat or Republican," Drobac said. "People need to let go of that. This is not a partisan issue. This is a human rights issue."•
Click here for more Forefront columns.
__________
Schneider covered Indiana government and politics for The Indianapolis Star for more than 20 years. Send comments to ibjedit@ibj.com.
Please enable JavaScript to view this content.