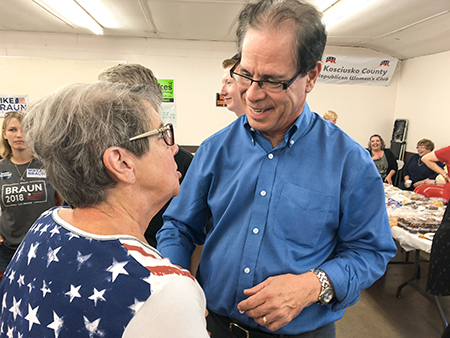 Republican Mike Braun's path into politics started with a phone call he received at home intended for his wife, Maureen.
Bernie Volger, now president of the Greater Jasper Consolidated School Board, was calling to see if Maureen Braun would be interested in filling an open seat on the school board.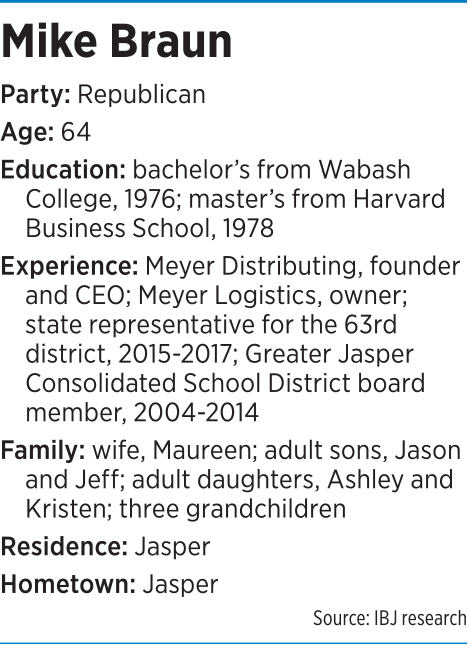 Mike Braun had answered the phone and was repeating what Volger was saying, so his wife could hear. She was shaking her head no.
"I said, 'She would love to talk to you, but she's got too much going on,'" Braun said.
Instead, Braun offered himself up for the job.
"I thought it was a good time to start to give back," Braun said.
So, in 2004, Braun joined the board. He helped the school district weather the Great Recession, debate whether to tear down or preserve an old gymnasium (he voted to preserve it) and analyze when the right time would be to build a new elementary school without raising taxes (it's under construction now).
"He was always very patient listening to what people had to say," said Greg Eckerle, who served on the school board with Braun for six years. "It was fun to listen to him, because he was so articulate."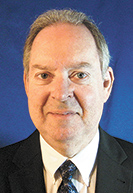 Eckerle
Braun said he enjoyed serving on the school board and thought his business experience, as CEO of Jasper-based auto-parts distributor Meyer Distributing, was an asset to the board.
"I never really had any interest in running, even then, for any type of office beyond that," Braun said.
But a decade after Braun joined the board, his attitude changed. He won a seat in the Indiana House and then, two years later, left to run for the U.S. Senate, where he's now locked in one of the tightest races in the country.
'A regular guy'
Braun is worth an estimated $35 million to $96 million, according to his personal financial disclosure, but people who know him say you wouldn't ever guess that.
"I had no idea he had the wealth that he did," Eckerle said, remembering when Braun would drive "a little old pick-up truck" around town. "He just seemed like a real common guy."
Braun has become known for his signature blue button-down collared shirt that he wears to campaign events and debates. He used it to make himself stand apart from Republican U.S. Reps. Luke Messer and Todd Rokita in the primary, and Sen. Joe Donnelly is using it against him now.
"That's not a gimmick whatsoever," Eckerle said.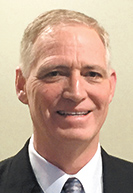 Jackson
Kosciusko County Commissioner Bradford Jackson, who let Braun stay at his house during a couple of days of campaign events earlier this year, said he likes that Braun is "just a regular guy."
"The thing that impressed me the most is when he got to our house he said, 'I've got to go put some jeans and a T-shirt on,'" Jackson said.
Eckerle said you'd never know that Braun, a Jasper native, has a master's degree from Harvard Business School.
When Braun graduated in 1978 and his friends headed to other big cities and Wall Street, Braun returned to Jasper.
"He said people looked at him, like, 'Really? You're going back to southern Indiana," Eckerle said.
In May 1981, Braun started working for a company—Meyer Body Inc.—that was partially owned by his dad, and by 1995, the son had acquired the 15-employee company.
Braun moved the business from a few miles away in rural Dubois County to Jasper and renamed it Meyer Distributing. By 2008, he had 300 employees.
And while Braun is most known for Meyer Distributing and sister company Meyer Logistics, a trucking firm, his holdings extend far beyond those businesses.
Braun has helped establish a handful of other entities, including Transit Properties LLC, Braun Family Properties, Maple Land Co. LLC, Starline Properties and White Oak Land and Timber.
All but one—Maple Land Co.—shares an address with Meyer Distributing, according to records with the Indiana Secretary of State's Office. Braun reported owning 50 percent of Maple Land Co. on his personal financial disclosure filed with the U.S. Senate.
On the same document, Braun listed Braun Family Properties, but reported that he does not own any portion of it, nor is he a member of it. Braun's campaign spokesman Josh Kelley said he's considered a manager of that entity because he helps oversee some of the timber and ag parcels that Braun Family Properties controls.

Transit Properties LLC, Starline Properties and White Oak Land and Timber are not listed on his personal financial disclosure, but Kelley said that's because while Braun was initially involved in them, he no longer is.
Braun has used at least a couple of those entities to buy property, in addition to 2,500 acres he owns personally or with his wife.
Altogether, Braun has at least partial control over more than 5,500 acres of property in Indiana or just outside it with a total assessed value of $6.3 million. He helps manage another 2,800 acres with an assessed value of $15.1 million for Braun Family Properties.
In 2011, Maple Land Co. bought what's known as Diamond Island on the Ohio River for $6.2 million at an auction. The island is considered to be in Henderson, Kentucky.
Eckerle said it impresses him that Braun was willing to step away from his business career to run for public office.
"He built his business and realized that dream and now he wants to serve in another way," Eckerle said. "I guess he reached a point in life where he wanted to reach out."
Opportunity comes calling
In 2014, Jasper Republican Mark Messmer decided to run for state Senate instead of running for re-election for his state House seat.
On the hunt for someone to replace him, Messmer called Braun first to see if he had any interest. "He was very interested," Messmer said. "He said he had been debating at some point to get more active in political ventures beyond the school board."
Messmer said others interested in running told him if Braun wanted to run, they were happy with that.
Braun sailed through the primary in 2014 and had no opponent in the general election. He resigned from his seat on the school board in November 2014 and started as a state representative in 2015.
Messmer, who won his race for state Senate that same year, said Braun "was very quick to learn the processes" at the Statehouse as a new lawmaker.
"He's a smart guy," Messmer said. "He was very effective at developing the types of relationships you need."
Braun said he immediately started working on an infrastructure plan for the state, because he knew it was a big issue in his district. The road funding bill that eventually passed in 2017 boosted Indiana's gas tax by 10 cents a gallon, a cost Braun said was necessary for the state to have a strong infrastructure system.
"I'm interested in leading and taking on issues that are hard to tackle," Braun said. "That's what you're going to get out of me."
Once the road funding legislation passed, Braun started thinking about where else he could have an impact. He won re-election to his Statehouse seat in 2016, but he didn't want to run for a state office again. He was thinking bigger.
This time, no one called or recruited him. It was all his thinking: He should run for U.S. Senate.
"We don't send the cream of the crop there," Braun said. "The problem solvers, the people who fix things in this country, choose not to get into politics."
Braun resigned as a state representative in November 2017 and launched his campaign, which he largely self-funded. In May, he beat Messer and Rokita by painting them as career politicians and describing himself as the outsider, like President Donald Trump.
And that outsider impression—a normal guy without a tie—seems to have stuck.
"I think Braun is cut from the same cloth as President Trump," Jackson said. "What you see is what you get. He's a real down-to-earth guy."
On the defense
Braun has carried a similar message into the fall campaign. He wears the same blue shirt and sends the same message—that political insiders like Donnelly should be sent home.
But he's spending much more time fundraising than he did before May, as he transitions from self-funding his campaign.
He's also had to spend time defending his record as a business owner. Democrats have argued Meyer Distributing's health plan isn't a good model because it relies on high deductibles. And opposition groups have accused Braun's company of distributing parts from other countries.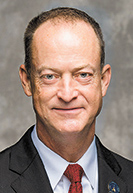 Messmer
The attacks are on his mind at campaign events. As he greeted Republicans at a fish fry in Warsaw earlier this month, he told nearly everyone he talked to not to believe the negative ads.
"Just consider the source," Braun told one woman.
"That's Chuck Schumer from New York," he told another, referencing a group behind some of the negative ads. "That's lies."
Braun is optimistic about the race, though.
"Everything shows we're gaining each week," Braun said. "You can't win on negativity."•
Please enable JavaScript to view this content.