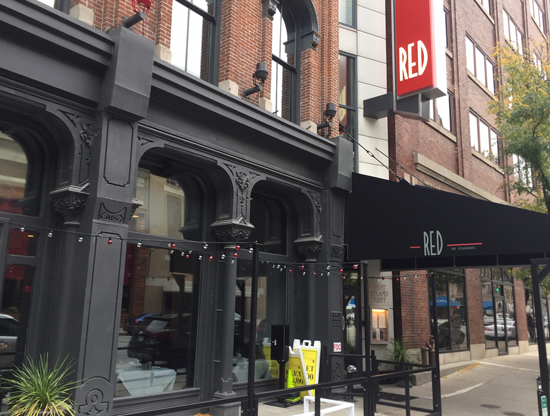 Downtown's jam-packed steakhouse scene has become a little less crowded. Red the Steakhouse, which opened in one of downtown's oldest buildings in May 2017, served its final meals on Thursday.
The closure of the upscale restaurant at 14 W. Maryland St. is part of a Chapter 11 bankruptcy reorganization plan by its suburban Cleveland-based parent company, Red Restaurant Group.
An employee at the Indianapolis location told IBJ that staff members were informed of the decision on Thursday.
Red, the owner of four Red the Steakhouse locations and one Moxie the Restaurant, filed for reorganization on Sept. 28.
The company plans to continue operating two Red the Steakhouse restaurants and the sole Moxie location in the Cleveland area. But it decided to shut down the Red the Steakhouse locations in Indianapolis. Another Red the Steakhouse location in Pittsburgh closed in early September. The company also plans to maintain operations at at Red location in Miami Beach, Florida.
Owner and CEO Brad Friedlander told Crain's Cleveland Business that his Cleveland-area restaurants were doing well, but not well enough to support what he called an expansion "that was significantly under-capitalized."
He said he decided to close most of the restaurants outside of Ohio and file for Chapter 11 to "protect the brand and the successful restaurants" in the Cleveland area.
The 14-year-old company reported $3.5 million in liabilities and only $442,000 in assets.
Red announced plans for its 180-seat Indianapolis restaurant in May 2015, but it took two years before it opened following an extensive build-out on the ground floor of the historic building next to Circle Centre.
Constructed in 1876, the Italianate structure was known as Elliott's Block and was home to Indiana News Co. after serving as a warehouse annex for L.S. Ayres Co.
A major renovation in 1999 transformed the space into an upscale restaurant known as Malibu on Maryland, with hotel suites on upper floors. It also operated as 14 West Restaurant and Suites, closing at the end of 2012.
Jeff Laskowski, the retired CEO of Wood-Mizer Products Inc., bought the 20,000-square-foot building for $3 million in late 2013 from the Carter M. Fortune family trust.
Laskowski converted the top two floors of the four-story space into one high-end residence.
Downtown Indianapolis has about a dozen restaurants devoted to steak, including the world-famous St. Elmo's and newcomer Tony's of Indianapolis, which opened in September.
Please enable JavaScript to view this content.