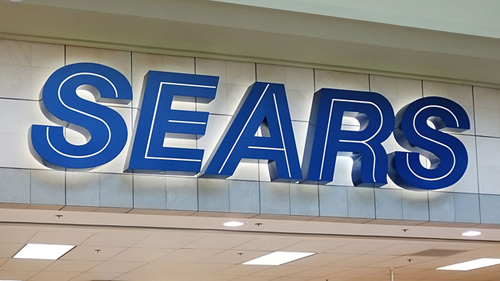 The lone remaining Sears department store in the Indianapolis area will cease operations as part of the parent company's bankruptcy reorganization plan, according to a closure list filed Monday as part of court papers.
The Greenwood Park Mall Store is slated for closure by the end of the year, Sears Holdings disclosed.  Also on the list is the only Kmart left in Indianapolis, at 6780 W. Washington St.
At 256,000 square feet, Sears is by far the largest anchor tenant in Greenwood Park Mall, ahead of Macy's at 155,000 square feet and J.C. Penney at 143,000.
Elsewhere in Indiana, Sears Holdings plans to close a Kmart in Griffith, a Sears department store in Terre Haute and a Kmart store in Jasper.
Sears Holdings filed for Chapter 11 bankruptcy protection Monday, buckling under its massive debt load and staggering losses.
The company said it would close 142 unprofitable stores near the end of the year, with liquidation sales expected to begin shortly. That's in addition to the closure of 46 unprofitable stores that had already been announced.
The only other stores affiliated with Sears in the Indianapolis area are a Sears Hometown Store in Greenfield, a Sears Appliance Outlet in Speedway and a Kmart in Elwood.
Sears Hometown and Sears Appliance Outlet stores are owned by Sears Hometown and Outlet Stores Inc., which was spun off by Sears Holdings in 2012. The stores are part of the Sears online marketplace. There are more than a dozen Sears Hometown Stores throughout Indiana. 
Court papers said the latest rounds of closing will be completed by the end of the year. Those stores will hold liquidation sales.
The company will have only about 500 stores in total after the latest rounds of closures, down from roughly 3,500 stores about a decade ago.
Please enable JavaScript to view this content.