Indianapolis officials are deploying a rarely used tool to try to spur economic development in three areas of the city that have signs of potential but need a push in the right direction.
The city is in the process of setting up "redevelopment areas" surrounding North Post Road between 38th and 42nd Streets, the West 38th Street area known as International Marketplace, and a corridor of Brookville Road that contains the former Navistar and Ford Visteon plants.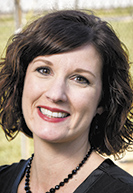 Mack
It's been about a decade since the city implemented large-scale redevelopment areas, said Emily Mack, director of the Department of Metropolitan Development. Prior designations include areas around Martin Luther King Jr. Street and the near east side.
The designation, which is defined in Indiana code, is designed to stimulate redevelopment in distressed areas where "normal development and occupancy are undesirable or impossible" because of economic challenges.
Mack said the new designations increase those areas' chances of scoring state or federal grants and also open the door to using other economic development tools. The designations require approvals by the Metropolitan Development Commission and the City-County Council, which soon will take up the Post Road proposal.
"At one time, [these areas] were really thriving and healthy, and they declined over a period of decades," Mack said. "This is an opportunity to help them climb back up. It brings them tools and resources and raises the profile."
Deputy Mayor Jeff Bennett said establishing the redevelopment areas is about "setting the table" for more investment. Bennett said that one of the lessons city officials and partners learned from redevelopment projects in Fall Creek Place and on the near east side is that "you can really show results in a short period of time" by focusing on areas right next to healthier neighborhoods.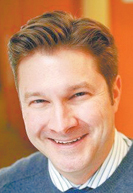 Bennett
That's the goal of Mayor Joe Hogsett's Lift Indy program, which directs a large portion of what the city receives in U.S. Department of Housing and Urban Development grants to specific, focused geographical areas instead of spreading it across the city.
In 2017, Hogsett announced that the first Lift Indy neighborhood was the so-called Monon16 area within the Kennedy-King neighborhood, which is expected to receive $4.5 million over three years. The city soon will announce the second Lift Indy neighborhood.
Bennett said establishing redevelopment areas is intended to get neighborhoods in shape for the Lift Indy program or other investments.
"We have neighborhoods that aren't ready for that," Bennett said. "What do you do? We can't solely focus on the neighborhoods on the verge, the neighborhoods that are right on the edge. One of the things we're seeking to do is just elevate the profile of areas where there is activity happening that may be flying under the radar."
The neighborhoods the city is targeting have varied challenges: The North Post Road area has rundown apartments and empty retail, the Brookville Road area has two large former factories, and the West 38th Street area includes struggling Lafayette Square mall and vacancy-plagued shopping centers.
"There's no one-size-fits-all approach," Bennett said. "Every neighborhood has its own nuances and history. And in a way, it has its own future. The successes will be in different ways depending on neighborhood needs and priorities."
Here's what city and neighborhood leaders want to accomplish:
North Post Road
The area surrounding North Post Road from near 38th Street to 42nd Street contains underused shopping centers and dilapidated multi-family housing, including the Oak Tree Apartments at 9012 Pinehurst Drive, which a Marion County judge ordered torn down earlier this year. The apartments have been vacant, save for squatters, since 2014 when the last residents were ordered to leave because they lacked water.
Meanwhile, the North Eastwood Shopping Center at 8939 East 38th St. has yet to find a permanent anchor since a 56,000-square-foot Kroger closed in 2009.
But there are also some "bright lights" in the area, Bennett said.
IndyGo's planned Purple Line rapid-transit bus service will run through the corridor, providing better public transportation and connections to employers. The Community Alliance of the Far Eastside and a Boys and Girls Club are nearby. Finish Line's headquarters and distribution center provide walkable jobs for area residents.
Mack said the city's goals include rehabilitating multi-family complexes, including Oak Tree Apartments, as well as creating affordable housing and retail along the Purple Line route. The Purple Line is scheduled for completion in 2021.
Michael Howe, executive director of the Community Alliance for the Far Eastside, said he is excited about the designation, especially because "the far-east side has been a little ignored with resources in the past."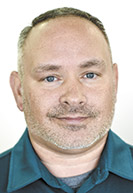 Howe
Howe said he hopes the designation by the city "will trigger some renewed interest" in the Oak Tree Apartments.
And Howe said he wants to see façade improvements at the North Eastwood shopping center "that might spark some new retail."
"Having the city backing you and supporting you can build momentum in a lot of different ways, from programs and services to economic development to better parks and infrastructure and street and sidewalks," Howe said.
Brookville Road
City officials hope that creating a redevelopment area along Brookville Road will help spur the revitalization of two massive former industrial sites: the Navistar plant and Ford's Visteon plant, which employed thousands before closing about a decade ago.
Raymond Park, whose Cleveland-based Park Corp. bought the former Navistar site at 5655 Brookville Road in 2016, said the former factory now is almost completely demolished.
Navistar, formerly International Harvester Co., employed as many as 1,650 workers in 2005. Over the years, workers made a range of products, from farm implements to refrigerators to diesel engineers.
"We hope to lease the property or sell it," Park said. "We hope to get a big company in and have manufacturing in. It's quite nice land because it's on the railroad."
Mack said discussions are ongoing regarding future uses at the Ford Visteon site at 6900 English Ave., which at one point employed 2,200 people making automotive components. Ford Motor Co. still owns that property.
"When you think about that area, it's just sort of divorced from the neighborhoods around it," Bennett said.
City officials hope the former plants find new uses, creating jobs that can sustain and entice more middle-class families.
"If we do that we'll have the effect of raising the wages of area residents, and it's the reconnection to the historic middle-class economy we had," Bennett said.
"They may not be industrial or manufacturing jobs, but in sectors where you can make a similar wage and that happens to be within walking distance or a bus rapid transit ride to your house."
The redevelopment area also will incorporate the struggling Irvington Plaza shopping center at 6200 E. Washington St., where anchor tenant Marsh Supermarkets closed last year.
Margaret Banning, executive director of the Irvington Development Organization, said the Irvington Plaza has "really been an albatross hanging on the neck of the corridor, weighing down that end of the street."
The shopping center contains "lots and lots of parking for cars and a completely obsolete layout," Banning said. According to Midland Atlantic Properties, the more than 150,000 square-foot center has several spaces available, in addition to the former Marsh's 32,000-square-foot spot.
"The buildings are not adapted or adaptable for current shopping patterns and the way people experience retail," Banning said. "What the community has envisioned for the plaza site is to have mixed-use development."
She would like to see Irvington Plaza reconfigured to create retail and commercial spaces fronting Washington Street, resulting in a "transit-oriented development" that complements the Blue Line bus rapid transit route that's slated for Washington Street. She'd also like to see residential development along the side of the plaza that runs along the Pennsy Trail.
Banning said she hopes the redevelopment designation helps create momentum.
"It's the first step," she said. "It's saying to the developers that the city is interested in this spot and is dedicating resources and making this a priority. It's putting the sign out front saying, 'Hey, come talk to us.'"
West 38th Street
West 38th Street is a haven for strip malls, many of them largely vacant.
City officials say the West 38th Street corridor has experienced disinvestment. But Bennett said "there are a lot of positive things happening" nearby—most notably efforts to establish the corridor as an International Marketplace, with ethnic restaurants and business owners from across the globe.
"To see what has been done in terms of creating a brand and identity for the area, they put it on the map in a way that none of us could have dreamed," Bennett said. "The redevelopment area designation is a small way we can provide a validation for what they've done on their own in the last 12 years."•
Please enable JavaScript to view this content.