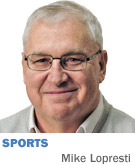 Now that the NBA season has launched—won't it be therapeutic to have a distraction from the Colts?—let's take the Pacers home schedule and look for dates to circle. All the while, remembering those four golden words.
LeBron is a Laker.
Meaning, he ain't in the Eastern Conference anymore. A genuine case of addition by subtraction for the Pacers, having been evicted five times from the postseason by one James gang or another. In the past seven years, 20 of Indiana's 34 playoff losses carry the fingerprints of a certain guy from Akron. Whatever hopes the Pacers carry next spring of a long run, nobody with the nickname of King will be in the way in the East. It'll be like a campout without the mosquitoes.
On that high note, some notable dates on the home schedule …
◗ Oct. 20. Brooklyn. Nearly a year ago to the exact date—367 days, actually—the Nets showed up in Bankers Life Fieldhouse on 2017 opening night, and Indianapolis got a first look at these new-look Pacers. What about this Victor Oladipo, anyway? Well, Oladipo had 22 points and the first four of his 177 steals, which would be the most the franchise had seen from a player in a quarter-century. The Pacers won 140-131. Talk about making a good first impression. They achieved what would be their high point total, only three hours into the season. They own a seven-game winning streak against Brooklyn, by the way.
◗ Oct. 29. Portland. Coach Terry Stotts might have Hoosier roots—he was an Indiana All-Star at Bloomington North 42 years ago—but his Trail Blazers have become a real pain in the Pacer posteriors. They've beaten Indiana seven of their last eight meetings, sweeping both games last season while allowing only an average of 91 points—more than 14 below the Pacers' average. This is the only home date in 13 days—slipped in among five road games – so it would be a good time to reverse all that.
◗ Nov. 3, 5, 7. NBA Heavyweight Week should tell a lot about how things are going early. Boston, Houston and Philadelphia are all in town over five days. Strange thing about the Pacers-Celtics series in 2017-18: The home team went 0-4. One of the Indiana defeats was 112-111—the only one-point game the Pacers played all season. The Sixers' game follows Election Day, so Oladipo can analyze how that Joe Donnelly endorsement went.
◗ Nov. 16, 17, 19. Four days, three Pacers home games, with Miami, Atlanta and Utah. Plus, Mississippi at Butler on Friday, and the Colts at home to Tennessee on Sunday. Should be a big weekend for popcorn sales in Indy.
◗ Nov. 23. San Antonio. It's the last home game before the Pacers make their first West Coast swing. The Spurs aren't as glittering as they once were, but East Chicago's own Gregg Popovich always has something interesting to say. Indiana swept San Antonio last season for the first time this century.
◗ Dec. 4. Chicago. Greg McDermott will play against his old team. But then, he'll do that a lot, since he is wearing his fifth different uniform in his first five seasons.
◗ Dec. 18. Cleveland. Wait a minute. Isn't someone missing? Oh, yeah. LeBron is a Laker. The last time the Cavs were in town, Indiana won by 34 points. That was game 6 of the first round. Alas, then they had to go back to Cleveland for game 7.
◗ Dec. 31. Atlanta. The Pacers ring out 2018 with a late afternoon home game. They could use the momentum of a victory, because next comes a five-game road swing through the meat of the Eastern Conference—including stops at Boston and Toronto. A chance for a great start to the new year. Or not.
◗ Jan. 19, 20. Dallas on Saturday and Charlotte on Sunday. That Sunday is also the AFC Championship Game. Just guessing Lucas Oil Stadium probably won't be all that busy.
◗ Jan. 23. Toronto. Last time these two met, the Pacers scored 73 points. Ugh. Trivia time: Who is the only team since 2011 to knock Indiana out of the playoffs without a single point from LeBron James? Right, the Raptors, in seven games in 2016.
◗ Jan. 28. Golden State. All hail, the NBA princes of darkness. Except, you might recall that the Pacers didn't hail the Warriors last season, they beat them. Twice. By 11 and 20 points, which was a pretty impressive sweep, even if it was in the last weeks of the season, when Golden State was in cruise control to the playoffs.
◗ Feb. 5. Los Angeles Lakers. It's Strange Bedfellows Night at Bankers Life! See LeBron James! See Lance Stephenson! See LeBron James pass the ball to Lance Stephenson! Who'd have thunk it? That's assuming they're still one big happy family by then. This opens a six-game homestand, longest of the season.
◗ March 2. Orlando. Ah yes, always good to see the Magic. The Pacers are 13-1 against Orlando the past four years.
◗ March 14. Oklahoma City. It'll be time to catch up again with erstwhile Pacer, Paul George. The playoff race should really be humming at this point, so beating George and his mates—which Indiana couldn't do in two games last season—might be important. Especially with six of the next seven games on the road, against a lot of beefy names. Might be the toughest stretch of the schedule, and just when conference seedings will likely be in play.
◗ April 5. Boston. It'll be the ninth anniversary of Butler's epic national championship game loss to Duke in Lucas Oil Stadium, and guess who'll be in town a few blocks away? Yep, Brad Stevens. This is the 80th game of the season, so … might be meaningful, might be mop-up time. We'll know by this date if the buzz was justified, and Oladipo was correct when he said at the end of last season, "We're just getting started."
If the Pacers are serious about going to the next level, they will likely have to deal with Boston sooner or later. Funny, how the world turns in the NBA. Public Enemy No. 1 for the Pacers used to be LeBron James. Now, it might be Brad Stevens.•
__________
Lopresti is a lifelong resident of Richmond and a graduate of Ball State University. He was a columnist for USA Today and Gannett newspapers for 31 years; he covered 34 Final Fours, 30 Super Bowls, 32 World Series and 16 Olympics. His column appears weekly. He can be reached at [email protected]
Please enable JavaScript to view this content.