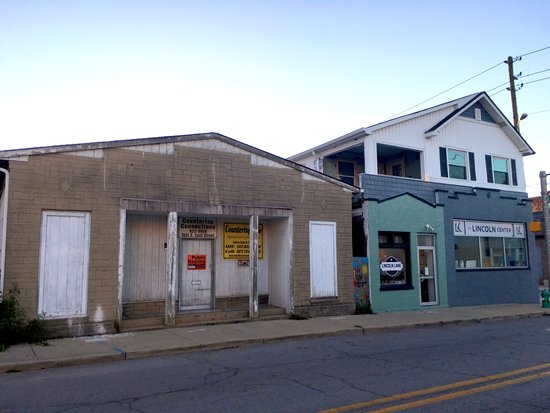 Indianapolis-based Two Chicks and a Hammer Inc. has built its brand around its housing rehab projects and its HGTV show, "Good Bones."
Now, the mother-daughter team of Karen Laine and Mina Starsiak are expanding their brand into the world of retail with a combination bar and store they plan to open early next year at 1531 S. East St. in the Bates-Hendricks neighborhood.
Laine and Starsiak purchased the 2,765-square-foot building in the fall of 2016. They're now securing permits for the project, which they're calling Two Chicks and a Hammer at District Co. Starsiak's sister, Kelsy Gray, is taking the lead on developing the project.
A 1,224-square-foot retail shop will occupy nearly half the space, selling home decor items featured on the current season of "Good Bones." The items will include items like kitchen wares, pillows, bedding and bed frames, Starsiak said, and the selection will change twice a year to stay current with the television show.
The store also will sell a selection of items from local artists and artisans.
Two Chicks sells some branded items on its website, but this will be the company's first physical retail space and its first time selling home decor items.
"The show's just given us an opportunity to do some really cool things and spotlight Indianapolis in a really good way," Starsiak said.
The building will also include a 600-square-foot bar up front which will also serve a limited menu of small bites. A 941-square-foot storage area will occupy the rear. The venue also plans to host monthly events at which customers can sip wine while doing craft projects, Starsiak said.
The bar is meant as both a neighborhood hangout and as a place for people to relax while their family or friends visit the Two Chicks store.
Starsiak estimated it will cost more than $100,000 to restore the building, which has been vacant for several years and most recently housed a kitchen countertop company called Countertop Connections, which moved to Franklin in 2016 after nearly 25 years at the site. The building, which dates to about 1912, originally housed the Lincoln Theatre. It also served time as a laundromat.
Two Chicks has secured a $20,000 façade grant through the Local Initiatives Support Corp., or LISC. The grant requires a $20,000 match, meaning that $40,000 will be available for a brick and cedar façade, and windows that can swing open for indoor-outdoor seating in good weather.
"We'll be able to make the front really something awesome," Starsiak said.
Bates-Hendricks is no stranger to Two Chicks, which has done many of its residential rehab projects in the neighborhood.
The Bates-Hendricks Neighborhood Association is currently working on a comprehensive redevelopment plan for East Street, and the Two Chicks retail project is a good fit for that plan, said Laura Giffel, the organization's president.
"I think this fits nicely into what we're looking for. We want things that are going to benefit the neighborhood," Giffel said. "I do think this is going to be a huge draw."
From a branding perspective, the project is also a "very savvy" move—and an unusual one for a smaller brand like Two Chicks and a Hammer, said Bruce Bryant, president of Indianapolis-based Promotus Advertising Co.
 "It's expanding the brand offering. It's presenting the brand in a new way that you might not have considered previously," Bryant said. "The more you can expand your brand into different areas, the deeper you can plant that flag and get that 'shelf space' in the consumer's mind."
Please enable JavaScript to view this content.