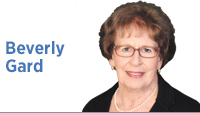 Election Day 2018 will mark the end of an era in the Indiana Senate. Since 1980, only two people have served as president pro tempore of the Senate: Bob Garton served from 1980-2006 and David Long served from 2006-2018. Both leaders brought integrity and strong leadership qualities to the Senate. Although their strengths were quite different, they each left an indelible mark on the Senate and will long be remembered for their principled and measured leadership.
Sen. Garton took the reins of leadership following some of the Senate's darkest days. In 1980, Republican Pro Tem Martin K. "Chip" Edwards was convicted of multiple felonies and served three years in federal prison. Sen. Garton's challenge was to restore the integrity of the Senate and instill in its members a culture of pride in the institution and the importance of transparency in doing the public's business.
Sen. Garton was widely known for his consistency in calling for "germaneness." According to "A Manual Of Parliamentary Procedure" by John Tilson, the basic principle of germaneness "lies in the need for orderly legislation." Sen. Garton's firm hand in applying the germaneness rule on Senate bills kept many very bad ideas from becoming law.
Under Sen. Garton, the Senate followed very strict rules of decorum that are still in effect today. Senators who have come to the Senate by way of serving in the House of Representatives have remarked that the difference in conduct of legislators in the House and Senate while in session is like night and day.
Much to his credit, Sen. Garton read every piece of legislation himself. Like most senators of that era, I received numerous memos from Sen. Garton with questions, suggestions and corrections to my legislation. Good work products coming from the Senate are something on which the Senate has prided itself.
In May 2006, it became apparent that Sen. Garton would not be returning to the Senate in November, requiring the Senate to elect a new pro tem. Members chose Sen. David Long in November 2006.
Although Sen. Long continued the traditions that Sen. Garton put in place, he applied a different approach by expanding leadership roles for many senators. The biggest difference between the two pro tems had to do with the makeup of the Republican caucuses. Sen. Garton had smaller majorities than did Sen. Long and the majorities under Sen. Garton tended to be more moderate.
Beginning in the mid-2000s, the tea party and conservative groups elected more Republican Senators. In Sen. Garton's first term as pro tem, his Republican/Democrat balance was 26-24. In Sen. Long's last term, the balance was 41-9. Sen. Long had a challenging job balancing the priorities and interests of a very diverse caucus and he did it exceptionally well. Both leaders will go down in the history of the Senate as strong leaders who returned the Senate to an institution of respect and integrity.
For the new leadership coming to the Senate, much can be learned by studying the tenures of Sens. Garton and Long. Sen. Rod Bray, the pro tem-elect, brings to the position a background unique among his peers. His father, former Sen. Richard Bray, served in the Indiana House and then the Senate for many years. His grandfather, William Bray, served as a U.S. congressman for 24 years. Although Sen. Rod Bray has only served six years in the Senate, he has been around government his entire life. He knows the importance of maintaining the Senate as an institution of respect, integrity and transparency.
The Republican caucus will likely maintain its supermajority, which is both a blessing and a curse. It is imperative that supermajorities not abuse their power. Sen. Bray's caucus will likely be younger in average age with fewer years of experience. His leadership team will also be younger. While not necessarily a negative, they need to be vigilant to ensure the House does not entirely control the agenda.
Despite this transition, the Indiana Senate remains a venerable institution with every reason to believe that it is still in good hands.•
Click here for more Forefront columns.
__________
Gard is a former Indiana state senator and chairs the Environmental Rules Board and the Indiana VW Mitigation Trust Fund Committee. Send comments to ibjedit@ibj.com.
Please enable JavaScript to view this content.