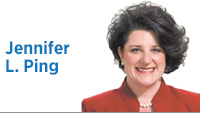 In 2014, we madeHoosier history.
For the first time ever, three women didn't just lead a statewide ticket—they won. Republicans Connie Lawson, Suzanne Crouch and Kelly Mitchell were elected as Indiana's secretary of state, auditor and treasurer with an average of 58 percent of the vote.
Together, their victories showed that Hoosiers believe in proven leadership and results.
This year, I believe Hoosiers will repeat history and vote again to elect an all-female Republican statewide ticket that has Indiana on the right track. Connie Lawson and Kelly Mitchell are up for re-election, and following Suzanne Crouch's promotion to lieutenant governor, we have our new auditor, Tera Klutz, on the statewide ballot for the first time.
Secretary of State Connie Lawson has built a track-record of serving Hoosiers. From overseeing elections as Hendricks County clerk to her service in the Indiana Senate (where she chaired the Senate Elections Committee), she's no stranger to fighting for Hoosiers.
And now as Indiana's secretary of state, Connie is improving the way Hoosiers interact with their state government. Under her direction, business services are streamlined, making it easier for them to grow and create new Hoosier jobs. Connie's securities division has recovered more than $100 million from scam artists who targeted Hoosiers.
That's while she's made it easier for Hoosiers to vote and harder to cheat. This is exactly the leadership Indiana needs, and I believe voters will send Connie back to the Statehouse.
Treasurer Kelly Mitchell also has a record of delivering results. Before she was elected as our state treasurer, Kelly served as Cass County commissioner for eight years and then worked in the treasurer's office as director of TrustINdiana, Indiana's local government investment pool.
Now, in her role as chief investment officer for Indiana, Treasurer Kelly Mitchell safely invests $5-$7 billion dollars on behalf of Hoosiers every day. Kelly has worked diligently across the state to help Hoosiers save for college through the CollegeChoice 529 savings program.
Unique to Indiana, our treasurer also oversees E-911 services for Indiana. Through her leadership, Kelly has guided the implementation of the largest text-to-911 service in the country, serving all 92 counties. Kelly has the experience Hoosiers deserve as our state treasurer.
Auditor Tera Klutz may be the newest member of our Republican all-female statewide team, but she has hit the ground running since taking office last year. Tera is putting her skills and experience to work as the first certified public accountant to serve as state auditor.
Indiana's auditor does not audit, as some might think. The auditor manages the state's accounting and payroll services. As auditor, Tera is modernizing Indiana's accounting practices and saving hard-earned taxpayer dollars. Tera's leadership is key to Indiana maintaining a balanced budget and responsible reserves, which has made our state the fiscal envy of the nation.
Keeping a watchful eye on the state's finances, Tera also manages Indiana's award-winning transparency portal, providing Hoosiers with a tool to watch over state spending.
As more women throw their hat into the ring to run for office, Indiana has had women leading our state for years. Under the leadership of Connie Lawson, Kelly Mitchell and Tera Klutz, Indiana is on the right track.
On Nov. 6, I'll be voting to send Connie, Kelly and Tera back to the Statehouse to continue delivering results for Hoosiers.•
Click here for more Forefront columns.
__________
Ping is a principal at Bose Public Affairs Group and former chairwoman of the Marion County Republican Party. Send comments to [email protected]
Please enable JavaScript to view this content.