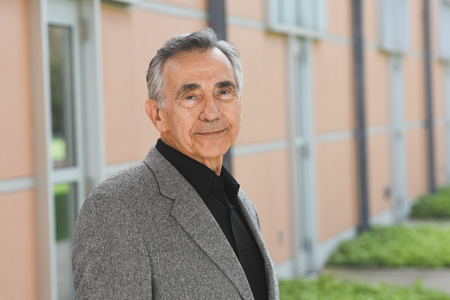 Frank Basile is one of the city's premier philanthropists, sitting on nine not-for-profit boards and (along with his wife, Katrina) handing out funds to arts groups ranging from the Indiana Repertory Theatre to the Phoenix Theatre to the Indiana Historical Society.
But his "office" isn't some walnut-lined sanctum. Often it's a quiet table at his default meeting place, the nearest Panera Bread.
Basile's taste in dining establishments perfectly sums up his management style. Eschewing pretense, he prefers to go someplace where he can talk business for hours over a cup of coffee without tying up a server's table.
There's plenty of business to talk about these days. Since his retirement from his position as senior vice president of property management with the Gene B. Glick Co. in 2008, he's tackled some large challenges, including serving for 14 months as interim CEO and president of the Center for the Performing Arts in Carmel and putting in nine months as interim vice president of Heartland Film.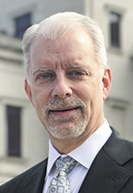 McDermott
"I joke that he's sort of a professional interim," said Jeffrey McDermott, president and CEO of the Center for the Performing Arts. "Any time an organization needs an interim, Frank is such a great choice. He's got great business acumen, but he also knows what he doesn't know and knows how to surround himself with people who can bring value."
Basile couldn't be happier about that. He's as generous with his professional experience and people skills as he is with his money, using them to facilitate important projects and shepherd arts organizations through troubled times.
"I don't have any major hobbies, like golf and stuff," he said. "My hobby is volunteer work. I'm so appreciative of the opportunity to do this, because it's my thrill."
Basile's devotion to philanthropy and his organizational acumen have earned him the distinction of being the 25th recipient of IBJ's Michael A. Carroll Award, given annually to a man or woman who has demonstrated the former deputy mayor's qualities of determination, humility and service. Carroll was among six people killed when two small planes collided over southern Marion County on Sept. 11, 1992.
Formative tests

Several crises from Basile's early life helped shape his philosophy and outlook.
He was born in 1939 in New Orleans, the youngest of six children and the only boy. His parents were poor—so poor that one day the principal at his high school took him aside and told him his father hadn't paid his tuition. So Basile, who was 14 at the time, took matters into his own hands.
"We had an old truck, and I drove it down to the French Market in New Orleans and bought a load of watermelons from a farmer," he recalled. "I drove it to the outskirts of the city, parked the truck by the side of the road and put up a sign that said, 'Three Watermelons for a Dollar.' I sold 400 watermelons and was able to pay my tuition."
At about the same time, he also managed to transform a glaring personal weakness into a strength. As a high school freshman, he realized he loathed public speaking. His voice cracked, his hands shook and sometimes he couldn't get out a single sentence.
"I even regretted that my last name began with a B, which meant that I was usually one of the first to be called upon," he recalled.
Instead of giving up, Basile confronted his fear. At the urging of one of his teachers, he joined the debate team. "The first debate I had, I actually got sick," he recalled. "But a year later, our high school won the Louisiana State Debating Championship for the first time. It turned my life around.
"The ability to speak helped me not just to become a professional speaker, but to get involved in volunteer organizations," he said. "It enabled me to express my beliefs and opinions."
It also set a template of sorts for Basile's life: turning personal shortcomings and setbacks into strengths. That never-say-die mindset would eventually land him in Indianapolis.
After graduating from Tulane University in 1961, Basile put in a couple of years with the Continental Oil Co.—a job that proved a poor fit.
"Fortunately, I was bypassed for promotion after two years," he said. "That motivated me to figure out what I really wanted to do."
He found another job with the Ford Motor Co., staying for 12 years and moving from Houston to Detroit to Indianapolis in 1971. But when Ford asked him to pull up stakes yet again and transfer to Los Angeles, he balked. In the midst of a divorce from his first wife and not willing to either uproot or leave behind his school-age children, he resigned from Ford in the midst of an economic downturn.
Unemployed and living in an apartment, he cast about for an opportunity. He found it right under his nose.
Job serendipity
"I noticed that the apartment complex where I lived was not well managed," he said. "I decided I would shop other apartment projects and pretend I was going to be a renter, to see how they handled me. And none of them did a good job. I started thinking, maybe I could make a difference in this industry."
He learned that the city's premier apartment owner and developer was Gene Glick, founder of the Gene B. Glick Co. So he wrote him a letter stating that, though he had no experience in property management, he felt that someone with his skills and professional background could "make a difference" in how Glick's complexes were managed.
What he didn't know was that three days earlier, Glick, whose company operated about 11,000 apartment units at the time, had expounded to his executive vice president, Max Thurston, about the need to offload his day-to-day management duties onto someone else, so he could focus on construction. They needed a motivator. A people person.
"When my letter hit Glick's desk, he wrote across the top of it, 'Max, this is the human being you and I discussed the other night.'"
Thus began Basile's 33 years with the Gene B. Glick Co. Besides educating employees on the importance of customer service, he also became a national figure in the field, authoring the first textbook for the national training of property managers and speaking to groups about the importance of professional-caliber property management.
An arts patron is born
At the time, however, the man who would one day become the financial patron and savior of numerous local arts groups wasn't terribly interested in cultural activities. When he was a kid, there was little money or inclination to introduce him to the arts. But his outlook shifted in about 1980, when attorney Henry Ryder approached him about chairing an operating fund campaign for the Indianapolis Art League (now the Indianapolis Art Center).
"I was stunned," Basile recalled. "I said, 'Henry, what is an operating fund campaign, and what is the Indianapolis Art League?'"
Meetings with its executive director, Joyce Sommers, convinced him to take the job, and he soon found himself on the organization's board. A couple of years later, Sommers approached him about contributing $30,000 to help build the league's current Michael Graves-designed headquarters, and to bolster community outreach programs. Basile, whose charitable contributions rarely exceeded $1,000 at the time, was taken aback.
"I gulped and asked for a few days to think about it," he said. "And then I decided to do it."
Thus his philanthropic career began in earnest. The gift earned him the opportunity to place his name on a portion of the new building, so Basile, after some initial hesitation, had the gift shop named after him. Over the years, Basile and his wife, Katrina, a retired banking executive and retired real estate agent with F.C. Tucker Co., have given enough to earn naming rights for five local gift shops and 11 theaters.
"He's one of the forces that helped me in my 33 years get the big stuff done," Sommers said. "And he inspired others. I even wonder if we could have made it without him."
Indeed, there's a long list of Indianapolis projects and groups that might not be around—at least not in their current form—if not for Basile's intervention.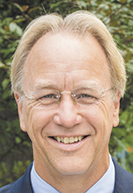 Payne
"Being an honest broker, and a broker with great sensitivity and integrity, that's a very important role in community life and in business," said Central Indiana Community Foundation President and CEO Brian Payne. "And I think Frank does that beautifully."
Frank's and Katrina's brokering skills helped make the Indianapolis Cultural Trail a reality. In March of 2006, Payne took a meeting with Basile and his boss, Glick, about the nascent effort, asking if Glick might want to invest $5 million. Basile discussed the proposal with his wife, who said she didn't think Glick would go for it in its current form. But because for years he'd entertained the idea of building a monument to peace, why not see if the two concepts could be melded?
"The next day I called Brian, and I said, 'Would you take more than $5 million?'" Basile recalled. "He said, 'Frank I'm on my cell phone, and I think we have a bad connection.'"
Basile assured him he didn't. In the end, the Glicks contributed more than $15 million to the project, plus another $2 million for the Glick Peace Walk, a section of the trail along Walnut Street, most of it between Meridian Street and Capitol Avenue. The Basiles also kicked in, sponsoring the two blocks of the trail running from the Peace Walk to the Central Canal.
For his part, Payne credits the Basiles with helping to make the Cultural Trail happen. It hadn't occurred to planners that the whole thing would be tackled by just one donor.
However, it hammers home something Basile has said many times, both in private and during the approximately 1,500 speeches he's given over the years: Charitable groups shouldn't be reticent about asking donors for all the money they need. Indeed, the donors should be grateful they are being asked, because it gives them the chance to do something edifying with their excess capital.
"Sometimes there's some sheepishness about development professionals asking people for their support," Payne said. "And Frank is an often-quoted advocate about this issue. He says, 'You're doing me the favor of giving me the opportunity to make a difference in my life.'"
Frank to the rescue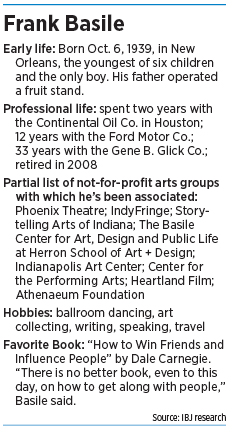 Since his retirement, Basile has also become a fireman of sorts, taking the helm at several arts organizations facing existential challenges. In 2011, he became CEO and president of the new Center for the Performing Arts in the midst of a crisis of leadership that threatened the entire project—a task he describes as a "24-hour-a-day job." Basile met with the staff, listened to their problems, talked with outside stakeholders and eventually got everyone pulling in the same direction.
"It was a struggle, but I loved it," he said. "I felt like what I was doing was important. I felt like I was helping this not-for-profit organization to survive a crisis."
In 2015, he was asked to do pretty much the same thing at Heartland Film, after the departure of the previous CEO.
"It was a different crisis but a similar problem," Basile said. "They needed somebody to run the organization, to keep the staff intact and motivated, raise money, and this, that and the other. So they asked me."
Though he still sits on nine not-for-profit boards (two of which are honorary), none of the organizations they oversee face a massive organizational crisis. Basile's duties typically include answering a flood of emails and taking two or three meetings per day—often at the nearest Panera.
Though it certainly doesn't seem so, Basile says he's taking it somewhat easier. He's written numerous books over the years and for two decades produced a weekly column for Indianapolis Business Journal. But these days he has mostly eschewed writing. And though he's been a professional speaker for most of his life, he doesn't do much of it anymore.
Instead, in their spare time, he and Katrina like to ballroom dance, attend cultural events, collect art and travel. That last pursuit he describes as his only indulgence. Over the years, he's visited some 175 countries. The only one left on his "bucket list" is Papua New Guinea.
Mostly he just wants to keep helping out local arts organizations with both his money and his time.
"Any success we achieve in this life is only a byproduct of the service we render to other human beings," Basile said.•
Please enable JavaScript to view this content.