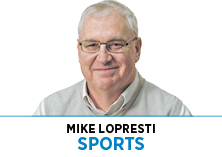 Look who's back to being a pest again.
Yeah, it's been 15 years since Purdue finished in the top 25, and the Boilermakers have never played in a Big Ten championship game, even though it's under 90 minutes from campus. They wouldn't mind ending both of those droughts soon.
One unmistakable pillar of their tradition is the knack for being an underdog who bites. That rather amazing dismantling of Ohio State the other night was the 12th time Purdue has beaten a No. 1- or No. 2-ranked opponent.
Anyone know where the old Spoilermaker signs are packed away?
Which brings us to a semi-retired man in his 60s, sitting in Ross-Ade Stadium as the Boilermakers thrashed the Buckeyes, having driven 18 hours from his home in Houston to watch it. As the stands shook with an upset roar, how could Rock Supan not think back to 1976, and the victory so long ago that was even more astonishing than this one?
Before there was David Blough helping shred No. 2 Ohio State, there was Supan helping beat top-ranked Michigan, between his 11 tackles as a safety, and his 23-yard field goal with 4:20 left that won the game 16-14. How many other guys do you know who were named national defensive player of the week the same time they kicked a field goal to beat No. 1?
Supan would relive that moment now—the last Purdue win over No. 1—by watching it again. If only he could.
"I've been trying to find a tape of that. I can't find it on YouTube," he said over the phone from Houston. "I can find the game against Notre Dame in 1977, when we introduced Joe Montana to the world [by allowing a late Montana-led Irish rally]."
Supan does have a game ball from the Michigan game, but gave it to Bruno's, a pizza place in West Lafayette. "It's in the trophy case in the restaurant, tucked behind a lot of Drew Brees statues."
So Purdue is back in the upset business, and how fitting that Supan was back to see it, for a reunion of late 1970s teams. From one generation's giant killers to another. To mark the occasion of the Boilermakers' latest epic surprise, here are seven other victories over No. 1 or No. 2 teams that really moved the needle on the shock-o-meter. Why seven? One for each touchdown Purdue put on the Buckeyes.
◗ No. 1 Minnesota in 1960. The Gophers won the national championship and gave up 88 points all season. But 23 of them came in a single day at home—a 23-14 loss to a Purdue team that was 2-4-1 at kickoff.
◗ No. 1 Michigan State in 1957. Purdue was 0-3 but dumped the Spartans 20-13 in East Lansing, thanks partly to a wrong call by a rookie official that took away a Michigan State touchdown. He had been added to the officiating crew at the last minute because the wife of the scheduled umpire had a heart attack. It would be the Spartans' only loss all season. They won their other eight games by an average of 24.5 points.
◗ No. 2 Michigan State in 1953. Purdue's offense labored all season, not scoring more than a touchdown in six of its nine games. That's one reason the Boilermakers would finish 2-7. They managed only six points against the Spartans, but gave up none to snap Michigan State's 28-game winning streak, 6-0. Purdue's only other win in 1953: 30-0 over Indiana. That's making your two victories count.
◗ No. 1 Notre Dame in 1950. The Irish had not lost in 39 consecutive games; Purdue was on its way to a 2-7 season. But the Boilermakers rolled 28-14 in the rain in South Bend. Purdue took the momentum from that great moment … and lost its next six games.
◗ No. 2 Notre Dame in 1974. The Ara Parseghian era ended with a 10-2 record and Sugar Bowl win over second-ranked Alabama. But on Sept. 28 in Notre Dame Stadium, a Purdue team destined to finish 4-6-1 dumped the No. 2 Irish 31-20.
No. 1 Notre Dame in 1965 and 1967, and No. 2 in 1968. This is when the moniker Spoilermakers truly came of age. Parseghian's teams might have shaken down thunder from the sky, but not on Purdue. From 1965-1969, Notre Dame went 38-4-4 against the rest of the world, but 1-4 against the Boilermakers.
No. 1 Michigan in 1976. Forty-two years later, Supan remembers the general public consensus. "No one gave us a chance." No wonder. The Wolverines had steamrolled eight teams by a combined score of 352-58, and not lost to a Big Ten opponent other than Ohio State in seven years. Purdue was 3-5, on the way to a fourth consecutive losing season that would get Alex Agase fired.
But for one remarkable Saturday in Ross-Ade Stadium, the universe flip-flopped. "That day, everything fell into place. Once we started clicking, we thought, 'Yeah, we can handle these guys,'" said Supan, adding that the enormity of the upset did not hit him until later. "I think afterward you start thinking about it … everybody is asking, 'How did you do it?'"
Supan was an Ohio kid who dreamed of playing for the Buckeyes, but Woody Hayes never recruited him, which is why he roots against Ohio State to this day. Michigan did woo him, but he had too much Ohio in him to imagine himself in Ann Arbor, so he had his mother tell Bo Schembechler he wasn't home when the Wolverine coach called. Purdue was the last school he visited.
He was only a fill-in kicker. The secondary was his trade, and there is no doubt what memory lingers longer from that day, his field goal or his defense. "I always say the 11 tackles. Everybody remembers me as a field goal kicker. I was the only field goal kicker in the country that wore a horse collar. It was just being in the right place at the right time and doing what you had to do.
"It gets brought up all the time. People remember it. I always have to remind them, 'I was a defensive back; I wasn't the kicker.'"
That moment might be the granddaddy of them all in Purdue's upset legacy. "It's an honor to be part of that tradition," said Supan, who has worked most of his life in the remodeling business and also owned a restaurant. "At the same time, you hope we can move on from being a Spoilermaker to being the Boilermakers, and start a winning tradition year in and year out, winning some Big Ten championships, and not being considered a basketball school."
Supan predicted a 42-27 Purdue victory last week. Upset? What upset? But he looked at Ohio State and knew a dazed favorite when he saw one. Lots of old Boilermakers do.•
__________
Lopresti is a lifelong resident of Richmond and a graduate of Ball State University. He was a columnist for USA Today and Gannett newspapers for 31 years; he covered 34 Final Fours, 30 Super Bowls, 32 World Series and 16 Olympics. His column appears weekly. He can be reached at [email protected]
Please enable JavaScript to view this content.