This week, Microsoft and the National FFA Organization are taking a deep dive into the converging worlds of technology and agriculture.
Earlier this year, Microsoft signed a three-year deal to help launch the Blue Room at this year's National FFA Convention & Expo in Indianapolis and support the operations of the online Blue 365 initiative. 
It marks the first time Microsoft has partnered with FFA, a sign that one of the world's biggest, best-known software makers—along with national agricultural industry leaders—realize the growing importance of technology in farming.
"We realize, as does FFA, that technology will touch every single career in some form or fashion," Microsoft Vice President Mary Snapp told IBJ. "One of the goals of the Blue Room is to introduce technology into the FFA curriculum in a way that's not been done before."
In recent years, Microsoft has joined several agricultural and rural-related initiatives with efforts to improve environmental sustainability. Last year, Microsoft signed a deal to support the 4H Tech Changemakers initiative.  
While the Blue Room will only be up for three days (its last day is Friday) during this year's convention, its online counterpart, Blue 365, will be available year-round. The interactive website is designed to increase the knowledge of students and other future agriculture industry leaders about emerging technologies. The plan is to bring the Blue Room back at future National FFA conventions.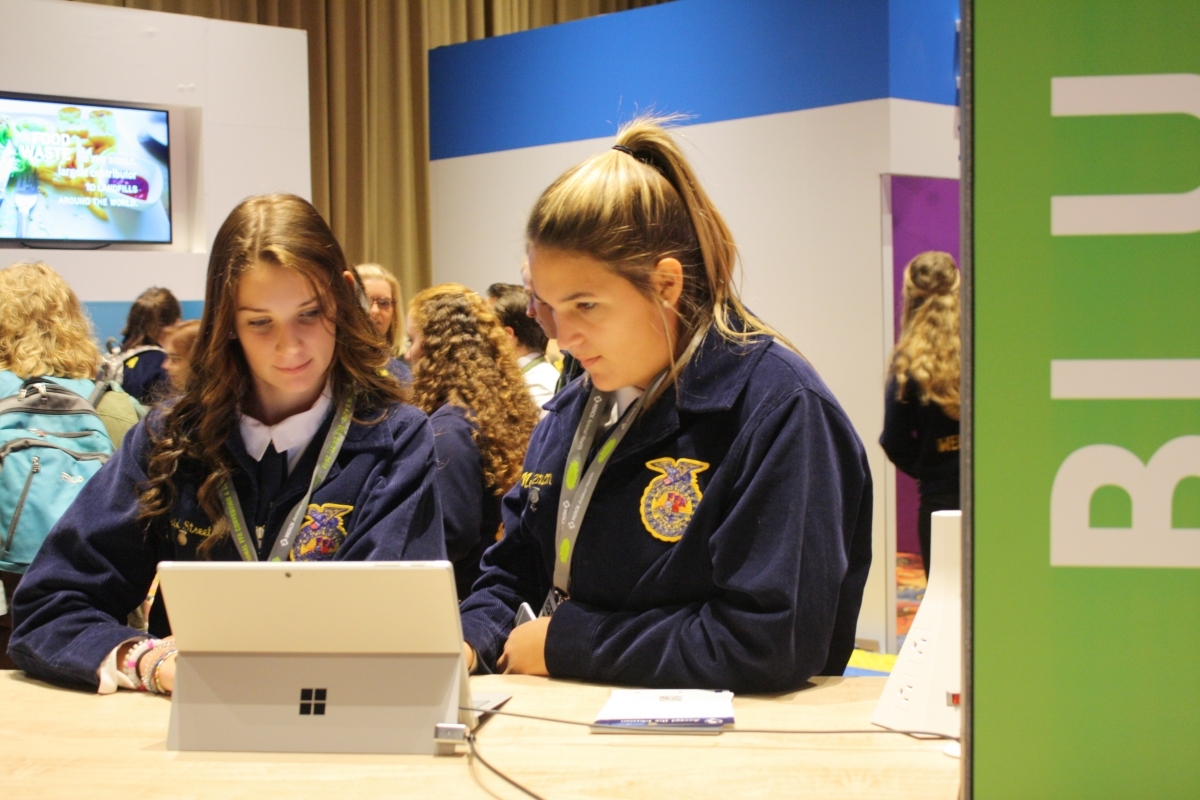 This year, the Blue Room—which cost about $500,000 to launch—is being housed in 17,000 square feet in the Indiana Convention Center. It has a center stage, which is 40 feet in diameter, for fireside chats and other presentations, in addition to myriad interactive displays and a seemingly endless number of video screens. There's a college corner section, a section highlighting start-ups and small businesses, and presentations by global companies—including Microsoft. 
In addition to showcasing technological advances in the world of agriculture, the Blue Room has three major themes: respecting the planet, feeding the world, and improving our lives.
"The Blue Room was designed to have a diverse representation of people, companies and educational institutions who are doing really cool things in this sector. It's highly interactive and highly sophisticated. It has very much of a Silicon Valley vibe and has a high cool factor," said Beth Bechdol, CEO of AgriNovus Indiana, which contributed $100,000 to help launch the Blue Room. "This is all about how do we showcase the next generation of technologies to FFA students."
The Blue Room was born out of AgriNovus Indiana, an initiative of the Central Indiana Corporate Partnership. 
"What we're doing with the Blue Room is showcasing a future that the FFA had not yet figured out how to present," said Bechdol, former chairman of the National FFA Board of Trustees.
AgriNovus' mission is to support strategic programs to meet the education, talent and entrepreneurship needs of the growing agbiosciences sector in Indiana. AgriNovus, one of six economic development initiatives of CICP, advances the sector by building public awareness, expanding the industry's workforce, researching growth opportunities to support entrepreneurship and developing partnerships.
Agbiosciences brings together production agriculture, the life sciences, human health, engineering, computer science, coding and much more, said Bechdol. The sector is bursting with cutting-edge technology, science and research—from genomics and biologics to artificial intelligence, robotics, sensors and digital imagery.
"The industry is still changing—and at an even accelerated pace because of technology advancements and the numerous connection points to other industries," she said. "We want nothing more than to showcase this innovation and ingenuity to young people—the kind of innovation that comes from global businesses, growing companies, university researchers and students and entrepreneurs. When we spark a thought or create a light bulb moment for these students, we may just also expose them to a new educational or even career pathway."
Bechdol said the Blue Room also exposes thousands of FFA members and participating companies to many agtech initiatives that are happening in Indiana. 
"We're excited to tell the story of Indiana's agricultural tech innovations. Exposure like that can only help this city and state," she said. "Who's to say we're not going to convince John Deere to put a research and development innovation center in Indiana down the road."
Not long after unveiling the idea for the Blue Room two years ago, AgriNovus Indiana and the FFA lined up major sponsors for it and Blue 365, including BASF, John Deere, Corteva, Elanco and FMC. Microsoft joined as a major sponsor about nine months ago. 
A number of entrepreneurs and startups jumped on board to be a part of the 'Startup Street' display within the Blue Room. The Lilly Endowment also was a major player in helping raise startup funds for the initiative, Bechdol said.
The buzz about the Blue Room at this year's FFA convention has been palpable as thousands of students signed up for the limited slots to get in for one of the three-hour sessions. Unfortunately not all of the 50,000-plus students here for this week's convention will be able to come through the Blue Room, but FFA and AgriNovus officials expect more than 4,000 blue-jacket clad students to see the new attraction.
"This is going to be a magnet for students, and we hope that's the case for years to come," Bechdol said. "We definitely expect it to be back at next year's FFA convention. This is just the first year, so we want to evaluate it. It could morph and be enhanced as we evaluate what worked and what the students and companies involved liked and responded to. There's no doubt, there's a lot of enthusiasm on a number of levels for this project."
Please enable JavaScript to view this content.