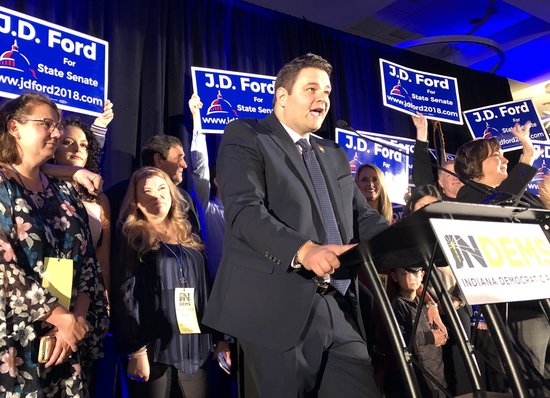 Democrat J.D. Ford pulled off a big upset Tuesday, unseating state Sen. Mike Delph, a Republican who has served the district since 2005.
With two-thirds of precincts reporting, Ford held a 57 percent to 43 percent lead over Delph.
"I wanted District 29 to be heard and with our win tonight, they will be," Ford told fellow Democratic supporters Tuesday night. "Now you have a voice in the Indiana General Assembly."
Ford is thought to be Indiana's first openly gay state lawmaker. 
"Ladies and gentleman, we just made history and no one can take that from us," Ford said. 
It was a rematch for Ford and Delph, one of the Legislature's most socially conservative Republicans. Four years ago, Delph won with 54.3 percent of the vote to Ford's 45.7 percent.
Ford, who was celebrating his 36th birthday on Tuesday, said this year he was successful because he had another four years of getting to know the community.
"I think this time around I was a much more prepared candidate," Ford said. "I knew the people. The people knew me."
District 29—which includes northwest Indianapolis and large parts of Zionsville and Carmel—has had a Republican senator for years, although Barack Obama won the district in 2012 and Hillary Clinton won it in 2016.
Ford attributed the win to the changing demographics in the district — especially Clinton's performance, which occurred in the same year Donald Trump won the state by 19 points.
"I think the district really was trending on our side, and we saw that with the 2016 presidential numbers so that gave me a lot of hope," Ford said.
He said he wants to work on education reform and passing a hate crimes bill in the upcoming session.
Please enable JavaScript to view this content.