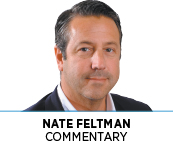 Every so often, someone special comes into your life and changes its trajectory. Such was the case for me in 2003 when I met Mickey Maurer at Mickey's Camp, a networking and skills-enhancing camp and fundraiser founded by Mickey. That meeting led to an offer by Mickey to work alongside him in Gov. Mitch Daniels' administration, followed by business partnerships with him in health care and media.
Mickey has served as a role model and a trusted adviser for me and countless others in our community. He has helped many individuals achieve their goals, and his leadership and entrepreneurship have positively shaped our city and state.
Nearly 30 years ago, many city business journals were selling out to an out-of-state conglomerate. Mickey and his longtime business partner, Bob Schloss, bought IBJ, ensuring Indy's most important source of business news remained local. They understood that local ownership would help ensure important local stories were told.
At a time when Indiana banks were disappearing—and with them a decline in personal service and local decision-making—Mickey partnered with his cousin Morrie Maurer to start an Indy-based bank that would focus on meeting the banking and lending needs of our community. Celebrating its 25th anniversary this year, The National Bank of Indianapolis provides top-notch service, employs hundreds, contributes to countless local charities, and helps local businesses expand.
And in 2004, when newly elected Gov. Daniels asked Mickey to help him turn around Indiana's lagging economy, Mickey said yes without hesitation and volunteered two years of his life to the cause (for $1 in pay). Mickey helped institute an innovative approach to economic development, and the Mitch-Mickey team set records for job-creating investment in Indiana.
Today, when we find our airwaves and internet inundated with negative stories about businesses that do not put employees and community first, Mickey's approach to business, his many contributions to our community, and his dedication to mentoring stand in stark contrast. Mickey has led by always standing up for what he believes in, whether rectifying an injustice or supporting a worthy cause. He has set an example of what it means to do good.
Mickey's life was chronicled recently in the documentary film "My Friend Mickey: Common Decency and the American Dream." The film's title is fitting given the number of people who count Mickey as their friend, as well as what it means to be a friend of Mickey. The film was produced by Julia Whitehead and is available at the Kurt Vonnegut Library (Vonnegutlibrary.org). If you want to be inspired and learn more about an inspiring Hoosier, I recommend grabbing a copy.
As Thanksgiving nears, it's appropriate that we thank those who have served as mentors and leaders to us and our communities. Each of us who has had an opportunity to lead can point to at least one person who played a substantial role in our success and inspired us to do good.
The best way we can give back is to provide similar mentoring and leadership opportunities to others. To take the time to care enough to help someone else achieve their dreams. To get involved with causes that are worthy of our time, treasure and talent. To speak up when we see injustice and do something about it. And, of course, to say thank you. Thank you, my friend Mickey.•
__________
Feltman, an attorney and former Indiana secretary of commerce, is a shareholder in IBJ Corp., which owns Indianapolis Business Journal. To comment on this column, send email to [email protected]
Please enable JavaScript to view this content.