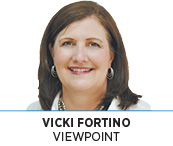 We've all heard the rhetoric about immigration—the criticism of "chain migration," calls for "merit-based immigration" and "extreme vetting," and demands for harsh security methods and a wall on our southern border. What's missing from the debate is a clear understanding of the invisible wall that's already blocking law-abiding people from legally immigrating to the United States.
Let's clear something up right away. We are already heavily vetting people who want to live and work legally in the United States through our existing immigration system. It's a slow-moving process. Every document is carefully reviewed and scrutinized. The government conducts extensive security checks for each applicant. As a result, people frequently wait for years to obtain legal permanent status (commonly known as "green cards") and U.S. citizenship.
Our immigration system is heavily backlogged. That's nothing new. But recent policy changes made by the current administration at the federal level have made the system much more difficult for everyone to navigate.
Progressing through the immigration process is a time-intensive undertaking that requires an immigrant to fill out numerous forms and applications. Immigrants are human. So are immigration lawyers. Mistakes happen.
Historically, when a piece of information was missing or inaccurate, the government would send a Request for Evidence, or RFE, to give the immigrant the opportunity to correct that mistake and keep his or her application moving forward. This is a reasonable, common-sense measure to protect people who make honest mistakes while applying for legal status in good faith.
RFEs are gone now. When we submit a document to the government, it's either accepted or denied, with no explanation. Practically speaking, this means immigration attorneys must spend significantly more time with every client, making sure we get every single detail right the first time. It's an inefficient use of our time and the government's time. It's a drag on the system. And this flawed process results in worthwhile applications being needlessly rejected or strung along for years—while the hard-working, honest people behind those applications are stuck in immigration limbo.
Proponents of the current administration's immigration policies insist that these policies are about national security and economic prosperity. They say we need to bring in only highly vetted people who are going to make a strong contribution to our society.
That is an admirable goal. But the actual effects of these policies undercut the rhetoric. These policies are not targeting immigrants who pose a demonstrable threat to our national security and prosperity. They are making it harder for anyone to come to and stay in the United States—even those who are already living, working and making great contributions here in Indiana.
These policies are not accomplishing their stated goals. What they are doing is keeping out hard-working people who want to come here and stay here legally, participate in our society and contribute to our economy. Numerous farms and other businesses in Indiana are suffering because they've lost the immigrant workers who used to supply them with vital seasonal labor—and American citizens aren't taking those jobs.
It's time to break down this invisible wall and implement common-sense immigration policy that's better for people, better for Indiana and better for the country.•
__________
Fortino is an immigration attorney at Hocker & Associates LLC, an Indianapolis law firm.
Please enable JavaScript to view this content.