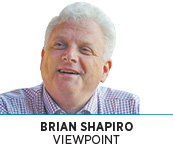 The Rethink 65/70 coalition's advocacy has helped shape the Indiana Department of Transportation's reconstruction plans for the north section of the downtown inner loop, but the south side of downtown has just as much at stake.
Resisting INDOT's tunnel vision when it comes to vehicle counts and road construction has a history on the south side. My family's Shapiro's Delicatessen would not be in business if my Great Uncle Max hadn't persuaded the federal government and INDOT in the 1960s to move a Meridian Street interchange that would have bulldozed our business and other local merchants.
Building the interstate system through downtown wiped out entire communities. Now that the inner loop needs to be replaced, INDOT and the city of Indianapolis need to work together to figure out how its next iteration can do more good than harm. This is a 50-year fix and it needs to be done correctly.
While the project is officially INDOT's responsibility, the city must become much more involved in the planning. Beyond Mayor Joe Hogsett's stated support for the Rethink 65/70 coalition, city government has been alarmingly silent. Imagine Mayor Jim Brainard of Carmel or Mayor Scott Fadness of Fishers sitting on the sidelines while the state makes transportation decisions that are vital to the economic futures of their communities.
That's what's at stake in downtown Indianapolis, yet there's no evidence of a comprehensive look at the inner loop and the neighborhoods and streets that surround it. To be sure, this isn't all about the roads. There are zoning issues to be considered that only the city can address.
The South Meridian Corridor is finally recovering from the destruction caused by the interstate system, in spite of an absence of proper zoning and land-use planning.
Driving along Interstate 70 on the south side of downtown, past Meridian and Illinois streets and Capitol Avenue, one sees what should be valuable real estate scattered with truck terminals and empty tractor trailers.
The city and state need to work together to rethink zoning and economic inducements so that this corridor, the path to and from Indianapolis International Airport, becomes a vibrant contributor to our tax base.
There are opportunities for improvement throughout downtown. Outdated, elevated train tracks on the south and east sides of downtown are crumbling and unsightly and don't allow enough clearance for supply trucks. The same goes for some of our interstate overpasses on the south side. A Shapiro's vendor on the way to make a food delivery recently got stuck under one of the bridges.
There's too much at stake economically for the city and state for this to be treated as just another road project.
Gov. Eric Holcomb and Hogsett should name a team of non-political experts to a joint task force to address many questions about the future of transportation downtown. A process controlled by INDOT, and with minimal input from the city, that focuses only on the north leg of the inner loop, doesn't bode well for our future.•
__________
Shapiro's family owns Shapiro's Delicatessen
Please enable JavaScript to view this content.