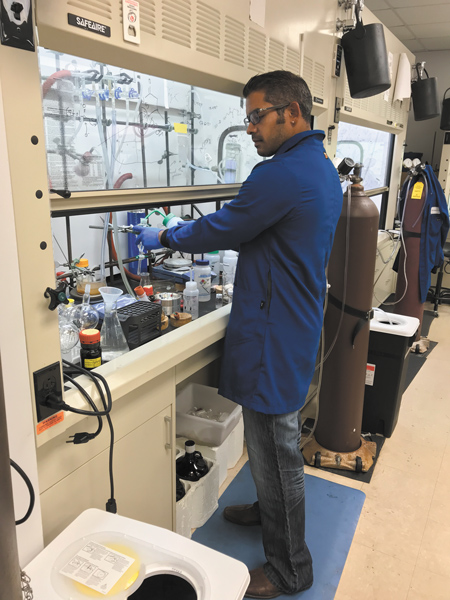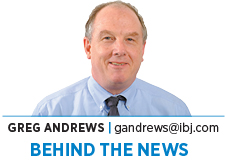 Buying a public company requires the art of negotiation. Only a fool puts his best offer on the table as the opening bid.
Even so, the difference between that opening bid and final purchase price often is only a few bucks. Real money, to be sure, but not a difference that fundamentally changes a company's valuation.
That's what makes the deal-making leading up to the Oct. 18 announcement that Swiss pharmaceutical giant Novartis AG was buying West Lafayette-based cancer-drug firm Endocyte Inc. for $2.1 billion so fascinating. A new Securities and Exchange Commission filing shows Novartis first came to the table dangling just $12.50 per share—barely half of the $24 price to which it ultimately agreed.
The gap is actually bigger than those numbers would suggest. When Novartis made the $12.50-per-share overture this April, Endocyte had fewer shares outstanding, 69 million, which means the offer valued Endocyte at just $862 million.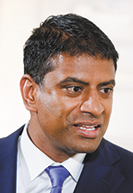 Narasimhan
By the time Novartis sealed the deal, Endocyte had sold additional shares to the public, swelling its share count to 87 million. Had Novartis paid $24 per share way back in April, the total cost would have been about $500 million less than it ultimately agreed to pay.
The escalation in per-share price—which far exceeds what we have seen in other recent deals involving Indiana public companies—reflects the unique nature of M&A in the pharmaceutical realm, said Doug Conner, managing director of Carmel-based Periculum Capital Co. LLC.
"When you are dealing with these pharmaceutical businesses with a product that could end up being a winning solution, those buyers are not price-insensitive, but they have a different calculus," said Conner, who was not involved in the Endocyte transaction.
Indeed, Novartis' purchase reflects its high hopes for radiopharmaceuticals—a new class of drugs that deliver radioactive substances to cancer cells to kill tumors. The biotech blog Open Reading Frame declared in August that the approach, which not long ago was out of fashion, "may become the next big thing in oncology."
Endocyte's investors are big beneficiaries of the shifting mindset. The company last year put its own pipeline on the back burner and instead focused on a radiotherapy prostate cancer drug it had recently licensed from a German chemical company for $12 million in cash plus Endocyte shares valued at the time at $8 million.
That compound, called 177-Lu-PSMA-617, is widely viewed as a promising therapy for a serious condition called castration-resistant prostate condition. About 100,000 men a year die of prostate cancer in the United States, Japan and Europe, and about 80 percent of those would be candidates for the drug, according to Endocyte.
It has shown promising results in mid-stage clinical trials and is now in late-stage tests.
This isn't the first time Novartis has made a big bet on radiopharmaceuticals. Last year, it agreed to pay $3.9 billion to snap up the France-based radiopharmaceuticals firm Advanced Accelerator Applications SA, which already had won European approval for Lutathera, a treatment for a rare form of cancer in the gut and pancreas.
After announcing the Endocyte purchase last month, Novartis CEO Vas Narasimhan told The Wall Street Journal that the early success of Lutathera underscored the opportunities in radiopharmaceuticals. "Now, we believe it will be a blockbuster medicine. We wouldn't have said that even a quarter and a half ago," he told the newspaper.
Of course, the Endocyte drug still must win regulatory approval, which isn't a sure thing. But if 177-Lu-PSMA-617 clears that hurdle, Novartis believes it, too, can achieve blockbuster status, typically defined as annual sales topping $1 billion.
Other Hoosier deals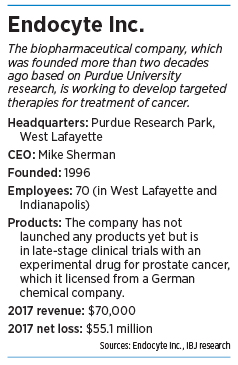 Most corporate mergers don't share those feast-or-famine dynamics, which helps explain why they are less likely to see such wild swings in price.
For example, British sportswear retailer JD Sports initially expressed interest in buying Indianapolis-based shoe retailer Finish Line Inc. for $13 to $14.50 a share before sealing its purchase in March for $13.50, or a total of $558 million.
In April, Houston-based CenterPoint Energy agreed to buy the Evansville-based electric and gas utility Vectren Corp. for $6 billion. The per-share price was $72, up from the $70 it initially dangled.
Reflecting the unique dynamics of pharmaceutical deals, Eli Lilly and Co. actually cut its offer for Redwood City, California-based ARMO BioSciences Inc. before agreeing in May to buy the immuno-oncology company for $1.6 billion.
ARMO's lead product candidate, pegilodecakin, is in a late-stage clinical trial for pancreatic cancer and in earlier-stage trials for lung and renal-cell cancer, melanoma and other solid tumors.
Lilly originally dangled $55 per share but sliced its offer to $50 after New Jersey-based Merck & Co. on April 16 reported blockbuster study results for an immunotherapy drug for newly diagnosed patients with advanced non-small-cell lung cancer.
Industry observers viewed the strong results as a competitive setback for ARMO and other companies working on their own non-small-cell lung cancer immunotherapies.
The courtship
Study results affected the Endocyte sale process in the opposite way, according to the blow-by-blow description of negotiations contained in the SEC filing.
Novartis began talks with Endocyte in October 2017, and the following April rolled out a non-binding offer of $12.50 per share. After coaxing from Endocyte, it soon bumped up the price to $13 a share and in May ratcheted it up again, this time to $18.
But Endocyte—which also was having discussions of various seriousness with other firms—said that was not enough.
Instead of opening its wallet further, Novartis in June told Endocyte it "had reservations about proceeding with the proposed transaction at that time due to ongoing regulatory and clinical dynamics," according to the SEC filing, which offers no elaboration.
But then, on Sept. 10, Endocyte delighted investors by announcing that federal regulators had agreed to a new endpoint on a late-stage clinical trial for 177-Lu-PSMA-617.
Rather than having to show benefits in overall survival, it will have to show only something called "radiographic progression-free survival"—meaning the time it takes for a tumor to start growing again as determined by X-rays. The agreement could cut a year off development of the drug and increase its likelihood of ultimate approval.
Just three days later, a Novartis executive reached out to Endocyte CEO Mike Sherman to say the company was interested again. Eight days later, Novartis offered $23 a share. After Endocyte pushed for $27, the companies settled on $24.•
Please enable JavaScript to view this content.