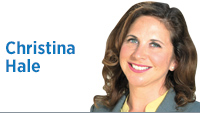 It's certainly time for the Democrat Party in Indiana to consider our wins and losses and the implications for the future.
Yes, it truly hurt to lose a U.S. senator with a heart and mind like Joe Donnelly.
He was a man who conducted himself with honor, treated everyone with dignity and quietly did his homework. Equally important, our senator maintained a presence and strong connection to the people he represented from all over our state.
While I regret the void left by the absence of John McCain's sometime collaborator and good friend (and mine), I don't worry about Joe Donnelly. He'll continue to have Indiana's back in one way or another in the near future.
And I don't worry too much for the political status of Democrats in Indiana.
In a state where elected leaders in 2018 mirror our forefathers and continue to be predominantly male, Caucasian, wealthy and old, the people elected the first openly LGBT member of the Legislature. That is to be celebrated.
In addition, we elected the second Asian-American member of the Legislature, and added more female legislators. The Legislature also became younger.
There is also increased balance in party representation. As a person who served in the overwhelming superminority, that is a very big deal.
And you know what? The Democratic bench in Indiana actually grew. It also grew in in unexpected places: the suburbs. A place where Democrat used to be a bad word.
Indiana is no longer a rural state; in fact, only 11 percent of Hoosiers live in a rural county (the rest live in urban or suburban counties). The realignment happening nationally is happening (and maybe happened) in Indiana.
Much of this thinking was inspired by a friend who pulled me aside this week to express an important thought. A Democratic Congress means President Trump will have to deal with congressional oversight. And as he wisely pointed out, this is something the electorate clearly wanted and the framers envisioned.
Toward this end, I strongly encourage Democrats to provide responsible oversight when warranted. Examine the practical things that need to be done and get to work, and demonstrate what good governing should be.
Nationally and here in Indiana, this year, rather than the defeats, it is the victories on Election Day that illuminate the way forward for the Democratic Party. We need to run younger and more diverse candidates. We need to step up and field more high quality candidates in the suburbs.
And we need to take an important lesson from Donald Trump: People appreciate politicians who consistently, authentically and unapologetically behave and vote as the person they say they are. People understand that they may not agree with you on every point, but they do want to know the human behind the campaign. And frankly, that is just the right way to be.
We also need to listen and offer constructive ideas that set people up for success now, as well as over time. That means that we need to be clear that success for people is predicated on education, employability and the path to self-sufficiency. We need to be good stewards of tax dollars and our infrastructure, as well as the environment.
And we have to be brave; pubic service is increasingly difficult, and sometimes violent.
It is time to reboot, relate and retool. The people deserve it.•
Click here for more Forefront columns.
__________
Hale is a former member of the Indiana House and ran for lieutenant governor in 2016 on the Democratic ticket. Send comments to [email protected]
Please enable JavaScript to view this content.