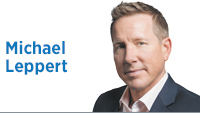 Spoiler alert! My political ideology is left of center. On Indiana's spectrum, that is.
I have taken more political questionnaires than I care to admit. On those exams, I have determined my placement on the ideology spectrum is almost entirely because of my support for a modern and reasonable policy on guns and my support for a woman's right to choose.
Because of other views I have that are pro-market, anti-tariff, etc., I would be considered a moderate or centrist if I lived on either coast.
Most other policy positions I take ebb and flow with the times in which we live and the unique challenges of the day. I have split my ticket many times on Election Day between Republicans and Democrats. Not so much lately, but historically.
After every election, the number of Monday morning quarterbacks can be huge. This year is no exception. But my complaints about the Indiana Democrats' political strategy are not new.
It has long been my belief that it is difficult to build a strong Democratic Party around campaigns designed to look Republican. What capable Hoosier who is considering running for office as a Democrat here will be inspired or attracted to politics that way? What donors will? And what voters will?
We have seen the strategy repeatedly in statewide Democratic campaigns in Indiana for much of the past 30 years. Even as victories have become scarce, the party just can't quit the habit of running these masquerade campaigns.
Sen. Joe Donnelly's loss this year is not entirely that simple, but what alienated me and many other left-of-center voters is. It started with his commercial touting support for President Trump's border wall.
The building of a wall separating the United States from Mexico was not an idea on the table when Donnelly won in 2012. The wall is now a symbolic divider between the two parties. It should not be confused with dividing ideologies, though. While certainly a Trumpian platform position, there is nothing "conservative" about it. It's comparable to what a pre-Trump Republican might call a misguided social program.
Donnelly's campaign was designed to convince independent voters and soft Republicans that they could trust him to put Hoosiers first. He wanted voters to know he would partner with the president when possible and when beneficial to Indiana. He made clear that he had no interest in tolerating the "radical left," though I don't know of any Hoosier Republican casting out any voters on the "radical right."
I call this "mirroring." Instead of trying to convince the electorate that his ideas that differ from Republicans' might be good ones, he chose to mimic the other side. In the process, the enthusiasm of the Democratic base suffered.
Specifically, on guns, abortion and immigration, Donnelly is in line with the GOP.
Suburban voters began shifting toward Democrats ideologically, and young voters were finally showing up more across the country. Here, the top Democratic campaign was fighting for votes from those who plan to stay Republican instead of embracing the growth area of his party.
It's no surprise it didn't work. Ignoring portions of one's own base shouldn't work. More important, though, it is clear that the old road to victory for a Hoosier Democrat has changed.
I believe Democrats can win in Indiana, but they must be committed Democrats. The political order is shifting in America, and it's not all bad news for the party. Its outlook in Indiana relies solely on the commitment to its modern version. Not only will a lack of commitment to it cost them more elections, but irreparable damage will also be done to the party's future.•
Click here for more Forefront columns.
__________
Leppert is an author and governmental affairs consultant in Indianapolis. He writes at MichaelLeppert.com. Send comments to ibjedit@ibj.com.
Please enable JavaScript to view this content.