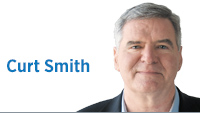 The surprising results on election night confirm that the nomination circus led by Democrats in early October to defeat now-Justice Brett Kavanaugh broke a historic link between U.S. House and U.S. Senate election results. It certainly was the decisive issue in the Indiana U.S. Senate race, brilliantly punctuated by President Trump's three visits to the Hoosier state in nine days.
The proof is in this little-known fact: Since amending the U.S. Constitution to require direct election of senators in 1914 (previously, state legislatures elected each state's two senators), parties that took control of the U.S. House also gained seats in the U.S. Senate. Always. No exceptions.
Election night 2018 was the first time the link was broken. The Democrats flipped the House, but the GOP (at this writing) has most likely gained four Senate seats.
What this tells us is that the American people were disgusted with what happened before the Senate Judiciary Committee, led by California Democrat Diane Feinstein. She won re-election in her bluest of blue states, but the slash-and-burn strategy and the resulting smear campaign cost her party four seats, at least. Joe Donnelly, Indiana's so-called moderate senator, voted against Kavanaugh and saw his prospects plummet immediately. He lost by 8 points.
For the first time in more than 100 years, the House and Senate outcomes were decoupled. What was different? Kavanaugh.
Other post-election observations:
◗ President Trump and Vice President Mike Pence own the GOP, especially in Indiana. The vice president's brother, Greg Pence, won easy election based on his younger brother's stature. Trump showed Sen.-elect Mike Braun and others he will fight for them when it counts.
◗ Gov. Eric Holcomb is in a good position for his 2020 re-election campaign. There is not even one statewide Democrat officeholder to mount a potential challenge. There are several popular Democratic mayors, including Joe Hogsett of Indianapolis, Peter Buttigieg of South Bend and Tom Henry of Fort Wayne. With Trump and Pence leading the ticket in 2020, Holcomb is in a strong position.
◗ The defeat of Republican state Sen. Mike Delph, a candidate I personally supported and backed financially, is about that district and not about his profile in the Indiana General Assembly. President Obama carried that district in 2012, as did presidential candidate Hillary Clinton in 2016. The changing demographics of Pike Township and the growth of Democratic voters in southern Hamilton County caught up with this legislator.
◗ Trump has the best of both worlds politically, so the GOP stands to benefit as well. If the economy stays strong and we enjoy relative peace, he can take credit. If things go south, he can blame the Democrats in the U.S. House for any problems. It might not be fair, but it is a time-honored tradition. President Clinton even gave this tactic a fancy name—triangulation, in which he painted the GOP House as filled with crazies but declared the Senate a reasonable partner in progress.
Trump might have grasped another key political truth while campaigning this year. Tone matters. Language matters. On his final campaign stops, he included and highlighted his daughter, Ivanka, strategist Kellyanne Conway and Press Secretary Sarah Sanders, suggesting he has made the link between his rhetoric on the stump and how voters—especially female suburban voters—actually vote.
Internalizing that lesson by stopping snarky tweets and outbursts would go a long way toward securing his second term. As the president often says, "We'll see."•
Click here for more Forefront columns.
__________
Smith is president of the Indiana Family Institute and author of "Deicide: Why Eliminating The Deity is Destroying America." Send comments [email protected]
Please enable JavaScript to view this content.