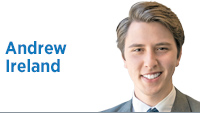 January 2015 rang in "America's New Congress"—a united GOP's bold push to transform the political landscape, targeting pillars of the Obama doctrine for repeal and overhaul.
Come fall 2015, Washington's new political order had devolved into chaos. Namely, an increasingly bitter spat between House leadership and the conservative Freedom Caucus forced the resignation of Speaker John Boehner, leaving a power vacuum in his wake. From that void emerged a unity candidate: the Committee on Ways and Means Chairman and 2012 Republican Vice Presidential nominee Paul Ryan.
Both sides of the aisle saw Ryan as a sort of wunderkind: a relatively young, conservative leader who made inroads with the party's more moderate wing. And, for a moment, Ryan's speakership appeared to be a real shot at progress in Washington.
Now, after three years at the helm, Ryan's performance underwhelms. As the speaker enters his final weeks in office—having announced his departure in early April—in the eyes of many Republicans, at least, his last day could not come soon enough.
Ryan the Romney-backed, level-headed centrist; Ryan the bleeding-heart, Jack Kemp protege; Ryan the Ayn-Rand-loving, libertarian luminary. The speaker never quite fit the mold of an archetypal Republican. Less a chameleon shifting his colors, Ryan's political brand was something unique. In many ways, this novelty paved his unusual path to the speakership.
"How reassuring it would be if we actually fixed the tax code, put patients in charge of their health care, grew our economy, strengthened our military, lifted people out of poverty, and paid down the debt," Ryan proclaimed in his first remarks as speaker. "At this point, nothing could be more inspiring than a job well done."
For all the word service, his laudable effort fell flat.
Ryan made a coy play for the speakership—forcing moderates and conservatives alike to come to him after prominent contenders bowed out. By design, this was meant to end the sort of infighting that plagued his predecessor.
Herding cats is a recreational hazard of the speakership, requiring robust political skills and a keen understanding of when to employ them. Ryan lacked that.
The speaker oversaw a sweeping, albeit unimaginative overhaul of the federal tax code. Yet he failed to bring heads together on other popular overhauls, including repeat pushes for immigration and health care reforms.
Instead of going down in history for impressive legislative accomplishments, his legacy is likely to be defined by a failure to deliver.
Ryan's most damning failure, however, was his inability to grow and support his caucus. November's election put that on full display.
The youngest speaker in more than a century, Ryan could have been the face for a vibrant GOP. He could have poured cash and resources into recruiting millennials. He could have spent time rebranding his party to appeal to an increasingly diverse America. Ryan could have proactively quelled the fears of the dozen or more House Republicans who retired fearing a blue wave.
Instead, Ryan oversaw an electoral shellacking that, as leader of his caucus, he must ultimately shoulder the responsibility for.
Taking the GOP from its largest majority since WWII to—again—empowering a rudderless Nancy Pelosi is no short feat. There is plenty of blame to go around, including to history itself. Yet, instead of pinning November's disappointments on the president, perhaps Ryan is a worthy candidate.•
__________
Ireland is an international scholar at Sungkyunkwan University's Global School of Business in Seoul, South Korea, and a digital media consultant. Send comments on this column to [email protected]
Please enable JavaScript to view this content.