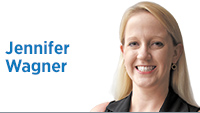 It would be incredibly easy for me to focus this column on the future of the Indiana Democratic Party and where we've gone wrong in recent cycles.
I could complain, as many of my progressive friends have done recently, that the Evan Bayh playbook—running older, moderate, white men—has run its course.
I could kick us while we're down, but I don't know what the point of that would be.
We'll either rebuild for 2020, or it'll take a while longer. We'll figure out a way to attract new voters. I have faith that we won't be in the wilderness forever, because politics is cyclical and our core values are strong.
But the main reason I don't want to fall down the "where we go from here" rabbit hole is because that would overshadow something that's worth saying one last time in the wake of the Republican victory in our contentious U.S. Senate race: Joe Donnelly is a genuinely good guy, and he served our state incredibly well.
I'm the kind of person who sobs at Disney movies and dog commercials, but I don't get choked up about politics.
Yet on election night, as the national networks called the race for Republican Mike Braun much earlier than anyone expected, I felt an unexpected lump in my throat.
There's no crying on live television, so I kept those sniffles under wraps, but it was in that moment I realized that I wasn't mourning a partisan loss but the loss of a true public servant—and the team who supported him.
This was always going to be a close race, and you might say it was an impossible one given that Donald Trump carried our state by 20 points just two years ago. But it never felt impossible if you knew Joe and the people who worked for him, on both the campaign and the official sides.
It's a testament to Joe's strength as a leader and boss that so many staffers who were there on this election night were also there on election night in 2006, when he was first elected to Congress and headed to Washington alongside two other Blue Dog Democrats—Baron Hill and Brad Ellsworth.
If you met Joe on the campaign trail, you could tell he enjoyed being there. He didn't care if you agreed with him or not; he liked the job and the people he met. That energy—his passion for serving our state—carried over to the official office, which had a reputation for outstanding constituent services that any member of Congress would envy. He took care of every Hoosier whether they voted for him or not.
I wish the results had turned out differently on election night, but I know Joe and his staff left no stone unturned. There is no cause for regret or remorse.
I don't know what the future holds for the Indiana Democratic Party or for Joe Donnelly, though I have high hopes for both.
I just want to take this moment to remind folks—especially those who feel like politics is more broken than ever—that there are still genuinely good folks on both sides of the aisle, and we've been lucky to have one of them serving our state the past 12 years.•
Click here for more Forefront columns.
__________
Wagner is a lifelong Indianapolis resident and vice president of communications at EdChoice. Send comments to ibjedit@ibj.com.
Please enable JavaScript to view this content.