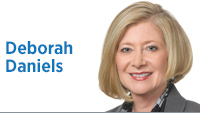 Among the gifts I received from my parents were humility, civility and respect for others. I was taught that violence is never the answer to a problem and that tolerating violence leads to more violence. I was taught that words have consequences.
From my parents, and from great statesmen like Dick Lugar, I learned that our political opponents are not our enemies and that disagreements on policy should not lead to antipathy toward those with whom we disagree. I learned that good government is good politics: If you conduct the business of government well, and serve the public well, that will bring the political reward of re-election. If it doesn't, your reward is the knowledge that you did the right thing, which is more important.
I was taught to work toward the greater good and for a cause greater than myself and that holding public office should never be about the officeholder but always about how best to serve the public. I learned to seek common ground and bring people together, rather than drive them apart, and that the politics of negativity are destructive and to be avoided.
You can thus imagine my current distress.
We are now in a frightening time in the history of our country: Racial and religious hatred is increasing, along with the willingness of the haters to be much more public about their hatred than in many decades. The recent synagogue mass shooting in Pittsburgh was horrifying, but sadly perhaps predictable, given the escalating rhetoric of the white nationalist movement.
Our politics are also in disarray. The political parties, and their adherents among the public, are nothing short of vitriolic. Individual politicians have no apparent compunction about encouraging their followers to commit acts of defiance at a minimum and violence in the extreme.
When a politician encourages her followers to confront public officials with whom they disagree and drive them out of public places, what do you expect will happen? When the tone of political rhetoric is as heated as it currently is, is it any wonder that a man will open fire on a group of ballplayers from the other party, nearly killing one congressman and putting many others in imminent danger?
And now we have a man, clearly an adherent of extreme Republican rhetoric, mailing bombs to people and institutions who have been described by his political idols as being enemies of his party. While we were all horrified by his actions, can we really say we are surprised?
I was very disappointed by some in my party whose initial reactions to the mailed bombs were to surmise that either the bombs weren't functional or that they might have been sent by Democrats trying to make Republicans look bad. Seriously?
While we all need to do our part, one person in the country has considerably more influence than the rest of us through his words and example.
I was pleased to see President Trump finally step up after the synagogue shooting incident, calling it "wicked" and "pure evil." But would the shooter have felt as enabled if such words had been employed post-Charlottesville? There is no way to know. Similarly, one cannot draw a direct causal connection between the words of the president and the actions of the mail-bomber.
But only the president can convey the message that must be sent, clearly, consistently and repeatedly, in order to reduce the likelihood of such a thing happening again.
Mr. President, words have consequences. How about a Sister Souljah moment?•
Click here for more Forefront columns.
__________
Daniels, a partner at Krieg DeVault LLP, is a former U.S. attorney, assistant U.S. attorney general, and president of the Sagamore Institute. Send comments to [email protected]
Please enable JavaScript to view this content.