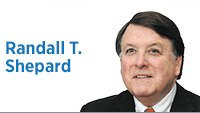 Building a better state in today's world necessitates connecting Indiana to places beyond our borders and across the seas. There has been palpable progress.
The power of our international connections is visible in a variety of settings. The recent annual meeting of the Asian Pacific American Bar Association of Indiana was an extraordinary example.
Nationwide, persons of Asian or Pacific heritage have become a growing part of the legal profession. There are perhaps 70,000 or 80,000 licensed lawyers of Asian or Pacific heritage, and more than half work in law firms or corporations advising individual clients, governments and businesses. Lawyers from Chinese, Korean and Taiwanese families make up the largest numbers.
The growing number of such mostly young lawyers in our state led to creation of the Asian Pacific American Bar Association of Indiana just four years ago, with 12 members. In a short period, the chapter has created continuing legal education programs, convened annual dinners, initiated award programs, and assisted national APABA in vetting and supporting possible appointees to the federal bench.
"I'm excited to be part of this bridge to diversity," said President Nicholas Huang, part of the Harrison & Moberly firm.
A simple counting demonstrates the progress. When planning the chapter's first dinner two years ago, the hope was 50 people might attend, said Judge Michael Witte. There were 110. This year, attendance was 150.
These stronger opportunities for networking and further training stand alongside other efforts, like the master of laws programs for foreign students and the opportunities for domestic students to study overseas sponsored by the Indiana University McKinney School of Law. The Indiana State Bar Association's leadership development program and the Supreme Court's Conference on Legal Education Opportunity likewise do much to build a broader bar.
All this law-related effort is part of Indiana's expanding connection to other societies and economies, and it reflects the ways Indiana can benefit.
I think it's fair to say former Gov. Bob Orr put Indiana on the path to reaching out beyond our borders. It's just what one might have expected after Orr swam ashore to pursue his 1973 trade mission in Brazil when his turboprop crashed just short of the runway in Rio.
Orr believed Indiana was even then more connected to the international economy than most residents realized, and that the state's future depended in important part on building those relationships. This conviction led to expansive decisions in fields like education and commerce (such as the initiative he and then-Lt. Gov. John Mutz launched to land the first foreign manufacturer of automobiles).
In education, Orr saw great value in recruiting foreign students to the state's universities, and he and his administration maintained contact with those students when they returned home.
The Indiana Daily Student came to notice that the Bloomington campus was enrolling a larger number of students from overseas—about 5 percent of the student body. Shocking! This was surely the stuff of scandal, they decided.
An IDS reporter called the Statehouse to ask, "What does Gov. Orr think about the fact that 5 percent of our students are from foreign countries?"
A senior member of the governor's staff responded, "He thinks it should be higher." She later recalled, "I was honored to ruin that story's spin." Orr and his staff believed that these students would ultimately become an army of goodwill ambassadors for Indiana when they returned home.
That determination to build Indiana's connections has served us well.•
Click here for more Forefront columns.
__________
Shepard, formerly Indiana chief justice, now serves as senior judge and teaches law. Send comments to ibjedit@ibj.com.
Please enable JavaScript to view this content.