Is the current state of political campaigning toxic for democracy?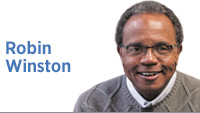 After the Nov. 6 election, many questioned whether the current state of political campaigning has resulted in creating a toxic climate for our democracy. While some campaigns used techniques that could have led to that assumption, I strongly disagree. Political discourse is the very basis of our democracy. Those that framed the very structure of our Constitution had extensive debates about how our first democratic document would be written and would be approved. Modern campaigns are no different.
What is different is the advent of technology and its impact on campaigns. Television, direct mail, radio spots, social media and other outreach initiatives to voters can be done within hours and disseminated to voters. That means that rapid response to an issue can be up on social and electronic media within minutes. To many voters that I have talked with, that inundation of campaign outreach does result in their decision to "turn off" campaigns. To campaign strategists, it should be a warning that pushing a message that borders on falsehoods and misdirection does not have the intended impact.
Focusing on the issues is what made a difference this past mid-term cycle. To many voters that we polled and/or observed via focus groups, the issues at the kitchen table resonated. The constant debate over pre-existing conditions, jobs and immigration mattered. That was reflected on Nov. 6 when Indiana had nearly 2.3 million voters participate in the electoral process, a stark contrast from the last mid-term elections in 2014, when less than 1.4 million voters participated. If indeed a climate of toxicity has been created, why would so many people participate in our latest elections?
To those who would advocate that a particular party dominated the agenda, please explain how a Republican won the U.S. Senate contest; both Democratic incumbent members of Congress were reelected, contributing to Democrats leading the U.S. House of Representatives; three Democrats won seats in the Indiana House of Representatives and an openly gay Democrat won a seat held by a conservative Republican that includes parts of Carmel. Each of these demonstrate that voters realize that participation matters.
While we did have a phenomenal turnout of voters for this mid-term election, we can do better. First, we need to expand civics education at all levels. We found that simply explaining how elections work resulted in increased turnout. Second, we need to expand voting hours beyond 6 p.m. The current restrictive hours help explain the increases in absentee balloting and early voting. Third, we should offer additional fact-checking through the media and through not-for-profit groups. Fourth and finally, we should recognize and applaud the thousands of election staffers and Hoosiers who made sure that the 5,341 polling places in Indiana ran smoothly on Election Day. Imagine if your business had to handle that many outlets with a potential 4.3 million customers in one day!
Dr. Martin Luther King, said it best: "Give us the ballot… ." Don't let anyone stop you from exercising one of the basic rights of our democracy. Vote! It matters to the future of our democracy.•
Click here for more Forefront columns.
__________
Winston served as chairman of the Indiana Democratic Party during the term of Gov. Frank O'Bannon and is the president of the Winston/Terrell Group. Send comments to [email protected]
Please enable JavaScript to view this content.