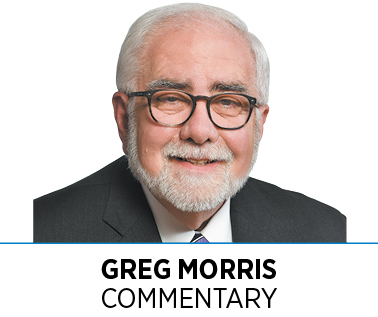 Marianne Glick is one of the most extraordinary people I've been fortunate to know. After decades of giving back and lending a hand to those in need, she continues to inspire us with her community-service efforts.
In recognition of her contributions, the Greater Indianapolis Progress Committee and Mayor Joe Hogsett presented Marianne with the 2018 Charles L. Whistler Award at a Nov. 13 ceremony.
The annual Whistler Award recognizes individuals who, outside the regular professional duties, have brought together the public and private sectors for civic improvement. Charles Whistler was a lawyer and community leader extraordinaire who helped shape the city we know today. He died in 1981.
Previous Whistler Award honorees include familiar names like Binford, Frick, Mays, Tucker, Efroymson, Shaheen, Maurer, Servaas, MacAllister, Browning, Odle, Shane, Lamkin, Lechleiter and Lacy. So, it is more than fitting that an award of this magnitude be given to Marianne Glick.
Here are a few comments about her and her activities:
"Marianne Glick's contribution to the progress of Indianapolis exemplifies our success when businesses, governments, and communities work as partners to advance our economy with opportunity and equity. Ms. Glick has strategically and effectively invested her time in the neighborhoods, people, and culture of our city, all with abundant grace and humility," said GIPC Board Chairwoman Mary Titsworth Chandler, vice president of community relations at Cummins Inc. and CEO of The Cummins Foundation. "As a strong female community leader, Ms. Glick's work also advances Indianapolis' place among the most vibrant, diverse, and inclusive cities in the U.S."
"Each year, the Whistler Award is presented to the people and institutions that have helped to shape the very fabric of our community," said Mayor Joe Hogsett. "The award recipients embody the vision, talent and energy of Charles Whistler, the honor's namesake, and carry on Indianapolis' legacy of innovation and civic pride. It is an honor to celebrate the contributions of Marianne Glick this year, highlighting the influential ways she has given back to our community and helped to shape local culture."
An Indianapolis native, Marianne has a deep connection to the community and has worked to fulfill her mission of "igniting, inspiring and directing energy for positive action" not just through monetary donations but also by volunteering and helping to lead more than 20 local organizations. She is president and owner of GlickArt and, as an accomplished artist, often contributes her paintings to assist not-for-profits.
She is founder of the Executive Women's Training Program, chairwoman of the Eugene & Marilyn Glick Family Foundation and president of the board for TeenWorks. She also serves on the boards of the Gene B. Glick Co., United Way of Central Indiana, Ivy Tech Community College, IUPUI Chancellor's Advisory Council, Goodwill, Ascend Indiana, and Community Health Foundation. She has served as a trustee for Ball State University, Central Indiana Community Foundation, the Women's Hospital, Big Sisters, Habitat for Humanity, Women's Fund and Prevent Blindness Indiana.
Marianne was also IBJ's 2013 Michael A. Carroll Award honoree, following in the footsteps of her father, who won in 2004. They're the only father/daughter duo to win the award since its inception in 1993.
I'm especially pleased to offer my congratulations to Marianne Glick, an inspirational woman, for being named GIPC's 2018 Charles L Whistler Award winner. Thanks, Marianne, for all you do in continuing the Glick family legacy and helping make Indianapolis a great city for everyone.•
__________
Morris is publisher of IBJ. To comment on this column, send email to gmorris@ibj.com.
Please enable JavaScript to view this content.