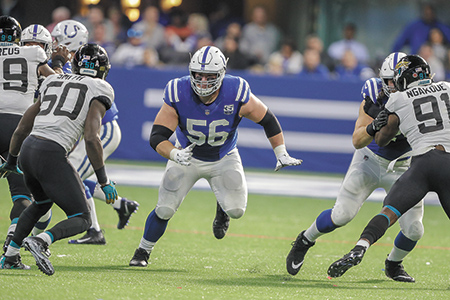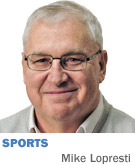 Let us gather for an ode to those who so often go unnamed, unknown, unsung and unappreciated. At least by the general public—and most highlight shows.
In other words, let's talk about offensive linemen. It seems a good time, considering what's been going on lately with the big boys in blue.
You know what people say about offensive linemen, right? You don't? Well, then …
Blaine Nye was a Pro Bowl guard for the Dallas Cowboys, and this is what he said: "Offensive linemen are like salt. Nobody ever remembers the brand they buy."
Jerry Kramer played guard for the Vince Lombardi Green Bay Packers, and this is what he wrote in his book: "One of the Cleveland Browns once told me that if he ever had to go on the lam from the law, he'd become an offensive lineman."
Keith Jackson built a Hall of Fame broadcasting career, flavored by the nicknames he coined. He's the guy who first called the Rose Bowl "the granddaddy of them all," and came up with "The Big House" for Michigan Stadium. Oh, and this one for offensive linemen: The Big Uglies.
Nick Sirianni is offensive coordinator for the Colts and this is what he mentioned the other day about his right guard: "Shoot, I don't even know Glowinski's first name." It's Mark, by the way. And, yeah, Sirianni actually knows it.
Catch the whiff of anonymity here? No offensive lineman has ever won a Heisman Trophy, and it's pretty much a sure bet none ever will. Though, in a testament to the stature of Woody Hayes' three-yards-and-a-cloud-of-dust days, Ohio State tackle John Hicks actually finished second in 1973, behind Penn State running back John Cappelletti. But usually, offensive linemen are like the bomb squad: They don't create much noise, unless they mess up.
And yet, with Thanksgiving coming, is there any doubt whom Colts fans in general and Andrew Luck in particular should be giving thanks for?
Anthony Castonzo, Quenton Nelson, Ryan Kelly, Braden Smith and Whats-hisname Glowinski. The current starting offensive line. Put them together and what do you get? About 1,575 pounds of Secret Service-level protection. Suddenly, the Colts O-line is in fashion, and Luck leaves games without abrasions and contusions. We'd call them the Fab Five, but that's been taken. How about … Five Guys?
You know how it's been in recent years. The only sure things in Indianapolis were death, taxes and the Colts quarterback running for his life. Well, those and potholes. It's why Luck became a patient to the world. But look what's happened in 2018. Once, the line was cannon fodder for disgruntled fans on talk shows. Now, opposing coaches sing its praises. If you look closely enough, so does the stat sheet, with its astonishing numbers of improvement for the Colts.
Why do they have 26 touchdown passes in nine games, a year after they had only 13 in 16 games?
Why hasn't Luck been sacked in a month, and 10 times all season? He's probably forgotten what the turf feels like. This, a year after Indy quarterbacks went down 56 times.
Why has the offense been a wonder of variety and potency? Except, of course, when it's not. (see second half last Sunday against Jacksonville). The Colts are seventh in the league in scoring. Last season, they were 30th.
Why, why, why? Luck back as an active employee, of course, is one really big reason. Frank Reich's strategy is a part. But now is no time for the offensive linemen to go unmentioned. Their paw prints are all over this surge.
"Never take it for granted," Reich said of the line.
"They're largely responsible for anything positive in the offense," Luck said.
So maybe it is a fact of life that players with jersey numbers in the 60s and 70s live in a different universe—profile-wise—than those with numbers in the teens. But we should know something about them, and not just when they get beat on the blitz. Which, by the way, hasn't happened lately.
Quickie quiz on the great wall of Indy:
Who among them was a biochemistry major in college and a Rhodes Scholar candidate? That'd be Castonzo.
The avid bowler who once had a 300 game? Glowinski. Knocked down pins like he knocks down linebackers.
The giant who is passionate about his gardening? Smith.
The child of perhaps the most relieved mother of 1996, when his birth was over? Nelson, who checked in at 10 pounds, 10 ounces.
The son of a police officer? Kelly. He was one of Nick Saban's fellas at Alabama. Didn't allow a sack his last two college seasons. Not one.
There they are, Indy's own five blocks of granite, and a newly formed quintet. This time last year, Nelson was at Notre Dame, Smith at Auburn and Glowinski was in his last weeks as a Seattle Seahawk.
Luck properly mentioned that a lot goes into great pass protection: the tight ends doing their jobs, the running backs picking up blitzes, the receivers sharp on their routes. Kelly mentioned of Luck, "There has been a few pressures here and there, and he's gotten out of the pocket and guys are getting open downfield, which makes our job a hell of a lot easier." It's a team effort, as they say.
But everything starts up front, and all you need to do to understand the value of an effective offensive line is to remember what was happening where there wasn't one. OK, maybe gazing around the Lucas Oil Stadium stands, you don't find many of their jerseys. But behold their handiwork:
More touchdowns, fewer sacks, way fewer MRIs for the quarterback. They are five guys with meaning, if not stardom.•
__________
Lopresti is a lifelong resident of Richmond and a graduate of Ball State University. He was a columnist for USA Today and Gannett newspapers for 31 years; he covered 34 Final Fours, 30 Super Bowls, 32 World Series and 16 Olympics. His column appears weekly. He can be reached at mjl5853@aol.com.
Please enable JavaScript to view this content.