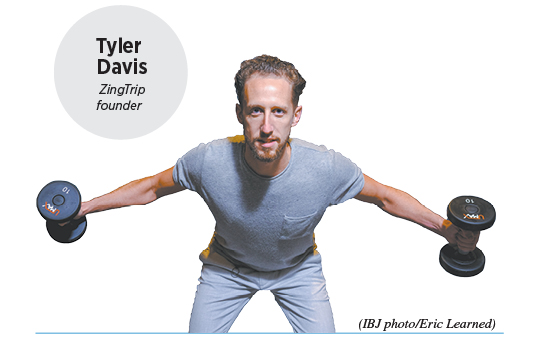 Tyler Davis has seen firsthand how an active lifestyle can improve overall health and well-being. Since starting his own personal training business while attending Indiana University, the 30-year-old Indianapolis native has helped hundreds of clients stay on top of their game.
But Davis noticed how disruptive travel can be to people's wellness routines.
So the former Mooresville High School basketball player, who graduated from IU with a degree in kinesiology, founded ZingTrip late last year. ZingTrip helps link travelers to everything from massage therapists to personal trainers.
Last month, Davis' ZingTrip won first place in the annual Eye For Travel North America Startup Awards in Las Vegas. It was one of 10—out of more than 100 tech travel startups to apply—to be picked to make a presentation before Eye For Travel's four judges. ZingTrip was one of two finalists then chosen to pitch before a crowd of 500 travel executives, and those executives chose ZingTrip as the most promising startup.
From Las Vegas, Davis flew to California to meet with venture firms in San Francisco and Palo Alto.
Providers will pay a yet-to-be-determined amount to be a part of ZingTrip's network, and travelers will pay per transaction to connect to a service provider.
How did you get the idea for ZingTrip?
I was working with clientsthat would travel—a lot of Indiana University professors and professionals from Cook Medical that traveled for work. As you travel, it disrupts your health. You're in a new location and you have a new schedule and that's a huge problem for most folks. We want to provide a resource for travelers so they can stay fit on every trip. And as a personal trainer, I know how difficult it can be connecting with incoming travelers.
How does ZingTrip work?
It's pretty simple. Travelers submit their trip information [through a website or app]. Through our nationwide network of providers, we find an option that works for the traveler. Once you book your preferences, we arrange the options and the traveler stays healthy. We're looking to roll this out to the public in early Q1 [2019].
What activities can your clients schedule through ZingTrip?
Anything from a jet-lag massage to individual training sessions either at their hotel or an off-site location. They can also book group exercise classes, anything from a yoga class to a rumbling class—[which is] like boxing. We also have the option for a small group run or a run with a trainer. We also offer what we call a day pass, where you can work out on your own. It's a pay-as-you-go model.
How much does it cost to use ZingTrip—per activity?
Anywhere from $15 to $250.
How many providers do you hope to have and what will the footprint of the company be?
Our aim is to have 1,500 providers that we personally vet by the end of 2019. Right now, we have about 300. We don't let just anyone go to our website and join our network. We only want providers that we have established relationships with. We want to be in 50 cities by the end of 2019.
What do you think the demand will be?
There are 500 million business trips in the U.S. each year. We seek to serve people on 9 million trips over the next three years.•
Please enable JavaScript to view this content.