A local real estate veteran who had planned to retire has instead jumped back into the game with the purchase of two vacant
downtown properties he plans to convert to market-rate apartments.
John Watson, who was a partner with Carl Van
Rooy in Van Rooy Properties Group from 1986 to 2006, formed Core Redevelopment Inc. at the end of August and on Sept. 1 purchased
two buildings at Senate and North streets that will house 71 one-bedroom apartments and six studio apartments.
The buildings on the southeast and southwest corners of Senate and North and about a block east of the Central Canal were
built in 1900 and 1903 as the Avondale and Deauville apartments. They were rehabbed in 1976 as low-income housing and have
been vacant since November.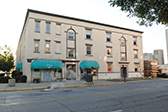 A developer plans to rennovate the Avondale and Deauville apartments. (IBJ Photo/Robin Jerstad)
They had
been owned since 2004 by a local partnership. Tenants in the buildings had been eligible for housing
assistance payments through a program of the federal government. When the property fell out of
compliance with that program a few years ago, occupancy took a nosedive and the entity that owned the
building fell behind on its mortgage with Wells Fargo Bank.
Watson bought the buildings
for a little more than $1 million—about half the mortgage balance—and plans to spend another
$1 million rehabbing the units.
Watson said moderating prices caused him to jump back into real estate.
"I was going to retire and go off in the sunset," he said. "When I was stepping away, people were
paying crazy prices. But then the market changed."
The Senate Avenue apartments, which average about 650
square feet each, will rent for $600 to $650 a month, Watson said. The first units should be ready for tenants by Dec. 1.
Amy Burmeister, a multifamily housing specialist with the local office of CB Richard Ellis who represented Watson
in the transaction, said rent growth is driving interest in downtown apartment ownership.
Downtown rents have
grown 6.7 percent in the last two years compared with 1 percent to 2 percent in other parts of the city.
Please enable JavaScript to view this content.