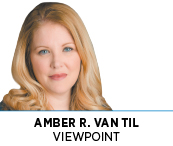 As every farmer in Indiana knows, the business of farming requires access to steady credit. Many farmers also know that, every five years, Congress considers legislation called the "farm bill," which reauthorizes federal agricultural programs.
What many farmers don't know, however, is that local banks in rural communities do more than simply provide steady lines of credit for their customers; they also advocate for policies that set their customers up for success. That includes advocating for preserving programs such as the Farm Service Agency's Guaranteed Farm Loans Program or its Emergency Farm Loans Program.
Programs like these are at stake in this year's farm bill. Members of Congress are still hashing out the details, with hopes of passing the bill before year-end. Time is running out, but the Indiana Bankers Association is confident lawmakers will maintain the programs that help rural community banks serve farmers, ranchers and producers.
The farm bill primarily makes changes to federal programs, but it also affects other agricultural credit providers, such as the Farm Credit System, or FCS. Unlike rural community farm banks, which operate locally, the FCS is a national government-sponsored enterprise that extends loans across the country. As of June 30, the FCS held $333 billion in assets. If it were considered a bank, it would be the seventh largest in the country.
The biggest difference between FCS institutions and local, taxpaying banks is that FCS institutions are required by law to make certain kinds of loans and prohibited from making others. FCS institutions must provide loans to "young, beginning and small farmers," and they may not make loans for purposes other than farming, ranching and producing, or otherwise sustaining agriculture.
Unfortunately, in recent years, these mandates have been ignored. The number of loans extended by FCS banks to young, beginning and small farmers has dropped substantially. Meanwhile, FCS institutions have extended loans far outside their purpose, such as loans to Rayonier Inc. to bail out a foreign company in New Zealand and to Verizon to purchase a stake from the European Vodafone. Beyond these ridiculous transgressions, FCS overreaches its bounds by taking deposits or extending loans for non-agricultural purposes.
This inappropriate, unlawful activity, which often flies under the radar, hurts farmers in need of credit. There is good news, though, in that both the Senate and House versions of this year's farm bill demonstrate that members of Congress have been watching and aren't happy with the strayed mission of the FCS.
The House version of the bill includes provisions that empower the Farm Credit Administration, which regulates the FCS, by expanding the administration's enforcement authority. The Senate version goes even further by setting up a legal framework that allows Farm Credit's insurance corporation to assume control of the system if it fails again, as it did in 1987.
These are important steps forward and strongly suggest that members of Congress want the FCS to return to its true mission: serving America's farmers, ranchers and producers.
While there is still work to be done, the Indiana banking community thanks members of the House Committee on Agriculture and the Senate Committee on Agriculture, Nutrition, and Forestry for their efforts in reining in the Farm Credit System. Their efforts demonstrate commitment to helping America's rural community farm banks help America's farmers, ranchers and producers.•
__________
Van Til is president and CEO of the Indiana Bankers Association.
Please enable JavaScript to view this content.