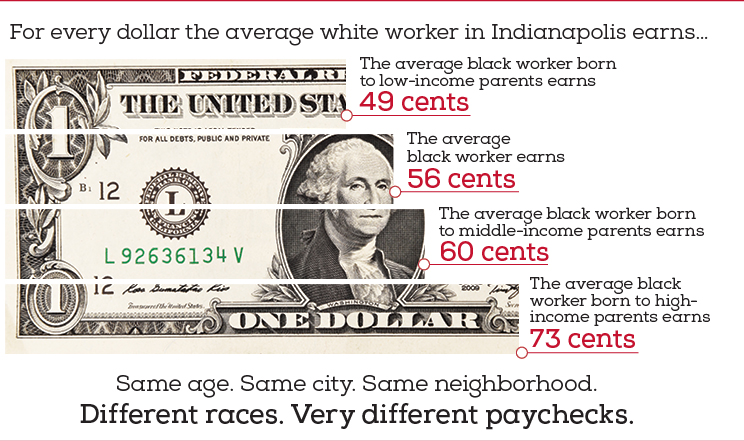 Race is a powerful divider in Indianapolis—especially when it comes to the future incomes of the city's children.
Even when born into households of similar income levels, white and black children earn vastly different incomes as adults. White adults in Indianapolis on average outearn black adults whether both groups were born to poor, middle class or wealthy parents, according to an IBJ analysis of new U.S. Census Bureau data that tracked children born from 1978 to 1983.
The Opportunity Atlas, as it's called, is a first-of-its-kind study aimed at showing where it's hardest and easiest in the United States to rise from your childhood economic station.
The data reveals deep inequality in Indianapolis neighborhoods. For instance, black adults who grew up in the downtown census tract that encompasses the Mass Ave area earned an average of $20,000 in 2015. But white adults who grew up in the same area earned an average of $55,000.
In Emerson Heights on the east side, black children born there grew up to earn an average of $11,000 annually—making the neighborhood one of the worst in Indianapolis for developing future income potential. White children born there grew up to earn $36,000 on average.
"It confirms factually what many in the minority community have known," said Mark Russell, director of education and advocacy for the Indianapolis Urban League. "It's assuring, in one sense, that we don't have to rely on anecdotal evidence. But unfortunately, it does underline the fact that equality of opportunity is still a distant goal."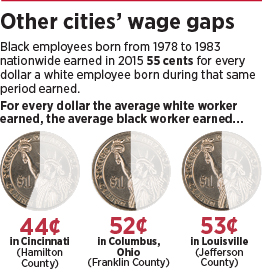 The data paints a bleak picture of racial disparity that exists even for those black children born into means.
White children in Marion County born to high-income parents earned an average of $51,000 as adults in 2015. But black children born to high-income parents earned only two-thirds of that, or an average of $33,000.
The racial income gaps are especially stark when it comes to black men. Black males in Indianapolis born from 1978-1983 were earning $22,000 on average—just half of what white men earn. Black males in Indianapolis born to low-income parents earned the least of any race or gender studied across every parental income bracket: $19,000.
"It's not as simple as being born into a family of high incomes," said Una Osili, associate dean and economics professor at the Indiana University Lilly Family School of Philanthropy. "What we have to realize is, there are still very persistent barriers to achievement and they exist at all income levels. It's not just low-income [black] parents that are facing these challenges, in terms of barriers to achievement and mobility."
Mayor Joe Hogsett said the data is "staggering, to say the least"—and that the effects of the disparities have stunted the prosperity of the city.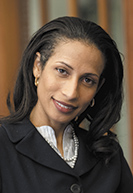 Osili
"You cannot have conversations about equitable growth without having frank conversations about racial disparity, and frankly, racism," Hogsett said. "That, all too often, still affects us. A lot of people believe we exist in a post-racial world. Most of the statistics and, frankly, most of the experiential data, say otherwise."
Indianapolis leaders pointed to racial differences in family wealth history, the effects of housing segregation, lingering effects of racial education achievement gaps, the criminal justice system, and unequal access to powerful social networks as key reasons for the income disparities.
Russell said it's important not to discount the impacts of structural racism.
"There's persistent inequality that can only be laid at the feet of continued institutional racism and lack of equal opportunity," he said.
Leaders are also pushing for change to realities they've known for years.
"The question we should start asking is, how long we're going to accept these disparities to continue," Russell said. "We're aware of them. We need to go beyond raising them. We've got to get to solutions."
What explains it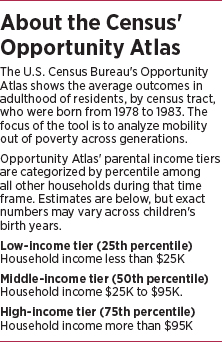 Accumulated wealth disparities can partly explain why black children born to high-income families still end up not faring as well as their white peers when it comes to future incomes, Osili said.
White families have the highest levels of median net worth in the nation: $171,000, according to 2017 data from the U.S. Federal Reserve. But median net worth for black families is just $17,600.
"It seems to be a puzzle, but when you peel back the data, you understand someone earning $100,000 who doesn't have significant family wealth or resources and is the first person to graduate from college in their family and may have a cousin in jail and other things, that family environment is not the same as someone who has had a history of wealth," Osili said.
That matters when it comes to helping children overcome barriers that might bend, but not break, their peers, she said.
"These intergenerational transfers are what help households move up the socioeconomic ladder," Osili said.
Consider two students attending college from different family wealth backgrounds, Osili said. One set of parents can provide their child extra money to get through a tough spot—to pay for housing, extracurriculars or transportation. But another child might have to take a part-time job to pay for those things, setting him or her behind in class. One child might not have to worry about taking out student loans, while another is paying them off for years. One child might be able to afford to take an unpaid summer internship to boost his or her resume, while another may not be able to afford that investment.
The effects of housing segregation due to redlining (the practice of declining mortgages and other services to buyers in some neighborhoods) and poverty concentration that falls along racial lines have also contributed to the income differences, said Angie Carr Klitzsch, director of workforce development agency EmployIndy.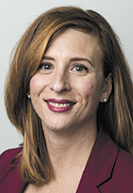 Klitzsch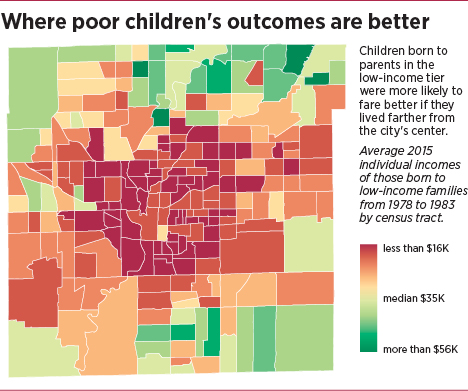 "We are one of the most segregated cities in the whole United States," Klitzsch said. "Even if you were doing better than your peers, you weren't afforded the opportunity to actually move into neighborhoods where they have seen [higher] levels of economic growth."
The Indianapolis metropolitan area ranked 15th for black-white segregation in the top 50 metro areas with the largest population of black residents, according to a Brown University report that measured 2010 census data. The Indianapolis metro was more segregated, by the Brown measure, than Baltimore, New Orleans and Washington, D.C., among others.
Housing segregation matters because where you live has such an extreme effect on your opportunities, from whom you know to what school your children attend, Klitzsch said.
"It has to do with social capital," she said. "I got my job by the people I knew. I didn't necessarily go out and apply for it. If you're not in a situation where you're around people who can think of you for the next opportunity, it doesn't help your career trajectory."
The disparities don't just show up in future income. Racial disparities are also apparent in Indianapolis students' performance on state tests. Chalkbeat Indiana reported last month that, in Indianapolis school districts with wide income distribution, racial gaps in state test performance are more pronounced.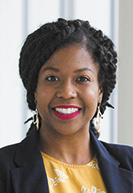 Merritt
For example, in Washington Township on the north side, white students passed both the English and math ISTEP exam at nearly twice the rate of black students.
Those gaps have "major ripple effects" for success later in life, Russell said.
The Opportunity Atlas study also measured the incarceration rates of black and white residents born from 1978 to 1983 in Indianapolis. Black incarceration rates are higher than white incarceration rates at every parental income level. In Emerson Heights, where black residents had the lowest income, their incarceration rate was 27 percent; the white incarceration rate there was 3.6 percent.
What can be done?
The city has a myriad of ongoing initiatives—including criminal-justice-reform programs, efforts to increase the number of first-generation college students taking advantage of state scholarships, and funding mentorship programs that focus on black men—that Hogsett said he believes will start to turn the tide on income inequality.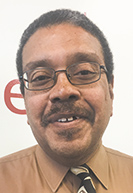 Russell
"These challenges affect vulnerable populations, including people of color and women, disproportionally higher than other populations," he said. "Those are the types of investment that ultimately may very well help us as a community move the dial, and bring many people out of poverty as well."
And, he pointed out, racial income disparities are not just in Indianapolis. Black employees born from 1978 to 1983 earn 53 cents for every dollar a white person makes in Louisville, 44 cents for every dollar in Cincinnati, and 52 cents for every dollar in Columbus, Ohio.
Hogsett said the effects of the Great Recession also continue to plague cities because "vulnerable populations have borne the brunt" of the shifts in the economy.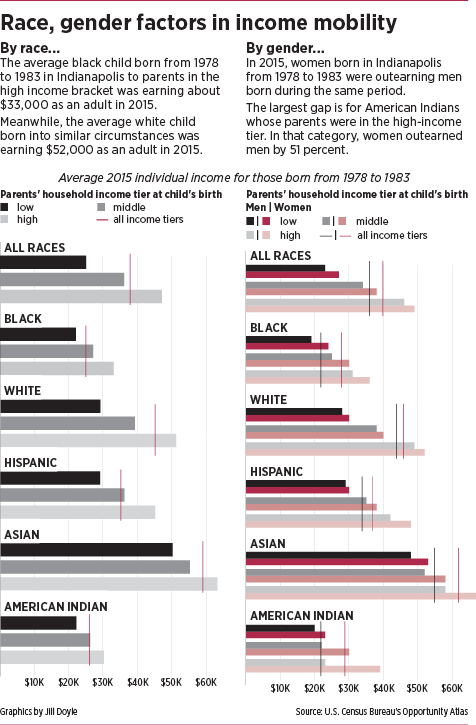 "It stopped whatever momentum may have been generated and set us back even further than we were before," he said.
But Indianapolis leaders say they are pushing for more intense action.
Breanca Merritt, senior research analyst for the IUPUI Public Policy Institute, said policymakers need to "call out race specifically" when designing social programs with specific racial groups in mind.
Black men, for instance, have been excluded from the economy due to higher incarceration rates than their white peers. And black women are faced with heightened child care duties and expenses. Both groups, she said, could benefit from specific strategies to try to target those issues.
"They've been excluded from that conversation for so long," she said. "Not bringing them to the table is irresponsible for the long term."
About One City Worlds Apart
This is the latest story in an occasional series examining the growing gap between the affluent and poor in Indianapolis and ways to address the problem. Read the earlier stories
here
.
Klitzsch admitted that the city should do more to address racial inequalities. Officials must "be bold and develop strategies" specific to different racial groups instead of doing it in a roundabout way, she said. For instance, the city's focus on "opportunity youth" is another way of saying it's for African-American men, she said.
"Some of these are proxies for trying to really target a population without speaking to the racial issues, which is maybe something we need to be doing," she said.
Carole Craig, a retired leader of the Indianapolis chapter of the NAACP, said city leaders need to build a strategy to address inequities so that, 20 years from now, the city doesn't have the same problem.
"We have to act quickly," she said. "We have to look at the huge risk and danger if we continue on this path, if we have a blind eye. If we don't close the gap, it will get wider."
Craig said the stark inequality fundamentally tears at the fabric of the American dream.
"When a gap is this big, that means we're not really walking the talk of the American dream," she said. "That means we're a farce."•
Please enable JavaScript to view this content.