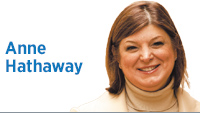 Our country's brave veterans deserve our appreciation and respect every day of the year, but I'm grateful that each Veterans Day we can all take a moment to celebrate and honor them.
This year, one moment on one television show gave us a surprising and refreshing look at our country's shared sacrifices.
By now, the story is well known to most. "Saturday Night Live," the long-running sketch comedy show, has always leaned in to our country's political environment and many on the right long felt the show's liberal leanings were unfair. Just one look at Will Ferrell's George W. Bush or Alec Baldwin's tired Donald Trump will show you that.
Many felt that the show went too far earlier this month when cast member Pete Davidson denigrated the service of retired U.S. Navy SEAL Lt. Cmdr. Dan Crenshaw by mocking his appearance on a Weekend Update sketch.
Crenshaw, at that time a Texas candidate for the U.S. House, wears a patch to cover the eye he lost on his third deployment to Afghanistan when a roadside bomb exploded nearby. Davidson quipped that, not only did he not look like a congressional candidate but that he "lost his eye in war, or whatever." That exchange rightly sparked significant outrage on social media and resulted in thousands of complaints being forwarded to NBC, the network that airs "Saturday Night Live."
Too often in today's political environment, there is offense followed by outrage and everyone moves on to the next thing.
Thankfully, not this time. The following Saturday, with the elections over and Crenshaw now congressman-elect, the country witnessed something completely unexpected.
On Weekend Update, Davidson opened the show with an apology to Crenshaw, acknowledging how he lost his eye in combat, and called him a war hero who deserved our respect. The view of the set then widened to show Crenshaw sitting next to Davidson.
Crenshaw, who had publicly taken the high road throughout the controversy, accepted the apology and the two declared they were "good."
The left and the right had patched up their differences and both agreed that, going forward, when we thank our veterans, we should say, "Never forget." Never forget we are all Americans and as fellow Americans we are all in this together; never forget that our similarities and shared experiences far outnumber our differences.
The moment was especially poignant because Davidson's father, a brave member of the New York City Fire Department, gave his life trying to save lives during the 9/11 attacks. Two men with seemingly nothing in common were bonded together through shared sacrifice and sacred connection to a war that still wages today.
In a time when it feels our political divide is insurmountable, against all odds and in one moment, "Saturday Night Live" offered hope. These two men, on late-night national TV, toned down the rhetoric, issued an apology, had it accepted, shared together in the losses of 9/11 and the subsequent losses in Iraq and Afghanistan, and decided they were good.
So next time you have opportunity to thank a veteran, let's follow Crenshaw's and Davidson's lead. Tell them you will "never forget." We can never forget their willingness to wear the uniform and defend the freedoms of all Americans; we can never forget that we are all Americans and that we have more in common than we think.
While we might come at solving our problems from different directions, ultimately we have the same goal: We all want what is best for our country and her people.•
Click here for more Forefront columns.
__________
Hathaway is president and CEO of Hathaway Strategies, chairwoman of the Julian Center board and former chief of staff of the Republican National Committee. Send comments to ibjedit@ibj.com.
Please enable JavaScript to view this content.