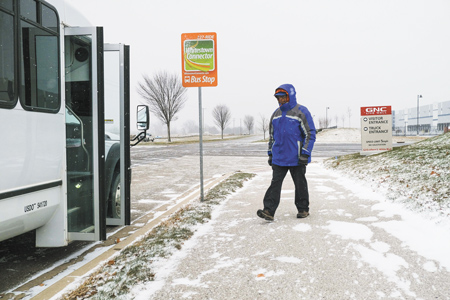 Boone County has been deluged over the past few years with announcements about new businesses, groundbreakings, ribbon cuttings and a flurry of new jobs.
In 2018 alone, companies have promised to add more than 1,100 jobs in the county, which has a population of about 65,000. In 2017, deals closed that could eventually add 1,800 jobs.
While that's good news for the county's tax base, filling those jobs could be challenging in a fairly rural area with a rock-bottom unemployment rate. In Boone County, like many of its neighbors, the unemployment rate has stayed at or below 3 percent for more than a year.
Most experts consider that to be at or beyond full employment, which has left many companies struggling to hire from a small pool of candidates.
The problem is widespread across industry sectors, said Boone County Economic Development Corp. Executive Director Molly Whitehead.
But the logistics sector—where wages aren't high and the workforce need is large—seems to be having the toughest time.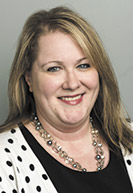 Whitehead
"A lot of our employers are experiencing challenges in attracting the workforce they need," she said.
While the situation is not unique—neighboring Hamilton County has also struggled to fill thousands of job openings—it has inspired Boone County officials to act. The economic development corporation has retooled one of its staff positions to spend more time focusing on workforce issues and has launched a manufacturing alliance group where company leaders can discuss challenges facing the local sector.
Some of the largest job announcements this year have come from MonoSol LLC, Royal Interpack Midwest, Rockwell Automation Inc. and Polymer Technology Systems Diagnostics.
Merrillville-based MonoSol, which makes the water-soluble film used to create products such as Tide Pods and Cascade ActionPacs, plans to open a $72 million manufacturing plant in Lebanon that's expected to employ 89 people by the end of 2022.
Royal Interpack Midwest, based in Anderson, makes fresh-food packaging. It will spend $20 million equipping a facility in the AllPoints at Anson business park that will employ 130 people by 2023, starting with 60 employees this year.
Meanwhile, Milwaukee-based Rockwell Automation Inc. plans to consolidate its distribution operations in Illinois and Tennessee into a new distribution center in Whitestown, a move that is expected to create up to 231 jobs by the end of 2023.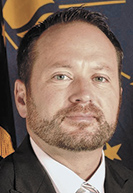 Norton
And Polymer Technology Systems Diagnostics, an Indianapolis-based company that makes handheld medical-testing devices for cholesterol and blood sugar, announced plans in May to build a global headquarters in Whitestown, where it will move its local operations. In addition to the 150 employees who will relocate from Indianapolis next summer, PTS Diagnostics plans to add 50 to 70 more within five years.
Those announcements followed huge news in July 2017 that North Carolina-based XPO Logistics Supply Chain Inc. would open a major distribution center in Lebanon and add 1,160 local jobs. The company has already started hiring, and company recruiters attended a job fair hosted by the economic development organization in September.
Commuting in
Because of Boone County's low unemployment rate and high cost of living, many employees in manufacturing and distribution centers commute from Marion, Montgomery and Clinton counties, said Whitestown Town Manager Dax Norton. Meanwhile, a majority of Boone County residents leave the county for work, going to jobs in Indianapolis, Carmel and Fishers, he said.
It's difficult to live in Whitestown if you earn less than $20 per hour, Norton said, so the town has started looking closely at pay when considering tax incentives for companies.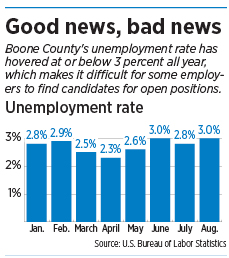 For example, PTS Diagnostics, which received tax abatements that will save the company nearly $3 million over 10 years, will pay an average hourly wage of $42.64, or $88,000 a year.
Those are the types of jobs the town wants to attract as it works to create a live, work and play environment, Norton said.
"You have to make $90,000 to $100,000 a year to live in Whitestown, and we don't have very many of those jobs," he said. "That's a dilemma."
Evidence of the problem can be found in the Whitestown Connector, a commuter bus operated by the Central Indiana Regional Transit Authority. The bus connects to IndyGo routes on the northwest side of Indianapolis, helping to get Marion County workers without reliable transportation to jobs in Whitestown's Anson industrial park.
Earlier this year, CIRTA asked Whitestown for $130,000 in stopgap funding to ensure the bus can continue running next year after a federal grant that's been supporting the bus runs out.
The bus has operated since 2015, charging riders $1 per one-way trip.
It makes 8,000-9,000 trips a year, and CIRTA representatives expect that number to grow.
About 30 percent of the bus's passengers ride to the Amazon fulfillment center on Anson Boulevard. CIRTA sees a spike in traffic in October and November when the online retail giant—which also contributes money to fund the bus—hires temporary workers for the Christmas shopping season.
(An Amazon regional pubic relations manager told IBJ the company has no trouble finding candidates to support its fulfillment center in Whitestown, saying the company's benefits—including its $15-per-hour minimum wage—are attractive to job seekers.)
The town approved the stopgap funding for next year but now must consider how the bus will be funded in 2020 and beyond.
The town could create an economic improvement district in the Anson area to direct tax dollars to the bus, Norton said. But he wonders if that's fair to the taxpayers living in Whitestown who largely don't benefit from the service.
"I think it's a good thing we have the industrial boom we have," he said. But "we already have tax abatement, which is essentially a financial incentive. Should we be subsidizing travel as well?"
"At what point do those $17-an-hour jobs become a burden on the residents who live in Whitestown and Boone County?" Norton said.
That's why, in addition to considering whether a company is creating high-paying jobs, town leaders are also concerned with a project's assessed value, which determines its property tax payments, Norton said.
Searching for solutions
Whitehead said the county's economic development corporation is employing multiple strategies to support employers struggling to fill their workforce.
"The thing I've come to realize over the time I've had this job is, there's really no one way we're going to solve this problem," said Whitehead, who has been in the position since 2015.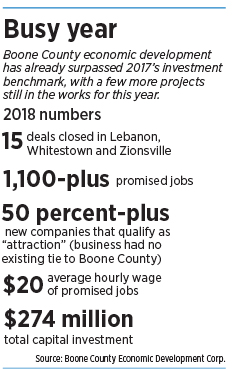 The office has expanded a position formerly focused on community development and place-making to also dedicate time to workforce development, possibly including seeking federal grants, she said.
"I need someone here locally who can work directly with our employers … and really dig deep into a variety of solutions," she said.
The organization also recently launched the Boone County Manufacturing Alliance, made up of general managers and leaders from Boone County manufacturing facilities.
It met for the first time last month, Whitehead said.
The coalition gives those leaders an opportunity to get to know one another—many have never met—and share their challenges, workforce being one of them, and solutions they've tried.
It's become apparent that companies that place a high emphasis on company culture tend to have the lowest turnover, she said.
One example came from a business whose leaders sit down once a week with employees to review and discuss the company's finances.
"By educating them on the impact their work has on the bottom line … that's made a huge difference," she said.
Businesses are also implementing changes to their hiring practices in an effort to attract more candidates.
United States Cold Storage, which has a warehouse in the Lebanon Business Park, recently added a secondary human relations position focused on recruiting candidates, said General Manager Adam Ashley.
The business currently has positions open for office, maintenance and warehouse work, he said. Finding candidates for the open warehouse positions has been challenging, he said.
With more companies moving into the business park, he expects finding candidates will become even more difficult.
Recently, however, United States Cold Storage has taken steps to streamline its application process, making it easier for candidates to apply for jobs on the web, human resources supervisor Jessica Redman told IBJ.
Now, when candidates click on a job link from a social media website, such as LinkedIn or Facebook, they're redirected to an application page dedicated to the job they're seeking rather than a careers page with multiple job postings that can be difficult to navigate.
And the business is making the hiring process faster. Previously, it might take a day or two for a company leader to offer a job to a promising candidate after an interview.
Sometimes, the person had already accepted another job during that downtime, Ashley said.
Now, when the company finds qualified candidates, it's able to offer them a job before they leave the facility, he said. That will be helpful in capturing talent as more companies open near United States Cold Storage, Ashley said.
Whitehead said her organization will continue to look for workforce solutions in 2019 by considering wages, barriers to job entry, and opportunities for people to live and work in Boone County.
"There's no one-size-fits-all approach," she said. "We're trying our best to chip away at the problem and, hopefully, we'll get there."•
Please enable JavaScript to view this content.