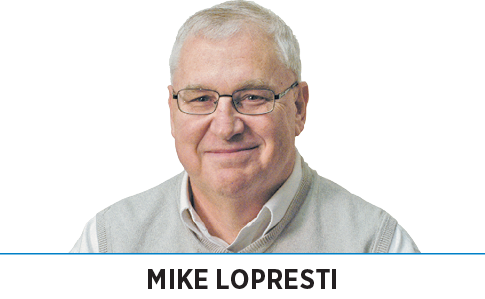 Before we go into the office to see the guy in charge of the championship assembly line at Warren Central, here are words you must know.
Can't fold, won't fold.
"Our mantra," Marques Clayton said. This year, the hashtag turned into #NeverFold, and the trophies have kept coming. Clayton? He's the athletic director of the school that in 10 months produced state champions in football and girls and boys basketball.
You can't put it any stronger than this: Not even Carmel has accomplished that unprecedented sweep. The history books opened wide for the Warriors. By the way, the coaches were Stacy Mitchell in girls basketball, Criss Beyers in boys, and Jayson West in football.
Marques Clayton hired them all.
Same for Jim Tonte, who coached the state wrestling champions in 2016, and Le'gretta Smith, whose teams won back-to-back girls track titles in 2016-2017. So it seemed a good to time to visit the man atop this title machine and ask what's been going on.
"To understand the last 10 months, you really have to understand the last 20 months," Clayton begins.

Clayton
That would mean May of 2017, when football star Dijon Anderson, with a scholarship to Southern Illinois University, was shot to death. "On the last day of school," Clayton says, "we're at his funeral."
That would also mean October of 2017, when football player Johnathan Jamar Smith died of a rare kidney cancer. "Those things had a direct effect on those kids; they had a direct effect on this school; they had a direct effect on our community," Clayton says. The AD, too? "Absolutely. You feel it all. It's something you don't get over—you just try to move forward.
"What that did is bring our community closer. Everybody felt like we had each other's back."
Hence … Can't fold, won't fold.
The girls basketball team didn't, even after starting 6-5. The boys basketball team didn't, going 32-0 without one player averaging more than 12 points a game, beating the New Albany Romeo Langfords 64-62 in the semistate after falling behind 10-2, and Carmel 54-48 in the state finals after trailing by 11. The football team didn't, going 14-0 through a rash of injuries, including Mr. Football candidate David Bell, a two-sporter whose shot over Langford beat New Albany.
Clayton watched all this happen on the side of town that knows hard left turns from life. He understands the tragedy-laced unity that led to trophy presentations. He mentions a timeout late in the girls championship game.
"Our band was playing, and our fans were standing up and I looked at our crowd and I remembered several months before, the same faces were all packed in a church for Dijon's funeral and Johnathan's funeral. The same people and the same faces. Instead of shedding tears of sorrow, we're together, shedding tears of joy. That's what I will always remember.
"We had a parade on the east side, down Post Road. I've been here 17 years and I just never thought I would see that day."
#NeverFold has turned into quite the athletic force.
"As I put some thought into it this weekend, it's bigger than that. The hashtag represents the underdog, it represents those communities, those people that people don't expect a lot from."
One other vital thing for a stressed community. "You have to surround these kids with great adults. You have to love these kids."
In 2013, Clayton lures West, the football coach, from Lawrence Central, where he had just won a state title. "Probably won't get him, but I'm going to give it everything I've got, because the kids deserve that," Clayton thought to himself at the time.
In 2016, he convinces Mitchell to move from the boys staff to take over a girls program that had just gone 20-54 in three seasons with three different coaches. Problem solved.
The same year, he has the boys' spot to fill, and talks to several candidates who have glowing resumes but are wary of Warren's reputation as a football school. "To be honest, they really weren't willing to come here," Clayton says. "They didn't believe in it."
Beyers had been a head coach one season, at Martinsville, but before that was an assistant in Bloomington South's stellar program. "One of the things I said to him, we had to win the state of Warren. Meaning we had to keep our kids," Clayton says.
Three hires, three state champions in 10 months. That's hitting the trifecta, worthy of a personal sense of triumph for an AD.
"Personally? Not much," Clayton says. "The best way I can explain it is, Friday night at Lucas Oil Stadium, when you looked on the Warren side, you saw a sea of black. You saw people past and present. You saw people who have lived on the east side their whole lives, and they're just looking for something to rally behind. You saw community. That's what it's all about."
Look around Clayton's office. Not many mementos of Warren's championships. Several pictures of his two children. And also a collage, lovingly kept, of the South Bend St. Joseph Indians. They won the 3A state football championship in 1995. And who had an interception in the 28-0 title game win over Jasper? An inner-city South Bend kid destined to be team captain—Marques Clayton.
"The reason I have that there is to remind me that experience changed my life. With all the championship stuff we've won, as you can see, that's the …."
Treasure? "Yeah, treasure." So, he remembers a game 23 years ago? "Every play, still."
This is why: "You just want to make a positive impact on kids' lives. I know what it did for me in a much different setting. I was in a school full of haves and I was the have-not. Many of these kids here are considered the have-nots, because they're from the east side."
Clayton played at Indiana State, then went looking for a job. There was an opening in Elkhart.
"I was literally ironing my suit and getting ready to drive to Elkhart to accept the job. I got a call from Tony Burchett, principal here at Warren, and we talked a little bit and I said, 'Well, sir, unfortunately, I'm about to go to Elkhart.' He said, 'Indianapolis is on the way to Elkhart. Why don't you stop on the way through?' Let's just say I never made it to Elkhart."
He went from assistant football coach for Warren's four-peat state champions in 2003-2006 to assistant principal to athletic director 10 years ago. Look where it's led. Clayton can remember the kids he's cheered for at Warren Central, and also those he's mourned. They all have a part in this trophy surge.
"This would have been Johnathan's senior year. We wore the 27 on the back of our helmets all year long. We still talk to his mom on a regular basis. Same thing with Dijon's mom. She's still very involved. She has a younger son who's on the team. It's something that we'll always carry with us.
"We are a much closer community now. You may not always see it, but that's the great thing about sports. Win or lose, we win because we're together."•
__________
Lopresti was a columnist for USA Today and Gannett newspapers for 31 years. He can be reached at mjl5853@aol.com.
Please enable JavaScript to view this content.