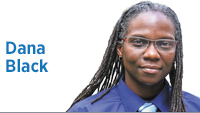 History made!
Being a Democrat in Indiana can have its challenges. We honestly believe when we are creating policies that affect the lives of humans that the human should come first in creating those policies.
Who doesn't want clean air and clean water, as these are two of the most basic human needs? Yet some are comfortable with contaminating the soil and water because it will increase profit margins. Don't believe me? Google U.S. Steel and Lake Michigan and see how state regulators turned a blind eye.
Who doesn't want to take care of their family needs with one 40-hour paycheck? Why is the idea of humans earning a living wage so galling? Yet some business leaders will have you believe they can't compete if they pay the people who help create their large profit margins a livable wage.
It is hard for us on the left to watch many of our fellow citizens vote against their interests because they are told "others" are coming in a caravan for what they have. They don't see how policies generated on the other side of the aisle can be incredibly harmful to them.
For example, the school voucher program diverts money from public education's general fund to private and parochial schools. This was supposed to be a program to help inner-city, low-income students have better opportunities. But what really happened? Wealthier families received vouchers and there became less money for every public-school district, including schools in rural communities that offer no other school choices. They still have the same situations and must pay teachers, yet they have less money in the kitty to do so. Unintended consequences?
I struggle knowing Hoosiers are willing to vote for candidates who never campaigned or asked for their vote. Did Trey Hollingsworth care enough about the constituents of the 9th Congressional District to even make a trip to Indiana to talk to voters? I'm not a fan of Susan Brooks because of her voting record; however, she at least showed up to two debates with Dee Thornton in the 5th District. Women on both sides of the aisle showed more respect for voters than the incumbent men.
Then something happened on a night when all seemed lost. Indiana contributed nothing to Democrats taking over Congress, but it still happened. Ninety-six women won seats in our U.S. Congress. And with all the women of color winning congressional races, you know Shirley Chisholm and Barbara Jordan are smiling down on us doing the Cha Cha Slide.
In Indiana, there was a net gain of four women in the Legislature, bringing the total to 34 out of 150 state lawmakers. A 25-year-old, hard-working and brilliant Chris Chyung will bring his brand of an Asian invasion to our Statehouse.
Probably the biggest and most satisfying event was the win by J.D. Ford, an out, gay man winning a seat in the Indiana Senate. We, the LGBTQ+ community, finally won a seat at the table by defeating a man who spent 14 years opposing hate-crimes legislation and gay marriage. We finally have someone from our community working on behalf of our community to improve the lives of all Hoosiers. Let that sink in, red-state Hoosiers.
Tuesday night was tough and the biggest loss was our Democratic senator. But there were so many gains to be proud of, and the future is incredibly bright for those willing to put in the work to create change. Who's in?•
__________
Black is deputy chairwoman for engagement for the Indiana Democratic Party and a former candidate for the Indiana House. Send comments to ibjedit@ibj.com.
Please enable JavaScript to view this content.