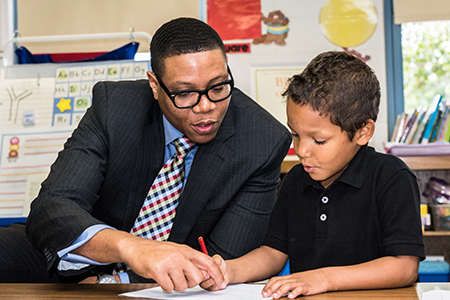 Indianapolis Public Schools Superintendent Lewis Ferebee is a finalist for the open Washington, D.C., schools chief job, according to someone with knowledge of the search process.
Ferebee is in active negotiations for the job, according to that person, who spoke on the condition of anonymity. That does not necessarily mean that the job is his, since districts sometimes negotiate with multiple candidates at once.
The Washington Post first reported Ferebee's candidacy Saturday evening, citing people with knowledge of the search. The Post reported the other candidate is Amanda Alexander, the interim Washington chancellor, and that a committee advising Washington Mayor Muriel Bowser interviewed finalists Saturday.
Ferebee did not immediately respond to requests for comment.
His candidacy is the latest signal that Ferebee, who has become a fixture of certain national education-policy discussions over his five years in Indianapolis, is preparing to leave the city for a larger district. He was in the running for the top post in Los Angeles earlier this year, though he eventually withdrew.
Ferebee's job in Indianapolis might be about to get more difficult: Two critics of the district's current direction were recently elected to the school board. And while tax measures to give the school system more money passed, the cash-strapped district is expected to make substantial cuts to its budget in the coming years.
Under Ferebee's leadership, IPS has become known for policies friendly to charter schools and school choice. The district has turned low-performing schools into "innovation schools," which are run by outside charter or nonprofit operators but remain a part of the district, and leaders have introduced a common enrollment system for district and charter schools. After closing three high schools last year, Ferebee's administration rolled out an all-choice high school system, where students select schools based on their career or academic focus.
Roughly half of public school students in Washington attend charters. The district schools enroll about 48,000 students—only about 18,000 more than IPS. But the Washington job comes with a significantly higher profile, and the district's next schools chief will have to steer it out of a period marked by scandal.
Washington's last chancellor, Antwan Wilson, was forced out in February after admitting he asked for school admissions rules to be bypassed for his daughter. A month earlier, a city report found that up to one-third of recent graduates had earned diplomas without meeting basic requirements. In 2017, the Washington Post found that a number of city high schools failed to record when students were suspended amid a push to reduce exclusionary discipline.
The search for a chancellor there began in June and has included several public meetings throughout the fall. Mayor Muriel Bowser, who ultimately controls the city school system and will appoint its leader, has said her goal is to fill the role by early 2019. Bowser won re-election last month with minimal opposition.
Chalkbeat is a not-for-profit news site covering educational change in public schools.
Please enable JavaScript to view this content.