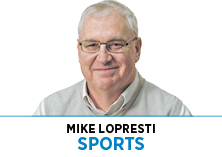 This is what you probably know about IU basketball: The Hoosiers have a hot-shot freshman. Romeo, no last named required.
And this is what you probably know about Purdue basketball: The Boilermakers have a national player of the year candidate. Carsen 25-points-a-night Edwards. Except against Michigan.
And this is what you probably know about Butler basketball. The Bulldogs will always have charm because they will always play in Hinkle Fieldhouse, which turned 90 this year—just like Mickey Mouse, penicillin and sliced bread.
And this is what you probably know about IUPUI basketball. Well … uh … hmm.
No worries, we're here to help—because the 5-3 Jaguars have the looks of chasing a winning season. The last time that happened was 2009-2010. Peyton Manning was the Colts' quarterback, Danny Granger the Pacers' leading scorer.
Let's spend a day with IUPUI basketball. The Dec. 1 Ball State game at the Coliseum.
It's a busy weekend at the State Fairgrounds. The Hoosier Beef Congress is next door; the Bourbon Expo and youth hockey practice are going on, too. Can Duke say its games coexist with cows, whiskey aficionados and sixth-grade goalies?
The Jaguars lineup is introduced. Here's former Mr. Basketball Camron Justice. That's Kentucky's Mr. Basketball, of 2015, but he's the first from any state to play at IUPUI.
His hometown is Hindman, Kentucky. You'll need a GPS for that one. It's just down the road from Bearville and Emmalena, in the state's far-eastern foothills. He started at Vanderbilt, transferred, waited for his chance. There were 700 days between games—"Like an eternity," he says—but once he resumed, look what's happened. A 21-point scoring average so far for the 6-foot-3-inch guard.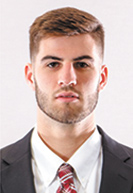 Justice
Here's Evan Hall, also from Hindman and the same Knott County Central High School team as Justice. "Me and my brother, it's like in high school; that's what we played for, to get a ring. We fell short four years in a row. So this is my last chance, and I've got him with me now." Brother? Hall and Justice talk that way—unrelated by DNA but blood siblings at heart.
Here's senior guard D.J. McCall. He's a graduate student in applied data science who got his diploma in three years with a 3.61 grade point average. He's one of seven players in the rotation who made the academic honor roll last season. Here's guard Grant Weatherford, another 3.6 GPA student, who scored 60 touchdowns at Hamilton Heights and began his college career at Purdue.
The coach is introduced as "Indy's own Jason Gardner." This is the 20th anniversary of Gardner's being named Indiana's 1999 Mr. Basketball and leading North Central to the state championship. "I don't think about that too much," he says. "My son has gotten involved in basketball, so it's come up a little more." Know how Gardner spent his 38th birthday on Nov. 14? Leading IUPUI to a shocking defeat of Boston College 76-69, the Jaguars' first win over an ACC team in 17 years. "Couldn't have been a better present," he says.
Ball State grabs an early lead, IUPUI catches up, Justice hits his first eight shots.
"I appreciate every day I step on the court," he says of being out of competition for so long. "I found a lot of patience within myself. People around me just kept telling me to work hard and keep doing what I do, and one day, my time will come."
He and Hall exchange nifty passes. They look as if they've known each other since sixth grade, which they have. Hall went thisaway for college and Justice thataway, but they're together now and Nos. 1, 2 in scoring for IUPUI.
Justice would say later, "We're like blood between us." And Hall would say, "We got on the court the first summer he got here and it was like we had never been apart. The chemistry is always there. The chemistry's never going to leave, I don't think."
The game stays tight. Hall misses a free throw, then another, then another. It's unfathomable. He's shooting 54 percent from the floor when someone is guarding him but has missed 18 of 25 from the line. "In high school, I was an 80 percent free throw shooter," he says. "This is all in my head. It's ridiculous."
The game slips away in the final minutes for IUPUI, with Ball State winning 85-75, despite 28 Justice points, and 15 from Jaylen Minnett, a high school all-star at Terre Haute South, who comes off the bench but is the third-leading scorer.
The day turns out to be a bump in the road, but the Jaguars still walk around the court afterward, slapping hands with fans to thank them for coming. Later, while kids with balloons wait to meet players, Gardner discusses his team. "I think it's a very, very competitive group. We don't have to talk about guys playing hard, guys playing together."
Especially Justice and Hall, with a bond born in the hills of Kentucky and transplanted here. "Our young guys are looking at them and how hard they work day-in and day-out," Gardner says. "I think that helps our team."
Justice talks of learning from this loss. "All we're trying to do is ride the wave and see where we can take it."
Hall discusses how much he and Justice want a happy ending at IUPUI. They never got that at Knott Central. Four years in the Kentucky Sweet 16, four state-title-less trips home, including a double-overtime loss their senior season when the other team shot 25 more free throws.
"Me and Cam can still sit here and get sick about it," he says. "I'll never get over it. I'll die with it."
Aunt Pam is waiting to see them. Pam Williams, who is Hall's aunt, moved to Indianapolis with her husband 25 years ago. She helped recruit Hall to IUPUI and, when Justice was looking for a place to transfer, was instrumental in his decision. So Aunt Pam gets a big assist for 40 percent of the current IUPUI starting lineup.
"I think the funniest part is to watch them mature as young men and keep playing basketball," she says. "They are brothers through and through. They do all the things brothers do.
About Hindman. "Hindman is the closest town of, like, 400," she says. "Where they actually live is a spot in the road. There aren't stop signs. God forbid, there's not a roundabout. It could not be more opposite than here."
Williams always sits in the same seat at the Coliseum, watching over her brood. She loves every minute. Except maybe when nephew Evan steps to the free-throw line.
"Aunt Pam does the Vulcan mind meld," she says. "I say—I think he can hear me—'Get out of your head, get out of your head.' He will hit 50 out of 50 in practice. Then he'll go to the line …
"I get thrilled when he just hits one of them."
So, there could well be an interesting story building at IUPUI. But this day is over, time to leave the Coliseum. The line next door is still going in for the bourbon.•
__________
Lopresti is a lifelong resident of Richmond and a graduate of Ball State University. He was a columnist for USA Today and Gannett newspapers for 31 years. His column appears weekly. He can be reached at mjl5853@aol.com.
Please enable JavaScript to view this content.