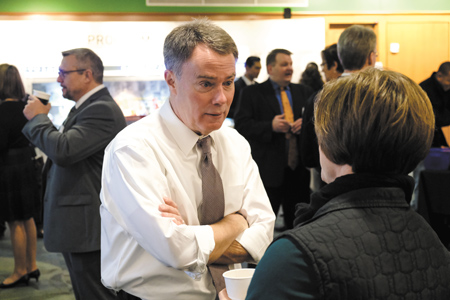 Indianapolis Mayor Joe Hogsett is OK being labeled "Average Joe."
In fact, he kind of likes the Trump-style nickname Marion County Republicans branded him with as a negative commentary on his job performance.
"I guess that's what I aspire to be: a good mayor, a good leader, and an Average Joe," Hogsett told IBJ on Dec. 4, the day before he announced he's running for a second term. "Just an Average Joe trying to do the right thing."
With city elections less than a year away, Hogsett enjoys several advantages as he seeks another term. He has a big campaign war chest, with at least $2.2 million as of January, the latest filing available. And he has continued fundraising this year.
Perhaps most important, no strong Republican has emerged to try to unseat him. Four years ago, when the seat was open, it took Republicans until January to settle on a candidate—Chuck Brewer—whom Hogsett trounced by nearly 25 percentage points.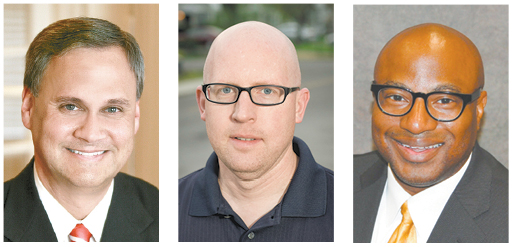 From left, possible Republican mayoral candidates include state Sen. Jim Merritt, former neighborhood association leader Ted Feeney and former City-County Councilor Jose Evans.
There are some names floating around: state Sen. Jim Merritt, the Marion County Republican Party chairman, is making a decision within the next week about whether to get in the race. Former City-County Councilor Jose Evans has filed candidacy paperwork. Former Butler-Tarkington Neighborhood Association leader Ted Feeney is thinking about it.
However, Minority Leader Mike McQuillen admitted, "We're still in a flux-type situation."
"It's a wide open field," he said.
But, he said, "If you look back at 2007, no one had ever heard of Greg Ballard," the Republican who defeated then-incumbent Bart Peterson. "The numbers are not looking promising, but they weren't looking promising in 2007, either."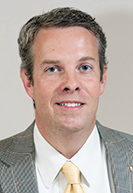 McQuillen
Another advantage for the mayor is that, as an incumbent and former statewide officeholder, he has significant name ID. Hogsett is well known for having a packed public schedule of events where he frequently interacts with neighborhood residents. And even his Republican foes say they personally like and get along with the mayor.
"I don't know of anyone who's said, 'That guy's a jerk,'" McQuillen said. "He is genuinely a nice guy. He's someone people are comfortable talking to."
Marion County Democratic Party Chairwoman Kate Sweeney Bell said Hogsett is in a good position to win re-election.
"It does not surprise me Republicans are not lining up to challenge Joe Hogsett," Bell said. "It does not surprise me at all."
Still, Republicans say Hogsett has been weak on crime and infrastructure issues.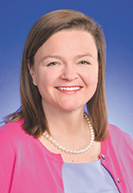 Bell
"Crime continues to get worse," said Feeney, the director of school services for the Institute for Quality Education. "The police chief directly reports to the mayor now in this administration. What are the marching orders? We've heard time and time again we need more officers. What are we doing about that?"
Merritt told IBJ that the lesson learned from Brewer's unsuccessful 2015 campaign is that the Republican mayoral candidate should be talking all about basic services. How quickly is snow plowed? How quickly are potholes filled?
Merritt pointed to the recent electoral success of Michigan gubernatorial candidate Gretchen Whitmer, a Democrat.
"I believe her calling card or her slogan was, 'Fix the damn roads,'" Merritt said.
Hogsett almost certainly will not face a serious Democratic primary challenger. That's despite the frequent yet quiet grousing by fellow Democrats about the mayor's tendency to avoid taking positions on high-profile issues. Some Democrats are also frustrated by his tendency to seek buy-in and input from Republicans, despite Democrats' control of the City-County Council.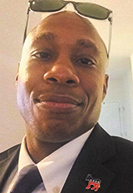 Bond
There are still grumbles about Hogsett's decision not to weigh in on the 2016 referendum that increased taxes for the city's public transportation system. He also didn't take a position on the IPS referendum, which was easily approved in November. Or the controversial proposal by McQuillen to ban sitting or lying down in the Mile Square, which was seen as an attack on the homeless.
"I just disagree with the premise that somehow it's incumbent on the mayor to take a position on things that are clearly designed to be the will of the people," Hogsett said. "My role as mayor is to lead the city in ways over which I have authority."
He said that's not going to change in a second term.
"That's my philosophy and I don't see that changing in the next four years," Hogsett said. "For those who think that, 'Oh, if he gets elected to another term, he'll start swinging at every pitch and wading in on every issue,' I think those people are going to be profoundly disappointed."
In many ways, Hogsett's consensus-building, reach-across-the-aisle-when-you-don't-have-to approach stands in stark contrast to the hyper-partisan political times.
His administration doesn't seek mere victory when administration-led proposals are voted on in the Democrat-led City-County Council. He wants unanimous votes on his key initiatives. And he's won several such votes, including on this year's budget and on a bill to fund the new criminal justice center.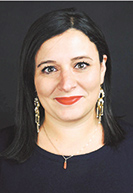 Shrock
"Really, I think what this administration represents, maybe as much if not more than anything else, is nonpartisanship," Hogsett said. "It does stand in stark contrast to the national political scene. What's more bold than that?"
But some Democrats are more intent on fighting for progress on their key issues than demonstrating togetherness with Republicans.
Brishon Bond, a Democratic activist, said he was "all-in" on Hogsett when he decided to run in 2015, especially after learning that Hogsett believed in criminal justice reform.
"That was all I needed to hear," Bond said. He believes Hogsett has "all the right language" when it comes to the priority of reintegrating ex-offenders back into the workforce and in society. And he said he supports the overall criminal justice reform efforts the mayor has taken so far. But he wants to see bolder steps.
"Now of course we're going to see if they're going to put substantive action behind the words," Bond said. "What that means is, he needs to take seriously the issues that communities of color bring to the table. I'm hoping he listens. I'm also going to insist that our concerns be part of his platform."
Council election
Hogsett's penchant for bipartisanship will likely be set aside as both parties gear up for an election that involves the entire City-County Council.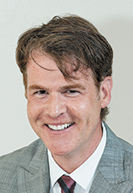 Shreve
Every seat on the 25-member council will also be up for grabs.
Hogsett's Democratic colleagues and activists would like to expand the party's 14-11 majority on the City-County Council, allowing them to push for more progressive policies.
"I think there are some clear pickups for us," said Elise Shrock of the Marion County Young Democrats.
Democrats are feeling good about their chances on the north side in District 2, where Republican Colleen Fanning is running for her second term. Fanning won in 2015 with just a couple of hundred votes over Democrat Kip Tew.
"I wouldn't be shocked if you saw younger Democrats coming out of the woodwork" to run against Fanning, Shrock said. "She's going to have her work cut out for her."
They also want to flip Republican Jeff Miller's old seat in District 16, which he vacated earlier this year after pleading guilty to felony assault following a sexual molestation investigation. Miller was replaced by Jefferson Shreve, who is still considering whether to run in 2019.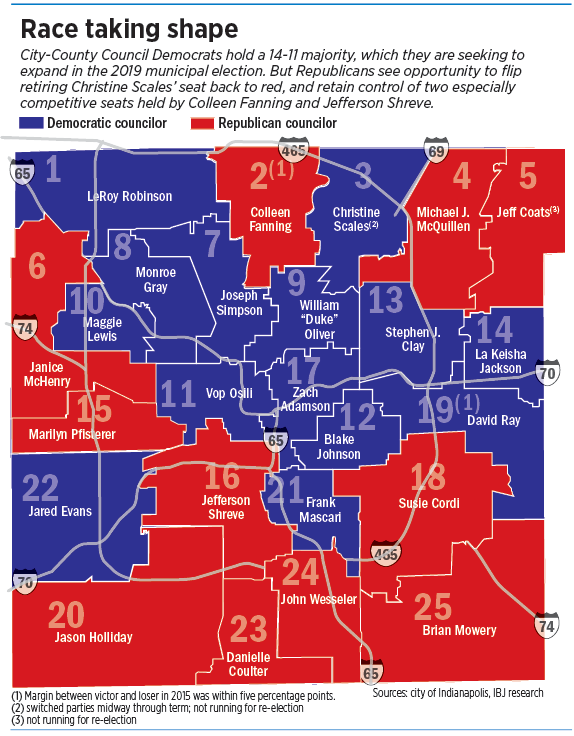 Democrat Kristin Jones, who serves as director of community engagement for The Julian Center, has already kicked off her campaign in that race.
Jones, who ran Democrat J.D. Ford's successful campaign to oust state Sen. Mike Delph, said she's "going to hit the streets immediately" and meet as many residents as possible in the district.
"It's all about listening to neighbors and it's all about the doors," Jones said. "It's talking to everybody. I do believe Jeff [Miller] did win the district because of the strong community ties he had. This is a Democrat district and I do believe we can flip it."
But Republicans also see opportunities. Democrat Christine Scales—who switched political parties midway through her term, which gave Democrats an extra council vote—is retiring. If her 2015 margin holds, that seat could flip back into Republican control.
Republicans also want to flip back Jared Evans' seat on the west side, which he won by 8 points, and David Ray's seat on the east side, which he won by 4 points.
"I do believe we will have a very good chance to take the council," Merritt told IBJ. "We will try to have a robust effort in every district possible."
Infighting ahead
But first, both parties have to get through their primary elections. Already, there is some intra-party infighting on the Democratic side, due in part to the early-2018 squabble that resulted in former Democratic Council President Maggie Lewis losing her leadership position.
The party will not support Stephen Clay in its slating convention in February after Clay joined with Republicans to oust Lewis and install himself as president. The coup, however, was short lived. Democrats sued, and he eventually resigned the leadership post.
And in other fallout from the incident, former Democratic Councilor John Barth is challenging Democratic incumbent Joe Simpson in District 7. And Democrat Derris "Dee" Ross will be challenging La Keisha Jackson in the primary in her far-east-side district, according to Bond.
"The people that participated in that debacle that ousted Maggie and put Stephen Clay in there, we haven't forgotten about that," Bond said. "At least I haven't.
"That's not anything that necessarily would be a motivating factor for someone to vote for a person, but it has given us an insight for the way current people on the council are thinking, and it clarifies that they really aren't the best representative for the community because of their short-sightedness."
Some councilors are undecided about jumping back into the fray.
Shreve, the Republican who replaced Miller, said the mayoral contest will impact whether he decides to run. He wants to see who puts his or her hat in the ring to take on Hogsett, and whether it's "someone I'm going to believe in, and want to work with, run with, and serve with."
"The reality is that most people don't turn up to vote for their city-county councilor," Shreve said. "We're kidding ourselves if we think that most people know who we are or most people are going to turn up in May or November to cast a vote for any of us. They're turning up to vote for mayor."•
Please enable JavaScript to view this content.