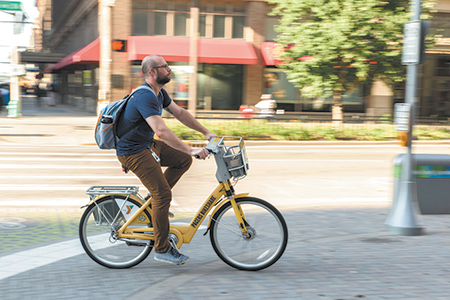 Indiana Pacers Bikeshare will spend $1.2 million — most of the money from a federal grant — to nearly double the number of stations and expand the program's footprint as far north as Broad Ripple and south as Garfield Park.
Kären Haley, executive director of the Indianapolis Cultural Trail, which oversees the bikeshare program, talks with guest host Anthony Schoettle about the timeline for the expansion and why it was important to locate stations outside of downtown.
And she explains why attracting more low-income riders — who pay only $10 a year — is a key goal. 
Check out IBJ reporter Susan Orr's full story here.
Click here to find the IBJ Podcast each Monday. You can also subscribe at iTunes, Google Play, Tune In and Spotify. Here are some of our recent podcasts:
IBJ Podcast: Why the Indy CIB will ask the Legislature for millions of dollars
IBJ Podcast: Rethinking downtown Indy's interstate highway system
IBJ Podcast: What do the 2018 election results mean for 2019 and 2020?
IBJ Podcast: Anti-semitism, hate crimes and Indiana, a conversation with Dennis and Sandy Sasso
IBJ Podcast: Detailing the Pan Am Plaza hotel-and-convention project
Please enable JavaScript to view this content.