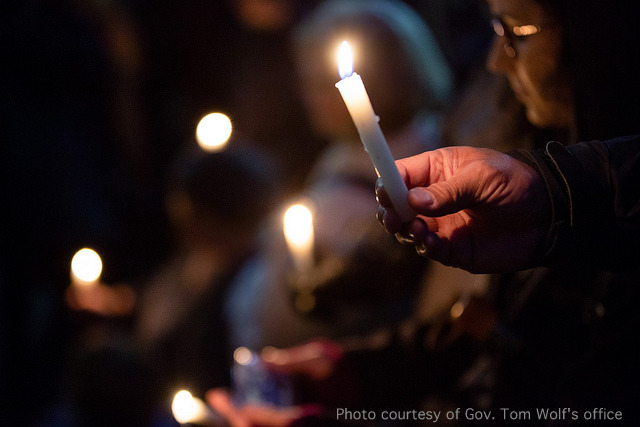 Less than a week after a shooting at a Pittsburgh synagogue left 11 congregants dead, IBJ Podcast host Mason King sat down with Dennis Sasso, the senior rabbi of Congregation Beth-El Zedeck in Indianapolis, and his wife, Sandy, the director of the Religion, Spirituality and the Arts Initiative at Butler University and Christian Theological Seminary.
The couple talk about how they learned about the tragedy, their connection to the Tree of Life Synagogue where it took place, and how they spoke to their fellow worshippers about it.
They also discuss what the crime means for people and public policy in Indiana, particularly in the debate about whether Indiana lawmakers should pass legislation that enhances penalties for defendants found guilty of committing crimes motivated by hate or bias.
Click here to find the IBJ Podcast each Monday. You can also subscribe at iTunes, Google Play, Tune In and Spotify. Here are some of our recent podcasts:
IBJ Podcast: Detailing the Pan Am Plaza hotel-and-convention project
IBJ Podcast: Breaking down Indiana's Senate race
IBJ Podcast: Developing a downtown neighborhood from scratch
IBJ Podcast: Why did a hard-core philosopher start a plumbing company?
IBJ Podcast: How an IU student turned her beekeeping hobby into a star startup
The news clips in this episode are courtesy of KGO-TV San Francisco and ABC News.
The music in this episode is Paint The Sky by Jeris, (c) copyright 2017, licensed under a Creative Commons Attribution (3.0) license. 
Photo courtesy of Pennsylvania Gov. Tom Wolf's office, via Flicker under a Creative Commons license.
Please enable JavaScript to view this content.