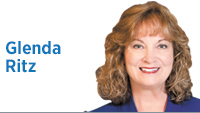 More than ever this November, educators "threw their hats in the ring" to run for state and national seats around the country. Educators who have become activists for their students have figured out that, if public education is to be supported, they will have to be elected into positions that can influence policy and lawmaking.
According to Time magazine, 177 current teachers ran for state legislative seats and 42 won general elections. But more than 1,100 others in the education field won positions that can affect education policy.
As I have said several times before, public education is becoming a top campaign issue.
I was particularly watching the governor's races in the Midwestern states.
In Illinois, J.B. Pritzker won with the help of public educators, and Laura Kelly in Kansas won the governor's seat due to lack of funding for public schools.
Tim Walz, who was a high school teacher for 20 years, was elected governor of Minnesota. Gretchen Whitmer won in Michigan, home state of Betsy DeVos, with a platform about the effect of the school choice agenda on Michigan.
And my particular favorite race to watch was in Wisconsin, where my friend Tony Evers moved from the elected state superintendent of public instruction position into the governorship. Yahoo! High support for public education coming in five of 12 Midwestern states.
Political discord is strong where these governors won, and we are seeing Republican lawmakers taking action to limit the governors' power for the sake of politics.
I know firsthand how that feels.
I had to deal with then-Gov. Mike Pence putting limits on my powers as superintendent of public instruction as well as a General Assembly that wasn't receptive to my ideas. But fighting for what is right for our children in public education is so important that the fight is worth it.
All governors in power are beginning to realize they must make public education a priority.
Indiana is currently talking about the need to increase teacher pay, after the Legislature dismantled the pay structure in 2011.
In Indiana this year, educator Melanie Wright was re-elected and educator Tonya Pfaff was elected to the Indiana House of Representatives. Congrats to them, and may their voices be heard and respected among other public education supporters in the Legislature.
I look forward to future elections in which more educators and candidates for public education stand up to run for office and help our future generations.•
Click here for more Forefront columns.
__________
Ritz, a Democrat, is a former state superintendent of public instruction. Send comments to [email protected]
Please enable JavaScript to view this content.