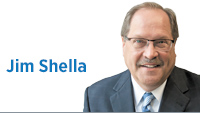 George H.W. Bush was an unconventional politician in many ways, and I'm not just talking about his willingness to raise taxes despite a "read my lips" pledge not to.
He was a guy who did things his way, from jumping out of airplanes as a senior citizen to his selection of Indiana Sen. Dan Quayle as running mate in 1988.
I'm not going to pretend I knew him well, but I did encounter the 41st president on several occasions. I have a photo on my office wall of me interviewing Bush when he was vice president under Ronald Reagan.
The interview took place in the Hyatt Regency in downtown Indianapolis. The picture was taken by an official White House photographer and bears a stamped message that says, "To James Shella with best wishes." It is signed "George Bush." (I'm going to guess that signature was created by an autopen, but that's OK.)
I also interviewed Bush when he was a candidate for vice president in 1980, and I was working in Michigan. Yet the encounter that means the most to me is one where I didn't get to sit down with him at all.
Bush is the subject of the best interview I never got.
It was after he had served as president and left office. He came to Indianapolis to make a speech at The Westin hotel. It was not political. As I recall, he appeared at a luncheon staged by a mental health charity. The media was not invited.
But I'm a political reporter and it seemed to me that any (and they are rare) visit to Indianapolis by a president (current or past) deserved coverage of some sort.
So, the night before the speech, I called my friend John Brown. He's a former Bush aide who was then serving on the city council in Columbus. I asked if he was involved in the visit. He said that, at the moment, he was on the way to the airport to meet the former president. And he was helping with arrangements the following day.
I told him I would love to interview Bush and asked if he could assist in that effort. He said he would try.
We talked the next morning and John said my request had been denied. No surprise. But I wasn't done yet.
My photographer and I found our way inside The Westin that morning with help from a bellman who was a friend of mine. I called John and gave him a new request: We just wanted to get some video of Bush to prove he was there.
John called back shortly before noon and said that, if we stood near the top of the escalator at 12:05, we would be able to see Bush entering the ballroom.
And so, we did. As he walked past, I said something like, "Mr. President, could we ask a question?" He responded, "I don't have to do that anymore, and I don't." And then he was gone. We put it on the news.
I thought it was incredibly kind. He could have avoided us completely or instructed staff to send us away. Instead, he told us on camera that he was currently uninterested in being asked about his political views. I can't imagine any other politician handling it that way. In fact, in a similar circumstance, Gerald Ford cursed at me. That's another story.
Rest in peace, George Bush.•
Click here for more Forefront columns.
__________
Shella hosted WFYI's "Indiana Week in Review" for 25 years and covered Indiana politics for WISH-TV for more than three decades. Send comments to ibjedit@ibj.com.
Please enable JavaScript to view this content.